Saigon, the vibrant city also known as Ho Chi Minh City, offers a captivating nightlife experience through its rooftop bars. These elevated havens provide panoramic views and an enchanting ambiance, making them an enticing destination for both locals and foreigners alike.
In this article, we aim to be your ultimate guide to the best rooftop bars in Ho Chi Minh City. Whether you're a first-time visitor or a frequent traveler to the city, our neutral and informative approach will equip you with all the essential information for a memorable rooftop bar experience. Join us as we explore the heights of Saigon's social scene and uncover the most remarkable spots to raise a glass under the starry skies.
Planning a trip to Vietnam? Check out the best hassle-free Vietnam visa service!
Plan your hassle-free trip to Vietnam with e-Visa!
Let our extensive 10+ years of experience in visa services be your guiding light as you book with us, guaranteeing a smooth and worry-free trip to Vietnam!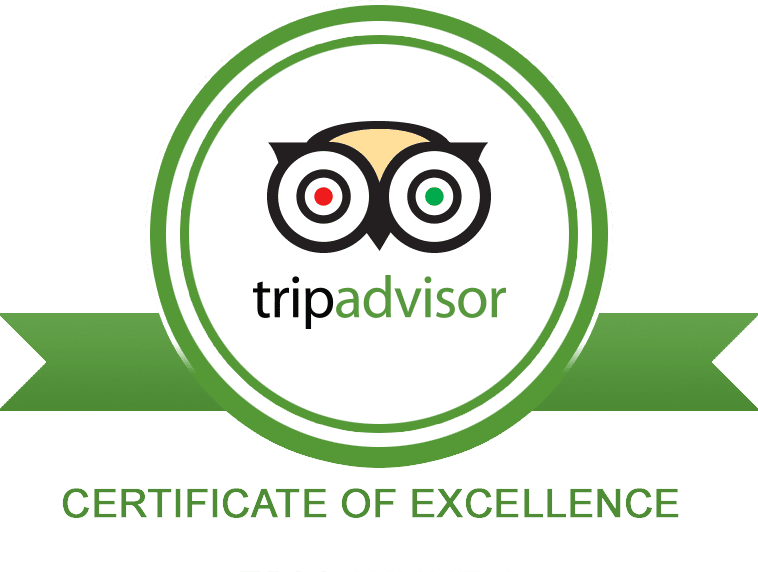 LEARN MORE!
What Makes Saigon's Rooftop Bars Special?
Rooftop bars in Saigon are a testament to the city's dynamic charm, offering visitors an unforgettable experience that sets them apart from typical nightlife venues. The combination of city lights, bustling streets, and distant skyscrapers creates a mesmerizing atmosphere that captures the essence of Saigon's urban energy.
As day turns to night, these elevated hotspots transform into social hubs, attracting both locals and travelers seeking relaxation, socialization, and breathtaking vistas. Whether it's savoring cocktails with friends or meeting new people from around the world, rooftop bars in Saigon are a gateway to the city's soul.
Rooftop bars in Saigon boast an impressive array of signature drinks and delectable menus that cater to every palate. As you sip on your favorite libation, you'll find that these bars also offer a culinary journey, with dishes ranging from delectable appetizers to gourmet treats that complement the overall dining experience. Rooftop bars in Saigon are not just about the views; they offer a feast for all the senses, making each visit a memorable and indulgent affair.
Explore the top things to do in Vietnam with our guide!
1. Saigon Saigon Rooftop Bar – Iconic Rooftop Bar Saigon
Saigon Saigon Rooftop Bar, an enduring gem that opened its doors in 1959, holds a storied history as an iconic landmark in the heart of Ho Chi Minh City. Steeped in the legacy of the Vietnam War, the bar served as a backdrop for crucial daily briefings for war correspondents. Today, the old rooftop garden bar retains its allure by offering a captivating experience on the 9th floor of the Caravelle Saigon hotel, boasting a charming ambiance with fairy lights, wooden furnishings, and lush greenery that envelopes guests in a cozy atmosphere. The captivating views of Lam Son Square from the rooftop provide an enchanting backdrop for memorable evenings.
Guests at Saigon Saigon Rooftop Bar are in for a delightful treat with its daily happy hour promotions from 4 pm to 7 pm, where a generous 50% off on the total bill awaits. This splendid offer comes accompanied by a delectable selection of snacks, including nuts, dried fruits, and shrimp, which perfectly complement the wide array of drinks available.
Location: 19 Lam Son Square, District 1, Ho Chi Minh City
Opening hours: Monday–Saturday from 5 pm to 9 pm, Sundays from 3 pm to 9 pm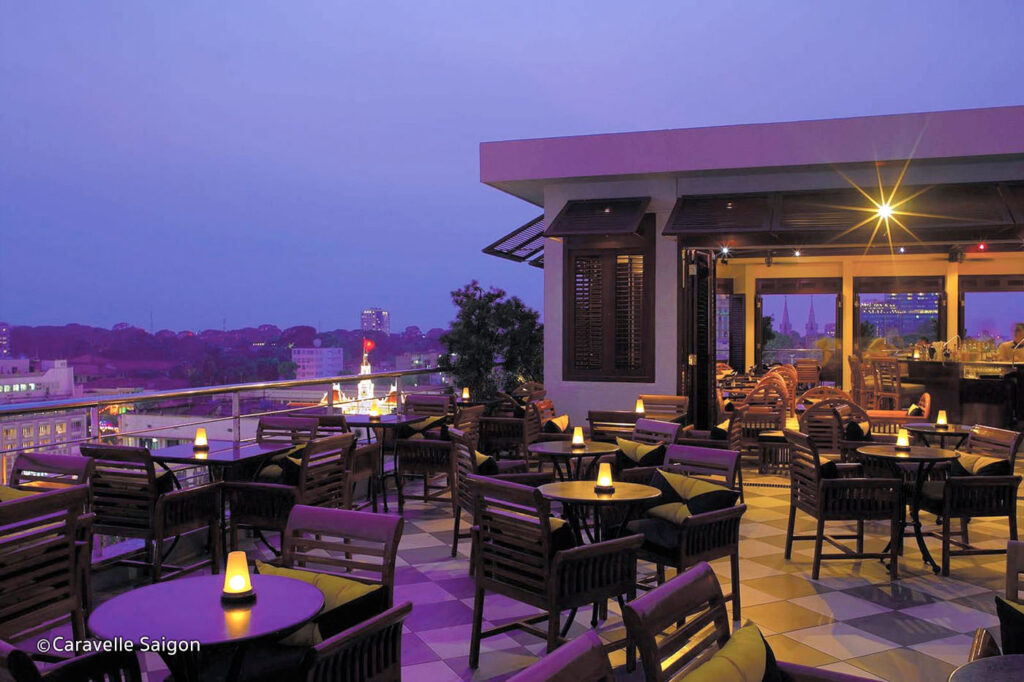 2. Social Club Rooftop Bar
Located atop the Hotel des Arts Saigon, the Social Club Rooftop Bar is a true gem among Saigon's rooftop bar scene. Perched on the 24th floor, the bar and terrace provide an awe-inspiring panorama of the city's skyline. The journey to this rooftop oasis begins at the 23rd level indoor restaurant, where guests ascend a few stairs to reach this stunning rooftop bar Saigon. The ambiance is nothing short of luxurious, with an abundance of wooden elements that create a natural and refreshing atmosphere, offering a welcome respite from the bustling city below.
What sets the Social Club Rooftop Bar apart is its highest rooftop infinity pool , making it one of the world's most captivating locations for indulgence and relaxation. As day turns to night, the bar comes alive with a vibrant atmosphere, offering a delightful selection of finely crafted cocktails and delectable light snacks, inviting visitors to savor the Saigon experience in the most unforgettable way possible. Whether unwinding with a drink in hand or taking a dip in the pool, the Social Club Rooftop Bar promises an extraordinary and unforgettable evening under the stars.
Address: MGallery Saigon, Floor 24, 76-78 Nguyen Thi Minh Khai Street, District 3, Ho Chi Minh City
Opening hours: 3 PM–12 AM
3. Breeze Sky Bar
Nestled within the iconic Hotel Majestic Saigon, Breeze Sky Bar boasts an unrivaled view that captures the essence of Saigon's rich history. Overlooking the Saigon River, the elegant rooftop bar offers a stunning panorama of the Saigon Opera House and colonial-era buildings that grace the city center. Stepping into Breeze Sky Bar feels like stepping back in time, with its wooden furnishings, Art Deco bar, and exquisite French-designed interior exuding an air of nostalgia and charm.
Unlike the conventional notion of a bustling sky bar, Breeze Sky Bar sets itself apart by placing a strong emphasis on dining experiences. Patrons can indulge in an international buffet breakfast, savor a delightful Barbecue Buffet Dinner, or explore the flavors of their thoughtfully curated à la carte menu. For those seeking a more intimate and tranquil setting, we highly recommend securing a spot at one of the secluded, private tables perched atop the rooftop, allowing guests to relish both the delectable cuisine and the breathtaking vistas in serenity. Whether it's a leisurely breakfast, a sumptuous dinner, or simply sipping cocktails under the stars, Breeze Sky Bar offers a truly unforgettable and multifaceted experience for visitors to Saigon.
Address: 5th Floor, Hotel Majestic Saigon, 1 Dong Khoi Street, Ho Chi Minh City, Vietnam
Opening hours:: 24/7
4. Chill SkyBar
Chill SkyBar, situated on the 26th floor of the iconic AB Tower, holds the distinction of being the pioneer of sky bars not just in Ho Chi Minh City but in the entirety of Vietnam. What sets this rooftop bar apart from others in the city is its unique feature – a dance floor, making it a favorite among those seeking an elevated nightlife experience. As you ascend to the rooftop, an inviting array of well-crafted classic and signature cocktails, beers, wines, and bubbles await. To complement the delightful drinks, Chill SkyBar also offers a delectable assortment of bar bites, including sliders, quesadillas, tapas boards, and sharing platters. For those seeking a more substantial dining experience, VIGOR Dining Club, an indoor restaurant with a luxurious and romantic setting, serves delicious cuisine while providing sweeping views of the Saigon skyline.
The ambiance at Chill SkyBar undergoes a delightful transformation depending on the time of your visit. Arriving early treats you to soothing lounge vibes, the mesmerizing spectacle of a vibrant sunset, and the chance to partake in happy hour offerings. However, as the night progresses, the rooftop metamorphoses into a vibrant party scene. Live DJs take the stage, and the entire space comes alive with enthusiastic revelers dancing joyously beneath the twinkling Saigon night sky. Given its immense popularity, it's wise to heed the advice to make a reservation and secure your spot at this unforgettable destination in Saigon's nightlife scene.
Address: AB Tower Saigon, 76A Le Lai. District 1, Ho Chi Minh City, Vietnam
Opening hours: Daily from 5.30 pm to 9 pm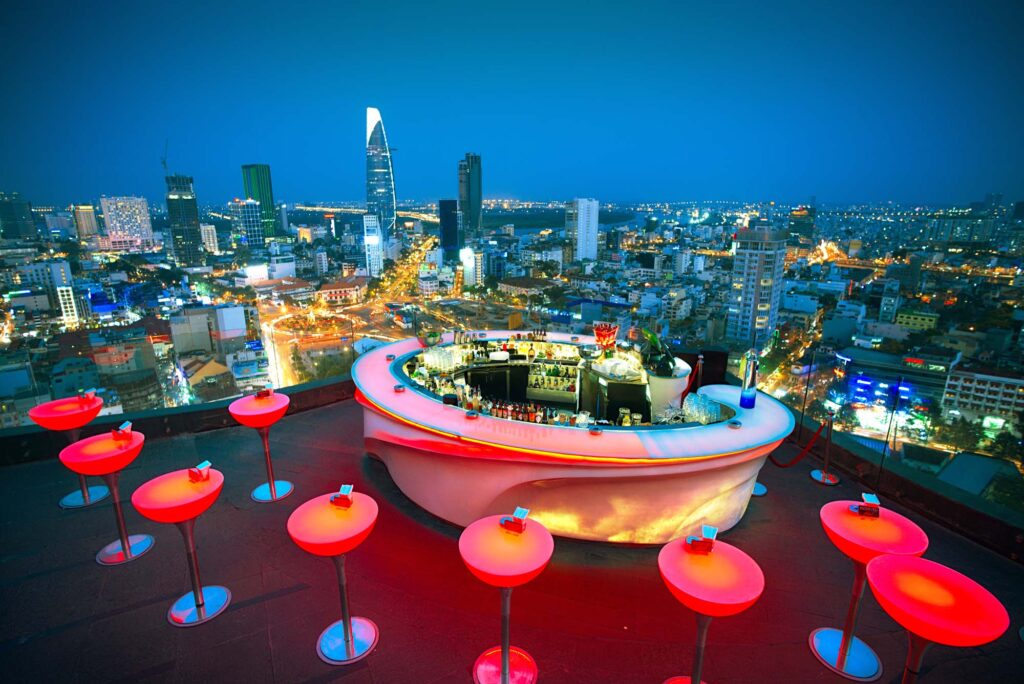 5. Broma Not A Bar Saigon
Broma Not A Bar Saigon is a grungy-style bar located on the fourth floor of an old French colonial building in District 1 of Ho Chi Minh City. It offers live music performances, themed dance parties, and resident DJs playing minimal, deep house, and techno music until 02:00. The bar serves a variety of well crafted signature cocktails, sangrias, wines, and over 30 types of beer, complemented by Asian and western bar snacks like wood-fired oven pizzas and spring rolls.
Broma Not A Bar Saigon provides a unique and unforgettable experience. The vintage charm of the location and the vibrant energy of the crowd create an ambiance that is both alluring and captivating, making it a must-visit destination for those looking to explore the diverse and dynamic nightlife scene of Ho Chi Minh City. Broma's commitment to hosting memorable events and its fusion of international music and flavors truly make it a standout destination amidst the bustling nightlife of Saigon.
Address: 41 Nguyen Hue Street, Ben Nghe, Ho Chi Minh City
Opening hours: Sunday–Thursday from 5.30 pm to 2 am, Friday and Saturday from 5.30 pm to 2.30 am
6. Level 23 Wine Bar
Nestled atop the Sheraton Saigon Hotel & Towers, the elegant Level 23 Wine Bar exudes sophistication, making it a favorite destination for discerning clientele in Ho Chi Minh City. The bar's alfresco terrace setting provides a captivating panorama of the bustling city and its surroundings, creating an unforgettable ambiance for patrons to enjoy.
Level 23 Wine Bar takes pride in its diverse beverage selection, boasting an extensive array of international wines, beers, whiskies, champagnes, and signature cocktails that cater to all tastes. As the night unfolds, guests can indulge in their libations of choice while savoring delectable light snacks that perfectly complement the drinks, including spring rolls, beef satay, nachos, and chicken samosas. Whether you're seeking a delightful evening with friends or a romantic rendezvous, Level 23 Wine Bar offers an unforgettable rooftop experience in the heart of Saigon.
Here are some of our recommendations for your fulfilling Ho Chi Minh City nightlife!
Address: Sheraton Saigon Hotel & Towers, 88 Dong Khoi, District 1, Ho Chi Minh City
Opening hours: Daily from 5 pm to 2 am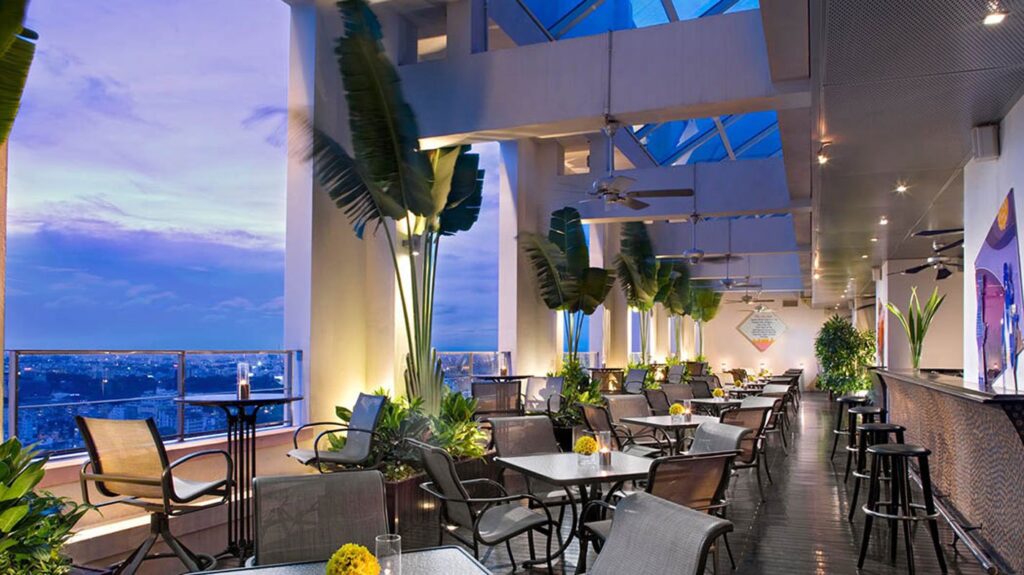 7. The View Rooftop Bar
The View Rooftop Bar, nestled on the 9th floor of Duc Vuong Hotel in the lively Bui Vien Street of Saigon, offers a unique experience to its visitors. Catering to backpackers from all corners of the globe, this bar is renowned for its pocket-friendly prices, making it an ideal spot to unwind without breaking the bank. As you step into the bar, you'll find yourself immersed in a world of enchanting lanterns. The staircases are adorned with strings of heart-shaped lanterns, while LED light strings illuminate the surroundings after dusk. Embracing a romantic ambiance, the bar showcases traditional Hoi An fabrics and bamboo lanterns of various shapes and sizes, avoiding modern nightclub lights and loud music, offering a more relaxed and inviting atmosphere.
The View Rooftop Bar's charming setting provides a refreshing change from the typical nightlife scene. With its warm ambiance and affordable drinks, it has become a favorite haunt for budget-conscious travelers seeking a cozy and culturally inspired spot to enjoy a glass of beer and have a memorable time. Whether you're looking to meet fellow travelers, savor a laid-back evening with friends, or simply soak in the captivating lantern-lit atmosphere, The View Rooftop Bar promises an experience that captures the essence of Vietnamese charm and hospitality.
Address: Duc Vuong Hotel, 195 Bui Vien, District 1, Ho Chi Minh City
Opening hours: 6 AM–1 AM
8. Rooftop Grand Lounge
Rooftop Grand Lounge, situated on the 20th floor of the Grand Hotel Saigon, presents an enchanting panorama of the city skyline that leaves visitors in awe. The atmosphere exudes elegance and sophistication, boasting plush seating arrangements and contemporary lighting that adds to the overall charm.
As connoisseurs of fine beverages, they take great pride in their skillfully crafted cocktails, an extensive selection of wines, and an array of spirits that cater to various preferences. To complement the drinks, their delectable food menu features enticing options such as the seafood platter and cheese plate, ideal for sharing and creating unforgettable moments with friends. With a laid-back and amiable ambiance, Rooftop Grand Lounge is the perfect destination for a relaxed and enjoyable night out.
Address: Grand Hotel Saigon, 8 Dong Khoi, District 1, Ho Chi Minh City
Opening hours: 6:00 AM – 11:30 PM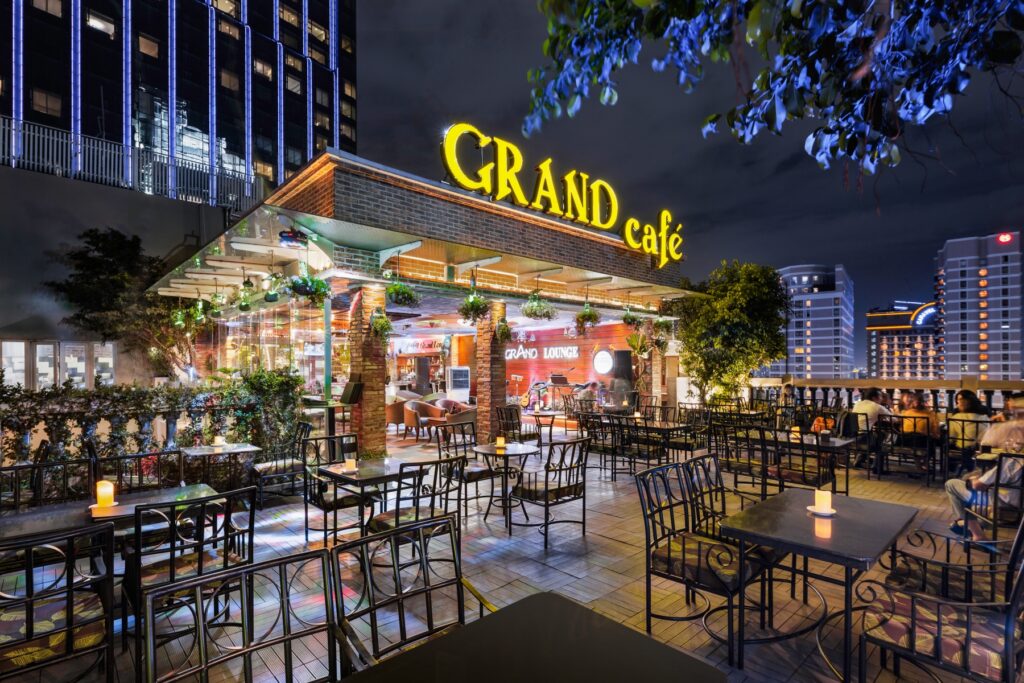 9. Pullman Saigon Centre Rooftop
Perched on the 31st floor of the luxurious Pullman Saigon Centre Hotel, the Pullman Saigon Centre Rooftop promises an unrivaled view of the city skyline, making it a prime spot for soaking in the breathtaking urban landscape of Saigon. This vibrant meeting hub boasts an inviting ambiance with comfortable seating, creating the perfect setting to unwind and socialize.
The bar's well-curated drinks menu is a delight for any connoisseur, offering an impressive array of cocktails, wines, and spirits, ensuring that every guest finds a libation to suit their taste and preferences. Whether it's sipping on a signature cocktail or admiring the twinkling city lights, Pullman Saigon Centre Rooftop promises an unforgettable experience for visitors seeking the best of Saigon's rooftop bar scene.
Address: Pullman Saigon Centre, 148 Tran Hung Dao, District 1, Ho Chi Minh City
Opening hours: 6:00 PM – 11:00 PM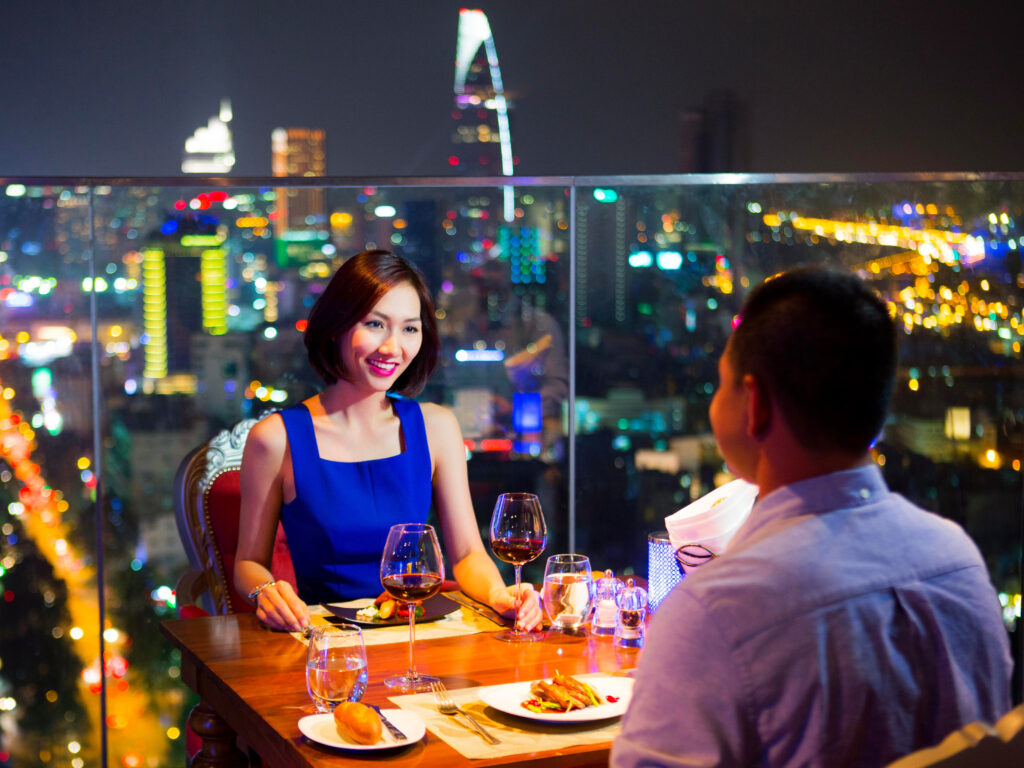 10. Vertical Sky Bar
Vertical Sky Bar is a hidden gem nestled on the rooftop terrace of the Liberty Central Saigon Riverside Hotel. Despite its modest size, the infinity pool exudes an air of luxury, making it one of the most stylish and sought-after rooftop pools in Ho Chi Minh City. While exclusively reserved for hotel guests, the terrace boasts an additional highlight accessible to everyone – the eponymous Vertical Sky Bar. The bar treats patrons to breathtaking vistas of the Saigon River and the vast landscape of District 2 on the opposite side.
By day, the ambiance is relaxed and reminiscent of a pool lounge, offering a tranquil escape. However, as the sun sets, the terrace transforms into a lively and festive space, enlivened by live bands five nights a week, including enthralling 'Latin Fridays' and soothing 'Jazz Sundays.' The rhythm of the Latin band on Fridays also sets the stage for salsa dancing that lasts late into the night.
With a diverse selection of signature cocktails, wines, local draught beers, and delectable light snacks, Vertical Sky Bar ensures a delightful experience for all. Plus, the daily happy hour from 6-8pm adds extra value to the already enthralling setting. Notably, this rooftop bar Saigon maintains a pleasant balance of visitors, making it an ideal destination to relish breathtaking views, engage in casual conversations, and soak in the vibrant ambiance.
Address: Liberty Central Hotel, 175–177 Nguyen Trai, District 1, Ho Chi Minh City
Opening hours: 8:30 AM – 9:00 PM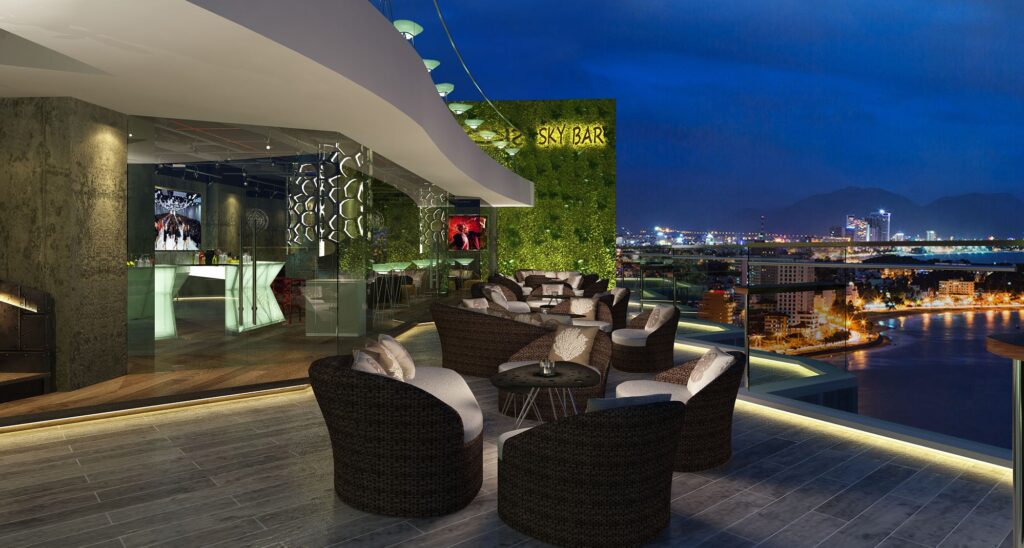 Ready For Your Best Rooftop Bar Saigon?
In conclusion, Saigon's vibrant skyline comes alive with a plethora of stunning rooftop bars that offer an unforgettable experience to locals and tourists alike. Whether you're a solo traveler seeking a peaceful escape or a group of friends looking to revel in the city's nightlife, these top 10 rooftop bars in Saigon cater to every preference, promising an extraordinary journey through Saigon's elevated delights.
As the sun sets over the city, these rooftop bars in Saigon transform into lively hubs of activity, where laughter, clinking glasses, and the vibrant beat of live music fill the air. While each venue showcases its distinctive signature cocktails and delectable menus, they all share a common thread of impeccable service and breathtaking panoramas. No matter which rooftop bar you choose to visit in Saigon, the blend of stunning city views, delectable drinks, and vibrant ambiance is sure to create cherished memories, leaving you longing to return and rediscover the city's skyline anew. So, embrace the enchantment of Saigon from above and embark on a journey of gastronomic delights and unforgettable moments at these best rooftop bars.
Don't miss out on this incredible journey—start planning your trip today! And remember, for a smooth and hassle-free experience, be sure to book the best Vietnam visa services.
Plan your hassle-free trip to Vietnam with e-Visa!
Let our extensive 10+ years of experience in visa services be your guiding light as you book with us, guaranteeing a smooth and worry-free trip to Vietnam!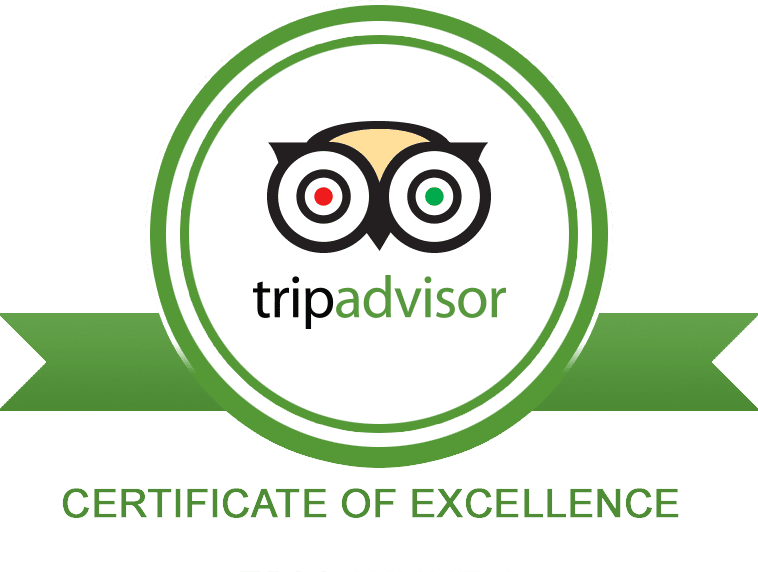 LEARN MORE!