Ho Chi Minh City is a bustling and vibrant city in Vietnam. When the sun sets, Ho Chi Minh City truly comes alive with fun-filled night scenes. From trendy rooftop bars to pulsating best nightclubs, there is something for everyone to enjoy. Whether you're in the mood for live rock music bars, dancing, or simply sipping cocktails with a view, Ho Chi Minh City has it all.
This article will provide a comprehensive guide to Ho Chi Minh City nightlife, showcasing the best bars, clubs, and entertainment venues that visitors can explore and enjoy during their stay in Ho Chi Minh City.
Considering a visit to Vietnam? Explore the top-notch, stress-free visa services for Vietnam!
Nightlife Diversity In Ho Chi Minh City
Ho Chi Minh City offers a wide range of best nightlife options, catering to different preferences and tastes. With its diverse and vibrant scene, every traveler can find the perfect spot to have a memorable night in this bustling metropolis.
Whether you're a party animal or simply looking for a laid-back evening, Ho Chi Minh City has something for everyone. Explore the city's diverse neighborhoods, immerse yourself in the vibrant energy, and discover the hidden gems that make Ho Chi Minh City nightlife truly unforgettable.
Planning to travel Vietnam? Explore the best time to visit Vietnam with our guide!
Where To Unwind And Socialize?
Discovering the top bars and nightclubs in Ho Chi Minh City is an exciting experience. Each place, from sophisticated rooftop bars to subterranean clubs, has its own distinct personality and charm. Whether you're a seasoned party animal or a first-time visitor eager to enjoy the finest of Ho Chi Minh City nightlife scene, let's explore the amazing nights with live music and great dance floor places below.
Learn more about best 10 rooftop bar Saigon experiences with our guide!
Chill Sky Bar
Chill Skybar is a modern, stylish, and vibrant club and lounge bar that offers an exceptional nightlife and social gathering experience. It stands out as the original and pioneering "Skybar" concept in Vietnam, one of the only rooftop bars with a dance floor.
Chill Skybar offers a wide range of premium spirits, champagne, and wines carefully curated to complement various dishes, providing an opportunity to explore different styles. Indulge in our delectable bar snacks, thoughtfully prepared with distinctive flavors, ensuring an exceptional experience for all.
Opening hours: 17:30 – 00:30, Monday – Sunday.
Address: AB Tower, 76A Le Lai Street, Ben Thanh Ward, District 1, Ho Chi Minh City.
Contact: 0938822838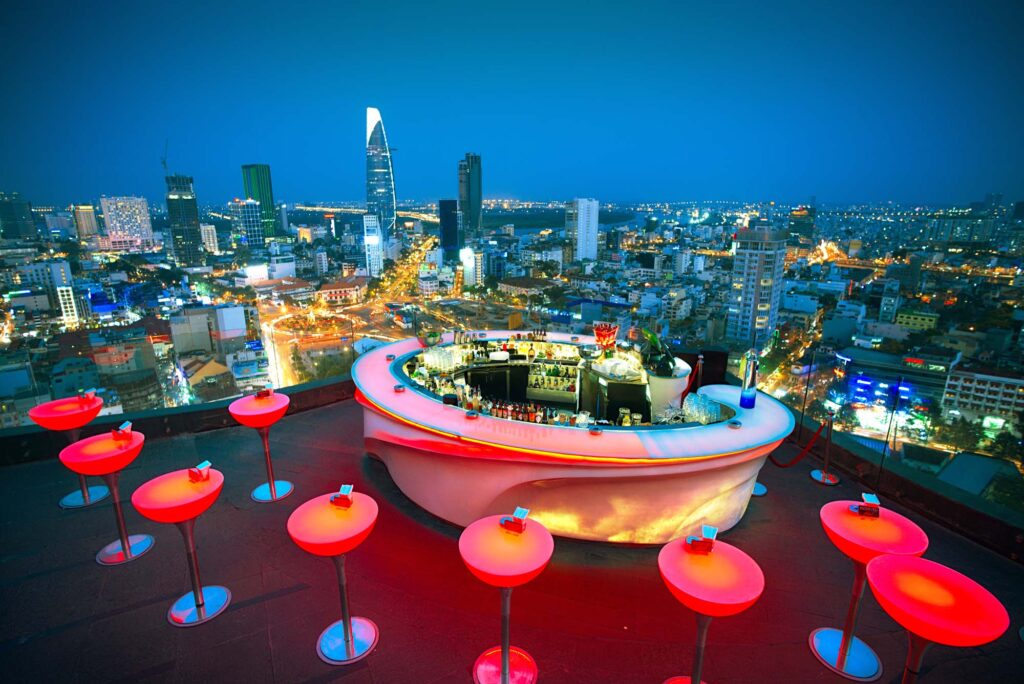 Saigon Saigon Rooftop Bar
Saigon Saigon Rooftop Bar is a stylish and historically significant establishment. It was a popular spot, known as one of the most breezy rooftop bars for American reporters during the Vietnam War, offering breathtaking views of the city skyline, including the Saigon Opera House and Notre Dame Cathedral.
Guests can enjoy a magical sunset while sipping on their own brewed beer, the Caravelle Terrace Draft. The menu also offers a variety of food options, ranging from sliders and platters to Vietnamese dishes like Wagyu Beef Burger and Spring Rolls.
With fast and very Vietnamese kind service and live music entertainment by either a Cuban band or a DJ, Saigon Saigon Rooftop Bar is a renowned destination among the top rooftop bars in Ho Chi Minh City, well worth a visit.
Opening hours: 16:00 – 01:00, Monday – Sunday.
Address: 10th floor of Hotel Caravelle, 19 – 23 Lam Son Square, District 1, Ho Chi Minh City.
Contact: 02838234999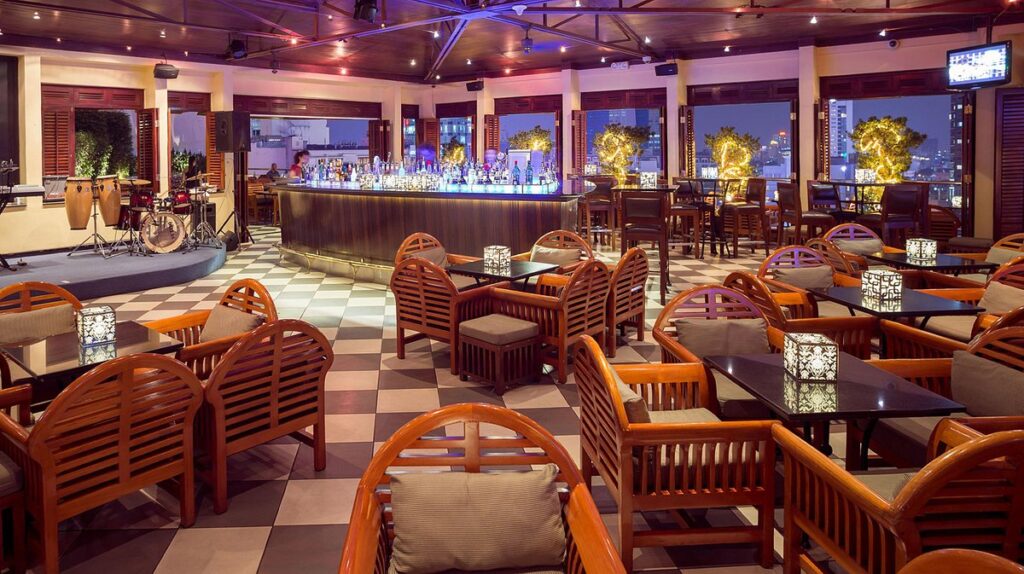 Level 23 Wine Bar At Sheraton Saigon Hotel
Wine Bar on Level 23 at Sheraton Saigon Hotel offers a delightful ambiance with its breezy atmosphere, lush greenery, warm wood tones, and pops of turquoise colors. It is the perfect place to unwind after a long day of meetings, enjoy a handcrafted cocktail while relaxing with friends, or find a little romance as you soak in the open air and admire the perfect romantic night.
Don't miss out on the exclusive offers available throughout the week at Wine Bar. On Monday Madness, you can enjoy a "Buy 1 Get 1" offer for selected cocktails, beer, and wine by the glass throughout the entire night. From Wednesday to Sunday, there is a 50% discount during Happy Hour from 05:00 PM to 07:00 PM.
Opening hours: 17:00 – 00:00, Monday – Sunday.
Address: 80 Dong Du, Ben Nghe Ward, District 1, Ho Chi Minh City.
Contact: 028 3827 2828.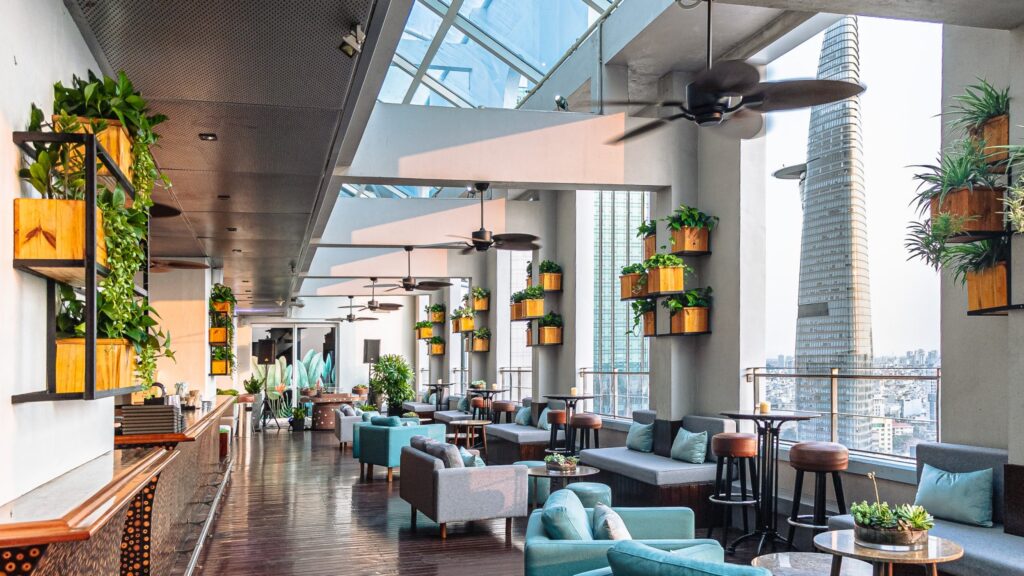 M Bar At Hotel Majestic Saigon
The M Bar is renowned for its delicious craft beers, dinner cruise along the Saigon River, and enchanting live performances from bands in the bright light every night at 8:00 p.m. Considered one of the top ten rooftop bars in the city, it is a must-visit destination for friends and family looking to enjoy the vibrant Saigon nightlife.
One of the bar's standout cocktails is the "Majestic 1925," a signature drink that pays homage to the Golden Age of Saigon. With a delightful blend of orange and cinnamon-infused Bourbon, Campari, the Majestic 1925 is a true masterpiece. At M Bar, guests can indulge in delectable dishes while immersing themselves in the bar's unique and captivating lively atmosphere.
Opening hours: 16:00 – 01:00, Monday – Sunday.
Address: 8th floor of the New Wing, 01 Dong Khoi, Ben Nghe Ward, District 1, Ho Chi Minh City.
Contact: (84 28) 3829 5517
Dance The Night Away
Let's move on with the next section about some popular clubs in Ho Chi Minh City, where people can put on their dancing shoes, listen to hip-hop music, and enjoy Ho Chi Minh City nightlife on the dance floor.
Apocalypse Now – Best Ho Chi Minh City Nightlife Choice!
Apocalypse Now is one of the most legendary night clubs in Saigon, renowned for its safety and popularity among tourists for the past 23 years. People visit Apo not just for drinks, but to socialize and experience the warm and welcoming atmosphere that not a bar in Ho Chi Minh City can provide. This has also been a favorite spot for all the international DJs.
If you feel lonely, just head upstairs to Apocalypse Now, where the live music bars and the iconic names from the past like The Smiths, Bon Jovi, and Wham… accompany you, along with the warm taste of cocktails that will warm your heart.
Opening hours: 20:30 – 03:00, Monday – Sunday.
Address: 2B Thi Sach, Ben Nghe Ward, District 1, Ho Chi Minh City.
Contact: 0799 741 261
Oslo Club
When it comes to the best nightlife dance floor in District 1 for genuine gamers, perhaps everyone knows Oslo Club. This place often attracts foreign guests, celebrities, and "famous" tycoons of Saigon. Oslo Club's menu is very diverse from beer, light wine, and spirits to Cocktails to suit many people's tastes. In addition, Oslo also has side dishes, fruits, and VIP combos.
Besides, Oslo Club also spends heavily to invite leading singers and international DJs to perform live music here such as Miu Le, HIEUTHUHAI, Lona Kieu Loan, Karik, DJ Wukong, DJ Bunny, DJ Cheez, DJ Datsik,…
Opening hours: 21:30 – 05:00, Monday – Sunday
Address: 38 Nam Ky Khoi Nghia Street, Nguyen Thai Binh Ward, District 1, Ho Chi Minh City.
Contact: 0937 031 177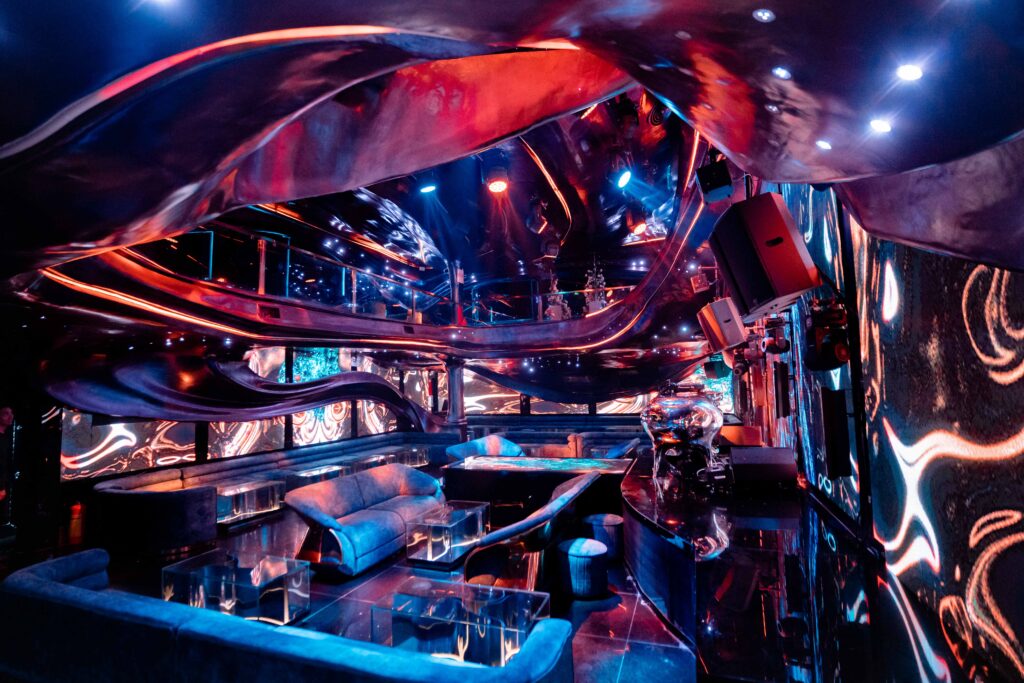 Go To Overnight Coffee Shops
If you're looking for a place to work or hang out late at night, Ho Chi Minh City has a variety of overnight coffee shops to choose from. These cafes offer a cozy and quiet atmosphere, perfect for getting work done or simply relaxing with friends.
Thuc Coffee
A night coffee in bustling Ho Chi Minh City, a pioneer with a 24/7 coffee service model, aiming for pure, clean, and safe product lines with a quiet space, full amenities, served morning and night, with a rich menu of drinks, diligent and dedicated service staff, and safe service. Thuc Coffe is absolutely perfect to stay up all night with you.
Thuc Coffee has become a familiar destination for all ages from work, and study to dating or simply a place to stop to see more clearly the movements of this magnificent Saigon. Salted Milkfoam Coffee or Matcha Kafé is highly recommended to try.
Opening hours: 24/7
Address: 37 Ly Tu Trong, Ben Nghe Ward, District 1, Ho Chi Minh City.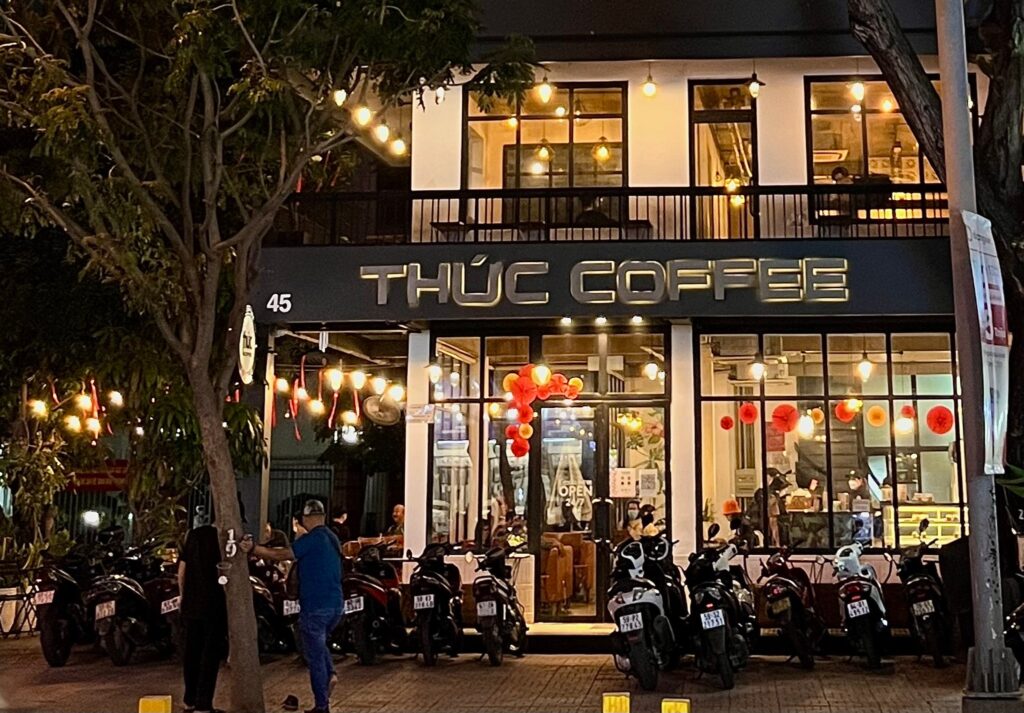 Den Da Coffee
Den Da Coffee is a coffee-dessert-tea concept shop, besides the retro interior that holds the spirit of Saigon in the 90s, known as one of the most popular dessert-toast spots in town. There are currently five stores in Ho Chi Minh City and 2 stores in Da Nang.
Vietnamese coffee is well-known all over the world as a strong bold flavor, Den Da offers that original taste to the customers. Besides, Fresh tea leaves and coffee beans from the Viet farmers, embrace the best texture and taste of signature Viet taste.
Opening hours: 24/7
Address: 11 Le Van Sy Street, Ward 10, Phu Nhuan, Ho Chi Minh City.
Snob Coffee
This cafe boasts a spacious and visually pleasing interior that's perfect for relaxation. It offers a variety of beverages and snacks, and its design is truly eye-catching. You can enjoy a refreshing iced black coffee for as low as 35,000 VND, which is approximately 1.5 USD.
The restaurant operates 24/7 and is ideal for groups of up to 8 people. Please note that outside food is not permitted, so kindly refrain from bringing your own. Rest assured, the establishment provides security guards to watch over your motorbikes.
The menu here is diverse, catering to various tastes. You'll find an array of teas, matcha, ice-blended drinks, and smoothies, all available in two sizes: Small (S) and Medium (M). The reasonably priced beverages range from 35,000 VND to 65,000 VND, equivalent to 1.5 USD to 2.7 USD.
Opening hours: 24/7
Address: 185 Nguyen Thi Minh Khai, Pham Ngu Lao Ward, District 1, Ho Chi Minh City.
Exploring Night Markets & Late-Night Eats
Well-known for Ho Chi Minh City nightlife, night markets offer a wide range of products, local Vietnamese street food and cheap drinks. Here are some of the most popular night markets with local culture in the whole city.
Ben Thanh Market – Phan Boi Chau Night Market
Situated in District 1, this night market in Ho Chi Minh City operates from 6:00 PM to 12:00 AM, offering visitors a miniature version of Saigon. Here, you'll discover a diverse array of items, including clothing, handbags, and handmade souvenirs. Moreover, the market boasts mouth-watering food courts where you can savor famous specialties from various regions of the country.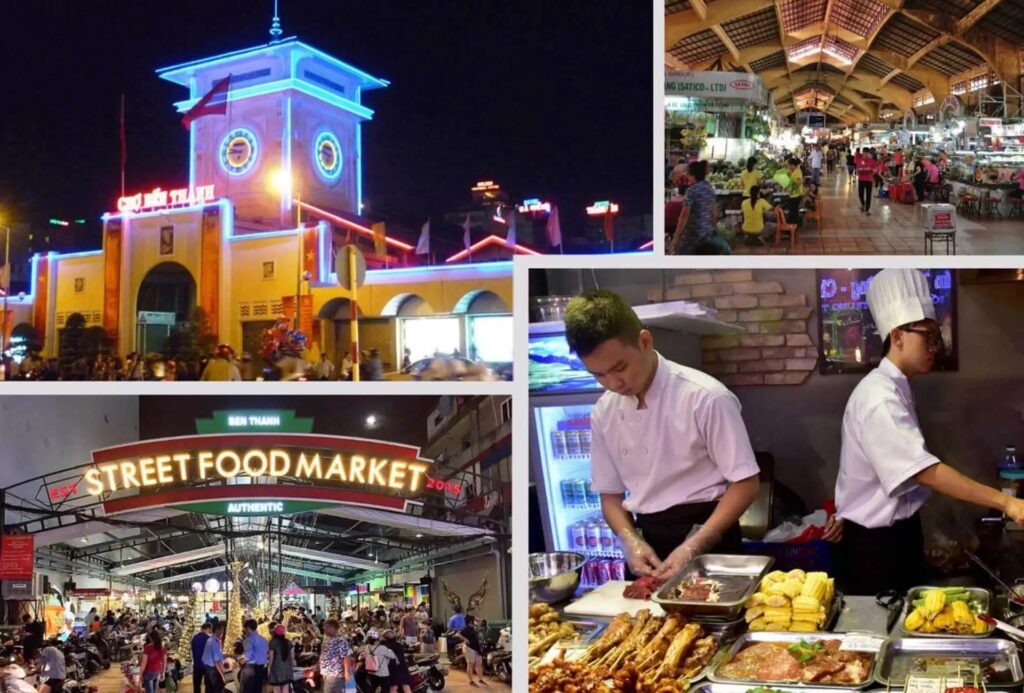 Ba Chieu Night Market
Situated in Binh Thanh District, Ba Chieu Night Market stands as one of Ho Chi Minh City's most ancient markets. Operating from 5:00 PM till late into the night, this bustling market offers a wide range of products at local-friendly prices. From T-shirts and shorts to comfortable flip flops, you'll find it all here. Additionally, food enthusiasts can savor delectable street food dishes like chicken sticky rice and char siu sticky rice, making it a must-visit for those looking to experience the authentic flavors of Saigon.
Walking Through Bui Vien Walking Street
Bui Vien Street, also known as "Western Street" (Pho Tay), is a backpacker district in Ho Chi Minh City that offers a variety of restaurants, coffee shops, hotels, live music pubs, and rooftop bars.
Before becoming a walking street, Bui Vien Street was a popular destination for backpackers to have fun, try unfamiliar cuisines, and explore new places during their trip to Ho Chi Minh City.
What Is The Bui Vien Walking Street?
Bui Vien is a go-to destination for foreign tourists and Saigonese young generation for nightlife in Ho Chi Minh City, making it a crowded multi-ethnic street with visitors from all over the world.
This walking street aims to diversify forms of night entertainment activities for tourists and residents. There will be street art performances, and ethnic and contemporary music, to satisfy public mental needs and facilitate interactions with non-Vietnamese friends and world cultural integration.
What To Eat At Bui Vien Street?
Many restaurants and eateries have sprung up in Bui Vien Street. No vehicles are allowed in Bui Vien Street between 7:00 PM and 2:00 AM on weekends to enable different sorts of entertainment activities including exploring Vietnamese folk games and Ho Chi Minh City nightlife.
Visitors can enjoy a decent filling meal with beverages from 100,000 VND to 200,000 VND ~ 4 USD to 8.2 USD from street food vendors, and treat themselves to a massage.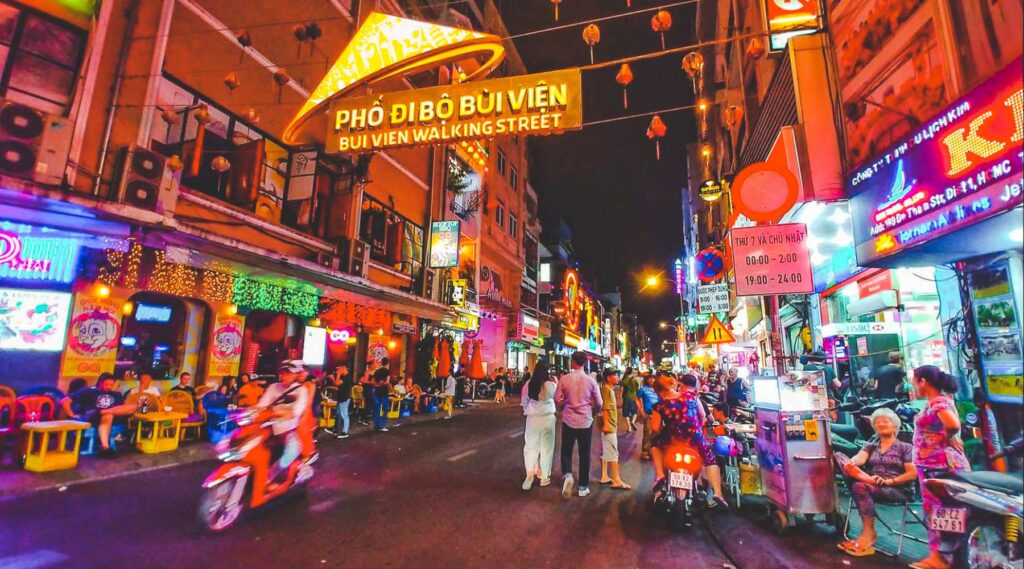 Watching Shows At HCMC Opera House
This place specializes in organizing professional theater shows such as live music performances, plays, opera, cai luong, and ballet,… for large art troupes. With a convenient location in the city center, the Theater is not only a venue for many major events but also an attractive tourist destination for tourists coming to Saigon.
Address: 07 Cong Truong Lam Son Street, Ben Nghe Ward, District 1, Ho Chi Minh City.
Reference opening hours: 9:00 – 16:30 (Monday – Friday); 9:00 – 12:00 (Saturday and Sunday).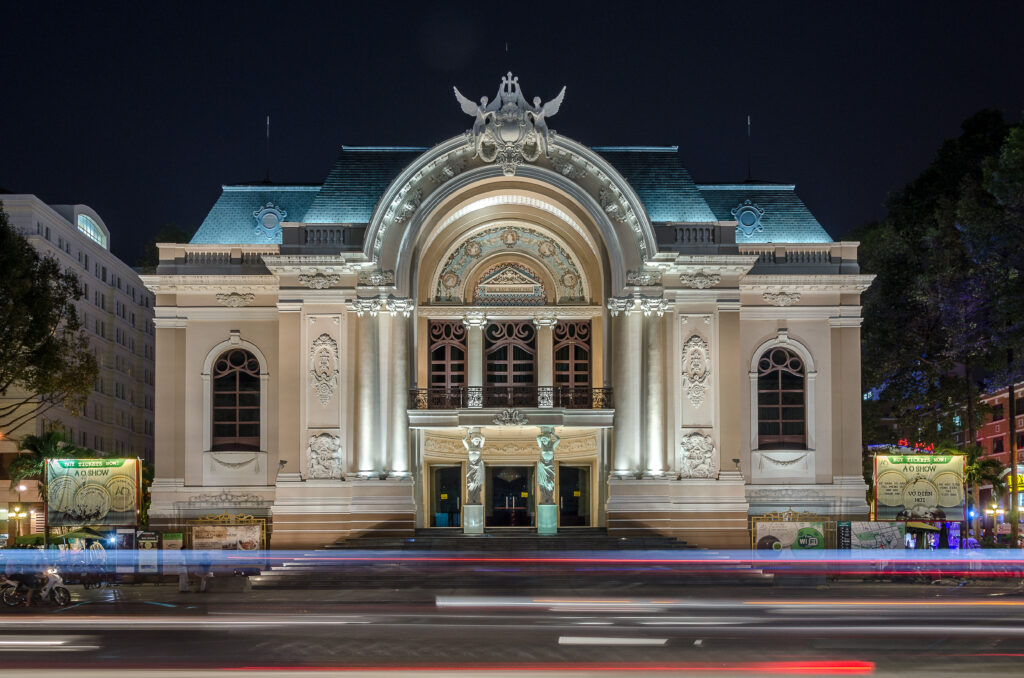 How To Buy Tickets For Saigon Opera House?
If you want to visit, you can buy tickets to watch shows at the ticket counter or on the Theater's website. After finishing the performance, you can walk around to admire the architecture and take photos to check in here.
Tips For Visiting Ho Chi Minh City Theater
Before heading to the Ho Chi Minh City Theater, it's a good idea to check the performance schedule and purchase tickets in advance to ensure you don't miss out on the show. Arriving at the theater a little early, about 15 to 30 minutes before the performance begins, is advisable. This gives you time to find your seat, capture some photos for check-ins, or even take advantage of any pre-show tours if available.
To ensure a pleasant experience for everyone, it's important to adhere to a few etiquette guidelines. Firstly, avoid bringing food or drinks with strong odors into the theater to maintain a pleasant and distraction-free atmosphere. Secondly, dress respectfully and neatly when attending a performance, and avoid wearing attire that could be considered offensive or disruptive.
Ready For A Night Out In Ho Chi Minh City Nightlife Scene?
In conclusion, Ho Chi Minh City boasts a vibrant nightlife culture that caters to a diverse range of tourists. The city offers a plethora of options, ranging from a sophisticated rooftop bar to bustling night markets. Visitors can relish live music, dance performances, or a stunning view of the city while savoring delicious food and drinks.
So, whether you're a night owl or just looking to savor the unique charm of Saigon after dark, the city's nightlife promises an unforgettable journey. As the city never sleeps, it invites you to explore, savor, and celebrate the magic that is Ho Chi Minh City nightlife.
Plan your hassle-free trip to Vietnam with e-Visa!
Let our extensive 10+ years of experience in visa services be your guiding light as you book with us, guaranteeing a smooth and worry-free trip to Vietnam!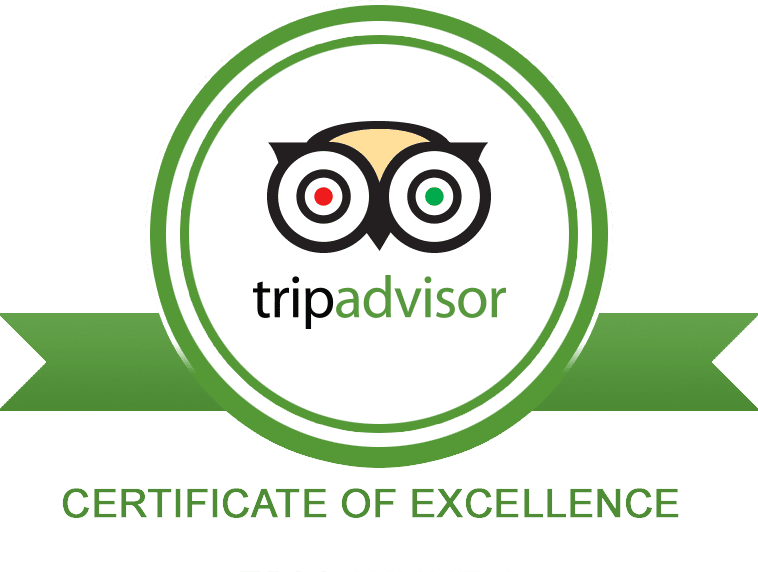 LEARN MORE!