As a popular travel destination, Vietnam has captured the hearts of globetrotters seeking a blend of history, adventure, and gastronomic delights. From the vibrant streets of Hanoi, the ancient town of Hoi An, to the bustling metropolis of Ho Chi Minh City, each city has a distinct personality that adds depth to the Vietnamese experience. Whether you're savoring local delicacies, exploring historical landmarks, or immersing yourself in the warm hospitality of the locals, Vietnam offers an unforgettable journey for every traveler.
In this article, we will take you on an enchanting journey through Vietnam's diverse cities. Delve into the rich historical landmarks, savor the delectable cuisine, and immerse yourself in the vibrant local culture, ensuring an unforgettable experience in this captivating Southeast Asian destination.
Planning a trip to Vietnam? Check out the best hassle-free Vietnam visa service!
1. Hanoi – Vietnamese Capital
Hanoi, the capital city of Vietnam, is a captivating blend of ancient heritage and modernity. Nestled in Northern Vietnam, it stands as the cultural and political heart of the country, boasting a history that spans over a millennium.
Learn more about Hanoi Old Quarter!
Historical Significance & Cultural Attractions
Hanoi's charm lies in its historical landmarks and cultural attractions. Hoan Kiem Lake, with the Ngoc Son Temple on a serene islet, offers tranquility amid the bustling city. The Old Quarter enthralls with its narrow streets, colonial architecture, and vibrant markets. Museums like the Vietnam National Museum of History provide insights into the nation's rich heritage.
Local Cuisine & Must-Try Dishes
Hanoi's culinary delights are a treat for the senses. Sample the iconic pho, a delightful noodle soup, and savor the flavors of bun cha, a dish of grilled pork and rice noodles. Don't miss out on the unique egg coffee, a rich concoction of Vietnamese coffee topped with sweet egg yolk.
Unique Experiences & Activities
Embrace the city's traditions with water puppet shows, a mesmerizing art form performed on water or other cultural show in the Hanoi Opera House. Take a leisurely cyclo ride through the Old Quarter to soak in its charm. Engage in cooking classes to learn the secrets of Vietnamese cuisine and indulge in your culinary creations.
Hanoi's allure lies in its time-honored heritage and vibrant present, offering travelers an unforgettable experience that encapsulates Vietnam's rich culture and warm hospitality.
Let's see how Adventures of A+K explored Hanoi!

2. Halong Bay
Halong Bay is a breathtaking UNESCO World Heritage Site located in northeastern Vietnam. Known for its mystical allure, Halong Bay is home to around 1,600 limestone islands and islets that emerge dramatically from the emerald waters of the Gulf of Tonkin. The bay's ethereal beauty is complemented by lush rainforests and enchanting caves, making it a paradise for nature enthusiasts and photographers alike.
Explore the top things to do in Vietnam with our guide!
Limestone Karsts & Emerald Waters
The mesmerizing landscape of Halong Bay is characterized by towering limestone karsts that have been shaped by millions of years of natural erosion. These majestic formations create a unique seascape, and the calm, jade-colored waters provide a serene environment for cruising and exploring. Whether it's aboard a traditional junk boat or a luxury cruise, sailing through Halong Bay is an unforgettable experience.
Popular Cruises & Boat Tours
A wide range of cruise options is available to explore Halong Bay, catering to various preferences and budgets. Travelers can choose from day cruises to multi-day excursions, each offering a chance to witness the bay's captivating beauty. Most cruises include visits to scenic spots, opportunities for swimming and kayaking, as well as onboard dining featuring delectable Vietnamese cuisine.
Caves & Grottoes Exploration
Halong Bay boasts numerous captivating caves and grottoes, each with its own fascinating legends and unique geological formations. Sung Sot Cave (Surprise Cave) is one of the largest and most impressive caves, showcasing incredible stalactites and stalagmites. Thien Cung Cave (Heavenly Palace Cave) is equally enchanting, with its grand chambers adorned with whimsical rock formations, creating a magical ambiance that sparks the imagination.
3. Hoi An Ancient City
Hoi An old town, a UNESCO World Heritage Site, is a captivating city situated along the Thu Bon River in central Vietnam. With its blend of Vietnamese, Chinese, and Japanese architecture, this historic trading port offers visitors a glimpse into its multicultural past.
Unique Blend Of Vietnamese, Chinese, & Japanese Architecture
Hoi An's charm lies in its well-preserved architecture, showcasing a harmonious fusion of Vietnamese, Chinese, and Japanese influences. Strolling through the Ancient Town reveals ornate wooden houses and the iconic Japanese Covered Bridge, reflecting the city's cultural diversity.
Tailoring & Shopping Experiences
Famous as a tailor's paradise, Hoi An entices fashion enthusiasts with its array of tailor shops offering custom-made clothing at affordable prices. From suits to ao dai, skilled tailors bring fashion dreams to life in this delightful city.
Lantern Festival & Other Cultural Events
Hoi An's Lantern Festival, held on the 14th day of each lunar month, transforms the Ancient Town into a magical wonderland with thousands of colorful lanterns illuminating the streets and riverfront. This enchanting spectacle captures the city's romantic ambiance, while various cultural events and performances showcase Hoi An's rich artistic heritage.
4. Hue
Nestled along the Perfume River, Hue, the former capital of the Nguyen Dynasty, is steeped in imperial history. Its awe-inspiring Imperial City, a UNESCO World Heritage Site, showcases grand palaces, temples, and gardens, reflecting the opulence of past emperors. The surrounding countryside is adorned with remarkable royal tombs, such as Minh Mang's, Khai Dinh's, and Tu Duc's, offering a glimpse into the regal lives of bygone rulers.
Traditional Music & Performances
Hue's cultural legacy extends to its preservation of traditional music, "Nha Nhac," recognized by UNESCO. These mesmerizing performances, held at the Royal Palace and other venues, immerse spectators in the elegance of ancient court music, keeping the art form alive for generations.
Local Delicacies & Culinary Highlights
Hue's culinary delights pay homage to its imperial heritage. "Bun Bo Hue," a spicy beef noodle soup, and "Com Hen," a dish of baby mussels and fragrant rice, offer a fusion of exquisite flavors. These imperial dishes can be savored at local eateries, blending history with gastronomy.
Modern Hue
Embracing the Present while Honoring the Past: While preserving its historical charm, modern Hue flourishes with artistic expression, bustling markets, and warm hospitality. Visitors encounter a vibrant city that gracefully blends tradition with innovation, providing a captivating and unforgettable experience. Accommodations cater to diverse preferences, ensuring a delightful stay amidst the city's cultural richness.
5. Da Nang
Among Vietnam cities, Da Nang is a vibrant coastal city in central Vietnam, known for its beautiful beaches, stunning landscapes, and harmonious blend of modernity and tradition. With its location along the South China Sea, this Central Coast city offers a perfect destination for travelers seeking both relaxation and adventure.
Beautiful Beaches & Outdoor Activities
Da Nang's pristine beaches, like My Khe Beach, attract sun-seekers and water sports enthusiasts. The nearby Marble Mountains offer nature lovers hiking opportunities with panoramic views and hidden caves and pagodas to explore.
Modern Bridges & Architectural Landmarks
Da Nang's sandy beach and colonial buildings have been attracting visitors for years. Additionally, iconic bridges like the Dragon Bridge, with its fire-breathing dragon, and the Golden Bridge perched in the Ba Na Hills captivate visitors with their unique designs and picturesque settings.
Family-Friendly Attractions & Amusement Parks
Da Nang offers a range of family-friendly attractions, including the Sun World Ba Na Hills amusement park and the Asia Park entertainment complex, both providing a fun-filled experience for all ages.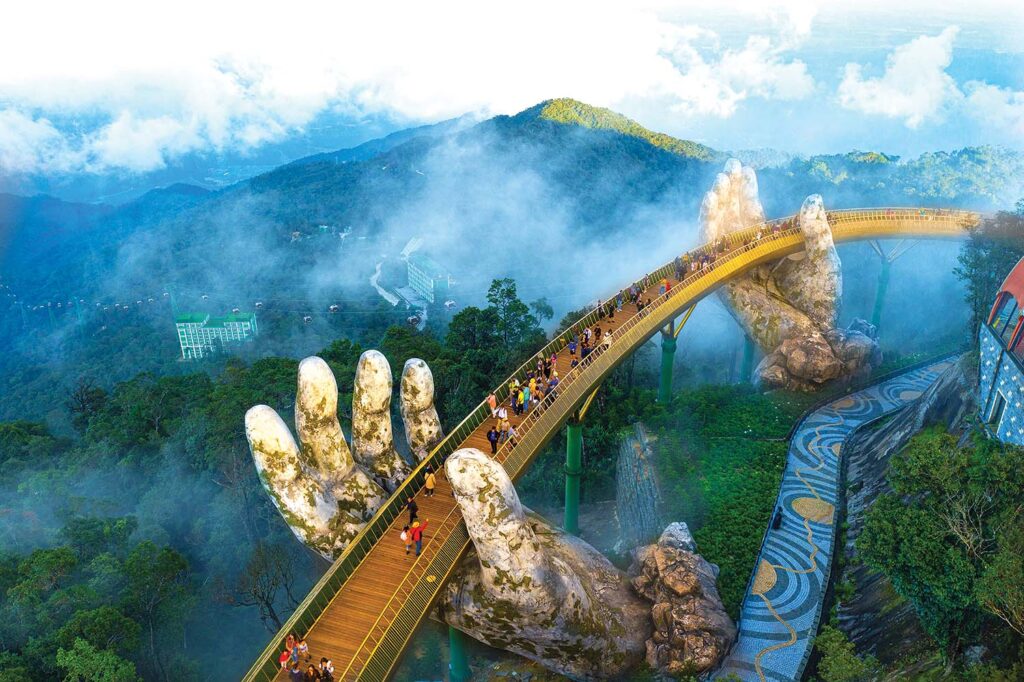 6. Nha Trang
Nestled along the coastline of central Vietnam, Nha Trang is a vibrant coastal city renowned for its stunning beaches and picturesque landscapes. With its crystal-clear waters, white sandy shores, and a backdrop of lush green mountains, Nha Trang has become a beloved destination for beach lovers and water sports enthusiasts alike.
Scenic Beauty & Water-Based Activities
Idyllic Beaches: Nha Trang boasts a range of captivating beaches, each with its own charm. Among the most popular are Nha Trang Beach, Tran Phu Beach, and Bai Dai Beach. Visitors can relax under the swaying palms, soak up the sun, or take a leisurely stroll along the shoreline.
Water Sports: Adventure-seekers will find an array of water-based activities to indulge in. Snorkeling and scuba diving in Nha Trang's vibrant coral reefs offer glimpses of mesmerizing marine life. Whether you're a novice or an experienced diver, the underwater world here promises unforgettable experiences.
Island Tours: Embark on island-hopping tours from Nha Trang to explore nearby islets such as Hon Mun and Hon Tam. These excursions allow travelers to enjoy secluded beaches, snorkeling in pristine waters, and savoring freshly caught seafood.
Local Seafood & Dining Options
Nha Trang's coastal location ensures a bountiful supply of fresh seafood. Don't miss the chance to savor delicious local dishes like grilled squid, lobster, and succulent prawns at waterfront restaurants.
Nha Trang's Nightlife
As the sun sets, Nha Trang comes alive with a lively nightlife scene. Beachside bars and clubs offer a mix of live music, dancing, and refreshing cocktails, providing a perfect way to unwind after a day of exploration.
Nha Trang's unique blend of natural beauty, water-based adventures, relaxation opportunities, and culinary delights make it a must-visit destination for travelers seeking a beach escape with a touch of Vietnamese charm. Whether you're yearning for exciting water activities, peaceful moments by the sea, or indulgent spa experiences, Nha Trang has something to offer every type of traveler.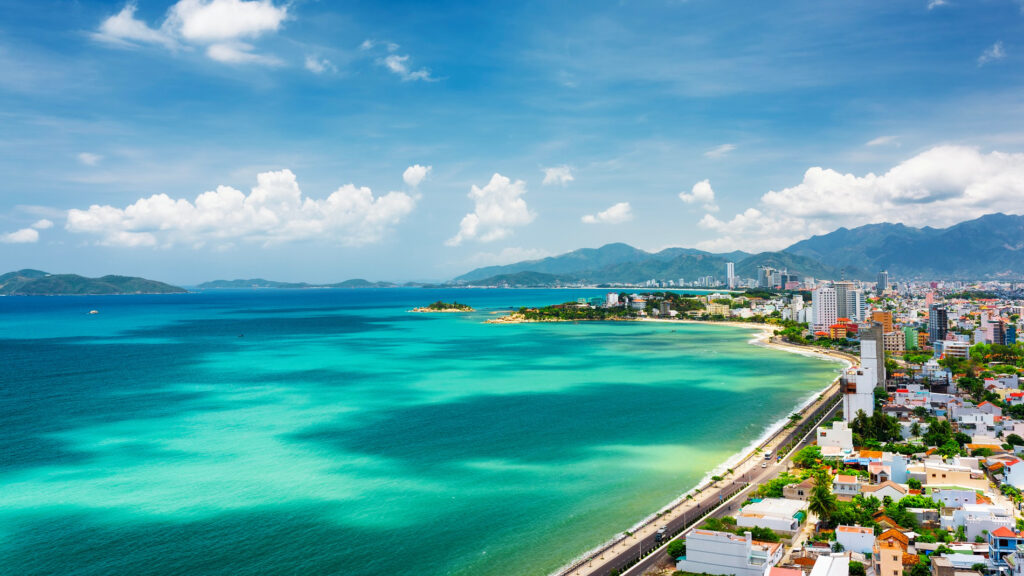 7. Da Lat
Nestled in the Vietnam's central highlands, Da Lat is a picturesque city renowned for its pleasant year-round climate and enchanting highland scenery. Da Lat also used to be a French colonial city.
Often referred to as the "City of Eternal Spring," Da Lat offers a refreshing escape from the heat found in other cities of the country. Its cool temperatures and misty landscapes create a unique ambiance, attracting both local and international travelers seeking a respite from the tropical weather found elsewhere in Vietnam.
Flower Gardens & Scenic Landscapes
Da Lat's natural beauty is exemplified by its vibrant flower gardens and breathtaking landscapes. The Valley of Love and Da Lat Flower Park showcase a kaleidoscope of colorful blooms, making them perfect spots for romantic strolls or peaceful contemplation.
Beyond the floral splendor, Da Lat's surrounding countryside boasts picturesque waterfalls, rolling hills, and lush pine forests, presenting numerous opportunities for nature lovers and photographers to immerse themselves in the scenic delights of the region.
Adventure Sports & Outdoor Activities
For thrill-seekers and outdoor enthusiasts, Da Lat offers an array of exciting adventure sports and activities. The surrounding mountains and valleys create an ideal playground for trekking and hiking adventures, with trails leading to stunning viewpoints and hidden gems. Adrenaline junkies can get their fix through canyoning excursions, rappelling down waterfalls, and plunging into cool pools below. Mountain biking is also a popular choice, allowing visitors to explore picturesque landscapes at their own pace while soaking in the fresh mountain air.
Coffee Plantations & Local Coffee Culture
Beyond its natural beauty and adventure, Da Lat is also known for its flourishing coffee plantations and unique coffee culture. The region's fertile highland soil provides an ideal environment for growing flavorful Arabica coffee beans. Visitors can tour coffee plantations, witnessing the coffee production process from bean to cup, and even sample a variety of aromatic brews. Da Lat's coffee shops, with their cozy and artistic atmospheres, offer a chance to savor the local coffee while engaging in conversations with friendly locals, making the coffee experience an integral part of any Da Lat itinerary.
With its cool climate, breathtaking landscapes, outdoor adventures, and coffee culture, Da Lat promises an unforgettable experience for travelers seeking a different side of Vietnam beyond the coastal beaches and bustling cities.
8. Ho Chi Minh City
Ho Chi Minh City, formerly known as Saigon, is the largest and most vibrant city in Vietnam. It serves as the economic and cultural hub of the country, offering a fascinating blend of modernity and tradition. With its bustling streets, high-rise buildings, and bustling markets, Ho Chi Minh City embodies the fast-paced energy of urban life in Southeast Asia.
Modern Attractions & Landmarks
Ho Chi Minh City boasts an array of modern attractions and landmarks that reflect its progressive spirit. Visitors can marvel at the French colonial architecture in historic sites like the Notre-Dame Cathedral Basilica of Saigon and the Central Post Office. The Bitexco Financial Tower stands tall as an iconic skyscraper offering panoramic views of the city, while the War Remnants Museum provides a somber glimpse into Vietnam's tumultuous past.
A must-visit while you're here is also the Cu Chi Tunnels , a historical spot that served as a hiding place during the Vietnam War.
Vibrant Street Life
Ho Chi Minh City's streets are alive with an electrifying energy that captivates travelers. The bustling markets, such as Ben Thanh Market, offer a sensory feast of colors, scents, and flavors. Here, visitors can shop for traditional crafts, clothing, and sample delectable street food. Exploring the city on foot or by cyclo is a great way to immerse in its vibrant atmosphere and interact with friendly locals.
Nightlife & Entertainment
As the sun sets, Ho Chi Minh City transforms into a dynamic nightlife destination. The city offers a diverse range of entertainment options, from rooftop bars overlooking the city skyline to lively nightclubs where visitors can dance the night away. For a taste of Vietnamese culture, catching a traditional water puppet show or enjoying live music performances at local venues is a must.
Among major cities in Vietnam, Ho Chi Minh City's magnetic allure lies in its ability to seamlessly blend the traditional with the modern, providing an unforgettable experience for travelers seeking a dynamic urban adventure in Vietnam.
9. Can Tho
Nestled along the banks of the Mekong River, Can Tho is a vibrant city and the epicenter of the Mekong Delta in southern Vietnam. Can Tho is also a municipal city (not belonging to any province) among the various municipal cities or major cities in Vietnam.
Known for its fertile lands and intricate network of waterways, Can Tho boasts a captivating blend of natural beauty and rich cultural heritage. As one of the largest cities in the region, it serves as a bustling hub for trade, agriculture, and tourism, offering visitors a unique glimpse into the traditional life of the delta.
Floating Markets & River Life
Can Tho is famous for its bustling floating markets, where locals gather to buy and sell an array of goods directly from boats. The most iconic of these markets is Cai Rang, attracting vendors from all over the delta and offering a sensory feast of colors and scents. Rise early to witness the lively spectacle of vendors and buyers haggling over fresh produce, seafood, and handicrafts. Exploring these vibrant markets and engaging with friendly locals is an authentic experience that immerses visitors in the river life of the Mekong Delta.
Authentic Mekong Cuisine
For food enthusiasts, Can Tho is a culinary haven, presenting a myriad of delicious dishes unique to the Mekong Delta. Sample regional specialties like Hu Tieu (noodle soup), Bun Rieu (crab noodle soup), and Banh Xeo (Vietnamese crepes). Don't miss the chance to savor fresh seafood straight from the Mekong River. The city's riverfront restaurants and local eateries provide an ideal setting to indulge in the flavors of this fertile land.
Eco-tourism & Rural Experiences
Beyond the urban center, Can Tho offers fantastic opportunities for eco-tourism and authentic rural experiences. Embark on a boat tour through lush green canals, surrounded by mangrove forests and fruit orchards. Engage in local activities like fishing, farming, and mat weaving to get a taste of traditional life in the delta. For a deeper immersion, consider staying at a homestay in a nearby village, where warm hospitality and the simplicity of delta living will leave a lasting impression.
Ready For The Best Cities In Vietnam?
In conclusion, Vietnam cities offer a captivating tapestry of culture, history, and natural beauty. From the bustling streets of Hanoi to the picturesque beaches of Nha Trang, each city presents a unique experience that will leave travelers enchanted.
Throughout your journey in Vietnam, you will witness a harmonious blend of tradition and modernity, as ancient temples stand alongside contemporary skyscrapers. The warm hospitality of the Vietnamese people will make you feel welcome, and the diverse cuisine will delight your taste buds.
Don't miss out on this incredible journey—start planning your trip today! And remember, for a smooth and hassle-free experience, be sure to book the best Vietnam visa services.
Plan your hassle-free trip to Vietnam with e-Visa!
Let our extensive 10+ years of experience in visa services be your guiding light as you book with us, guaranteeing a smooth and worry-free trip to Vietnam!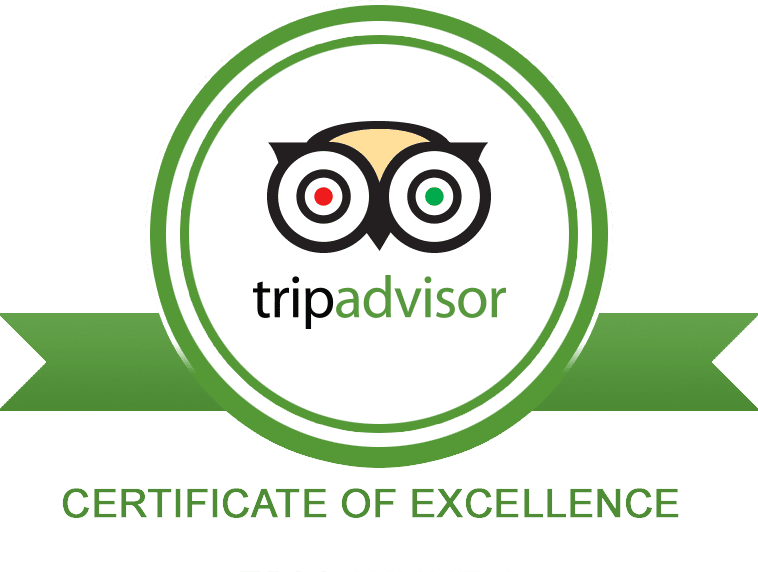 LEARN MORE!