Welcome to Vietnam, a fascinating country in Southeast Asia brimming with rich culture, breathtaking natural beauty, and intriguing adventures just waiting to be discovered. This enchanting Southeast Asian country provides a stunning tapestry of historical sites, breathtaking scenery, and exquisite food that will captivate you.
In this article, we have compiled a list of the top 20 things to do in Vietnam, covering a wide range of activities that highlight the country's unique charm and appeal. This guide will help you uncover hidden treasures and prominent Vietnam tourist attractions that help you when planning to visit Vietnam, whether you enjoy history, adventure, gastronomy, or simply exploring new places!
Planning a trip to Vietnam? Check out the best hassle-free Vietnam visa service!
1. Immerse yourself in the vibrant streets of Hanoi Old Quarter
The Old Quarter of Hanoi is a vibrant neighborhood that showcases the essence of Vietnamese culture. Its narrow, winding streets are adorned with French colonial architecture, colorful shops, historic sites and bustling markets. The Old Quarter is a sensory delight, with the aroma of street food filling the air and the vibrant energy of locals going about their daily lives.
Explore the lively alleyways of Hanoi's Old Quarter and immerse yourself in the heart of Vietnamese culture. This lively area offers a captivating tapestry of sights, sounds, and flavors that will leave international visitors with a lasting impression.
Prepare to be enchanted by the meandering lanes lined with bright stores, lively markets, and the tantalizing smells of street cuisine. The Old Quarter offers a treasure trove of unique items and true cultural exchanges, from traditional silk clothes to fine crafts and delicious Pho, Banh Mi & Vietnamese coffee!
Learn more about Hanoi Old Quarter!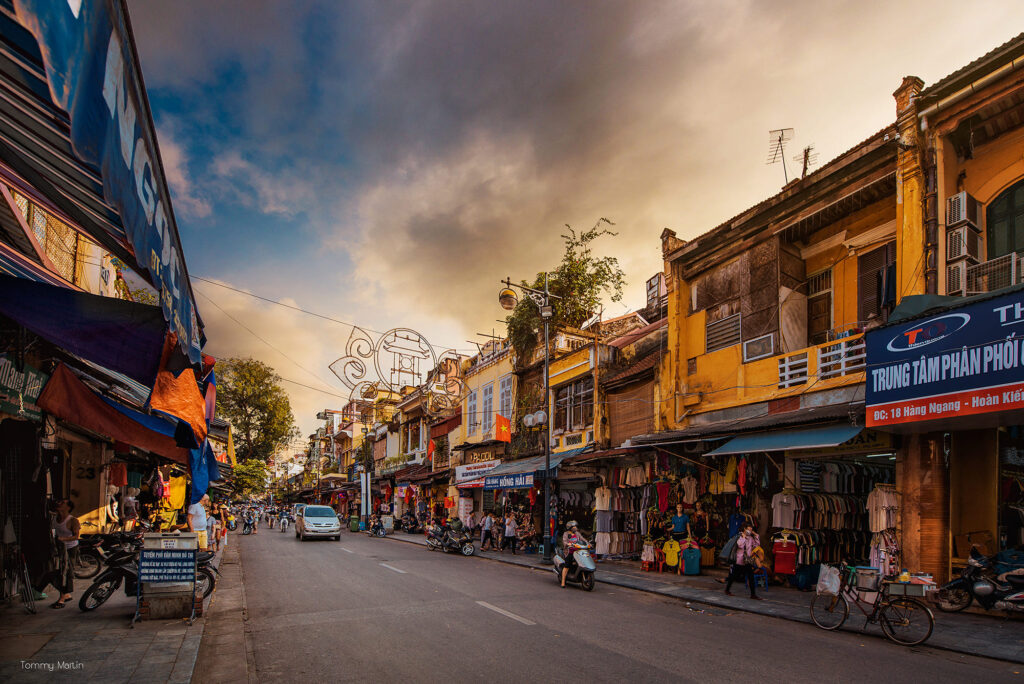 2. Cruise Through Halong Bay – Top Things To Do In Vietnam
Halong Bay, located in northeastern Vietnam, is a breathtaking destination that attracts foreign tourists from around the world. Known for its stunning limestone karsts jutting out of the emerald waters, Halong Bay offers a mesmerizing landscape that is unlike anything else on Earth. The bay is a UNESCO World Heritage Site and is often referred to as the "Bay of the Descending Dragon" due to its legendary origins. With its tranquil waters, mysterious caves, and captivating scenery, Halong Bay is a must-visit destination for any traveler seeking natural beauty and cultural exploration.
Taking a cruise through Halong Bay is an ideal way to experience the splendor of this unique location. A cruise allows you to leisurely navigate the bay, providing ample opportunities to admire the majestic karsts, explore hidden caves, and immerse yourself in the rich local culture. Whether you choose a traditional junk boat or a luxury cruise ship, you can relax and enjoy the picturesque surroundings while being pampered with excellent service and amenities. Cruises often offer a range of activities, such as kayaking, swimming, and fishing, ensuring that you make the most of your time in Halong Bay.
Halong Bay boasts numerous famous sights and experiences that are worth exploring during your cruise. One of the highlights is visiting the stunning Thien Cung Cave and Sung Sot Cave (Surprise Cave). This cavern is adorned with intricate stalactites and stalagmites, forming a whimsical underground landscape. Another must-see is the floating fishing villages, where you can witness the daily lives of local fishermen and gain insights into their unique way of living.
3. Discover The Wonders Of Lan Ha Bay & Bai Tu Long Bay
Lan Ha Bay and Bai Tu Long Bay are two stunning destinations located in northern Vietnam, offering foreign tourists a captivating experience.
Lan Ha Bay, situated just south of world-famous Halong Bay, boasts crystal-clear turquoise waters, lush limestone karsts, and hidden sandy beaches. The bay is less crowded than its neighbor, providing a more tranquil and secluded atmosphere for visitors to enjoy.
Bai Tu Long Bay, on the other hand, is located northeast of Halong Bay and is known for its picturesque landscape of emerald waters, towering karst formations, and pristine islands. Both bays offer breathtaking natural beauty and a chance to escape the hustle and bustle of city life.
Lan Ha Bay offers activities such as exploring caves, snorkeling, swimming, and scenic boat tours. Bai Tu Long Bay allows tourists to cruise through stunning landscapes, visit Thien Canh Son Cave, and engage in kayaking, fishing, and swimming. Visitors can also immerse themselves in local culture through cooking classes and learning traditional fishing techniques.
4. Take A Trip To Cat Ba Island
Cat Ba Island, located in northern Vietnam, is a captivating destination known for its lush jungles, stunning beaches, and limestone karsts. As the largest island in Ha Long Bay, it offers foreign tourists a tranquil escape and a chance to explore its rich biodiversity as a UNESCO Biosphere Reserve.
When visiting Cat Ba Island, tourists can indulge in activities such as cruising through the iconic Ha Long Bay, hiking through Cat Ba National Park to witness wildlife and panoramic views, and engaging in thrilling adventures like kayaking, rock climbing, and cycling. Additionally, they can immerse themselves in the local culture and cuisine by savoring traditional Vietnamese dishes in charming restaurants and markets. Cat Ba Island promises an unforgettable experience for foreign tourists, with its natural wonders and vibrant atmosphere.
5. Explore The Nature And Culture Of Ha Giang
Ha Giang, in northern Vietnam or in Vietnam's mountainous north, is a mesmerizing destination for foreign tourists. Its rugged landscapes, including majestic mountains and deep valleys, create a stunning backdrop. The region is known for its ethnic minority communities, providing a rich cultural experience. Ha Giang welcomes nature enthusiasts, adventure seekers, and cultural explorers with open arms.
In Ha Giang, there are a few must-do activities. Take a thrilling motorbike journey along the Ma Pi Leng Pass for breathtaking views of the Nho Que River. Explore the Dong Van Karst Plateau Geopark, one of the underrated UNESCO World Heritage Sites, and hike through unique limestone formations.
Experience local hospitality by staying in a homestay and engaging with the ethnic minority villages like Tay, Hmong, and Dao communities. Don't miss the vibrant weekly markets, where you can immerse yourself in the local culture. Ha Giang guarantees an unforgettable adventure in nature and an immersion into Vietnamese traditions!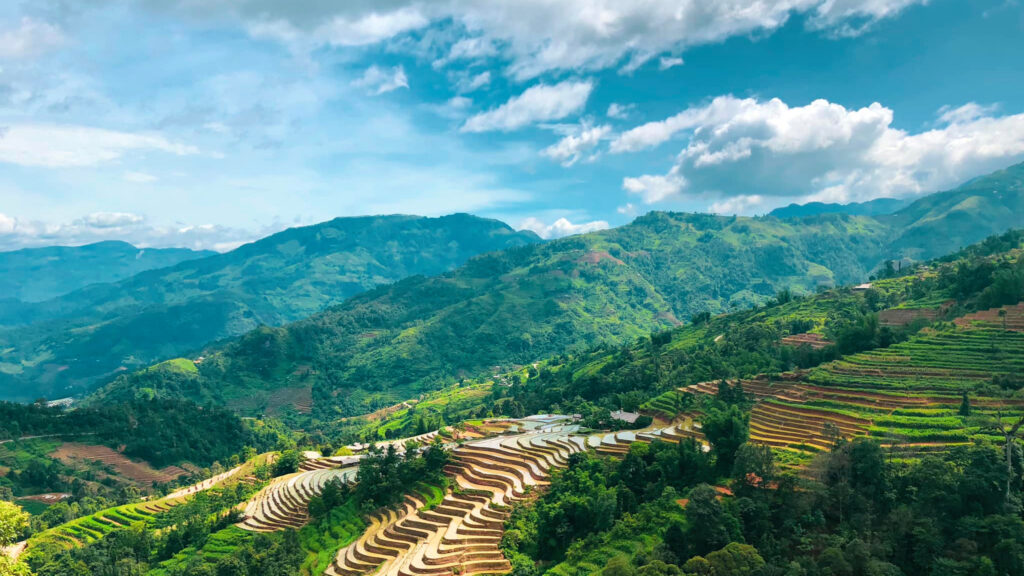 6. Unwind In The Serenity Of Sapa
Sapa is a captivating destination in northern Vietnam, known for its breathtaking landscapes and vibrant hill tribes. Surrounded by lush green valleys and mist-covered peaks, it offers an authentic and immersive travel experience for foreign tourists.
When visiting Sapa, tourists can engage in activities such as trekking through stunning rice terraces for panoramic views and encountering local villages. Exploring the bustling Sapa Market allows for shopping traditional handicrafts while gaining insight into local life. Homestay experiences offer the chance to stay with local families, enjoy traditional meals, and deepen cultural understanding. Overall, Sapa guarantees an unforgettable adventure of natural beauty, cultural immersion, and warm hospitality.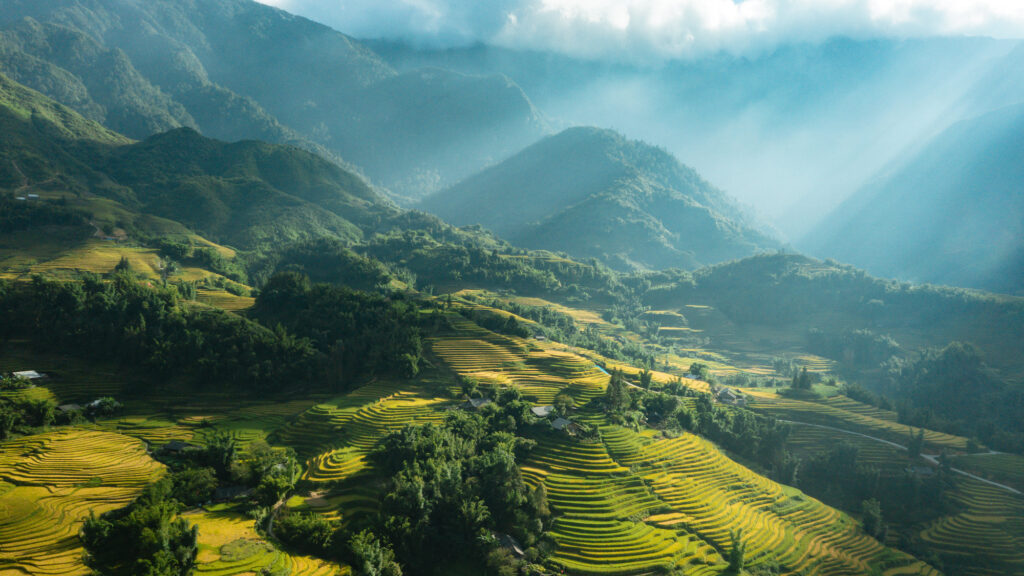 7. Experience The Tranquil Charm Of Ninh Binh
Ninh Binh, located in northern Vietnam, offers foreign tourists a captivating blend of natural beauty and cultural heritage along the Red River Delta. Known as the "Halong Bay on land," it features stunning karst landscapes, emerald-green rice fields, and meandering rivers. This hidden gem provides an authentic Vietnamese countryside experience away from the city's hustle and bustle.
When visiting Ninh Binh, make sure to explore Trang An, a UNESCO World Heritage Site with cave boat rides. Take a scenic boat tour along the Ngo Dong River in Tam Coc-Bich Dong, passing through three caves. Hike up to Mua Cave for panoramic views, visit the historic temples of Hoa Lu, and experience local food and culture in charming villages throughout the province.
8. Discover The Rich Cultural Heritage Of Hue
Hue, the former imperial capital of Vietnam, boasts a rich cultural heritage for foreign tourists to discover. Its well-preserved palaces, temples, and tombs, along with the UNESCO-listed Imperial City, provide a glimpse into the grandeur of the Nguyen Dynasty. Hue is also renowned for its traditional music, art forms, and imperial cuisine, offering a captivating cultural experience.
When visiting Hue, make sure to explore the Imperial City sitting along the banks of the gorgeous Perfume River, and its royal buildings, gardens, and gateways. Discover the architectural wonders of the royal tombs, such as the Tomb of Emperor Minh Mang and the Tomb of Emperor Khai Dinh. Engage in traditional craft workshops, visit famous Thien Mu pagoda, try local delicacies like Bun Bo Hue, and immerse yourself in the city's vibrant festivals. This ancient city offers a memorable journey through Vietnam's royal heritage and captivating cultural traditions.
9. Witness The Vibrant Lantern Festival In Hoi An Ancient Town
Immerse yourself in the enchanting beauty of Hoi An's Old Town in Central Vietnam, renowned for its well-preserved ancient architecture and vibrant lantern festival. The Hoi An Lantern Festival, one of the best things to do in Vietnam, is a magical event held every full moon in the ancient town of Hoi An in Vietnam. This UNESCO World Heritage Site comes alive with thousands of colorful lanterns during the monthly full moon festival, creating a truly mesmerizing atmosphere for foreign tourists to witness and experience.
In Hoi An, don't miss exploring the narrow streets of the ancient town and the Japanese Covered Bridge, indulging in the local cuisine, and taking a leisurely boat ride along the Thu Bon River. For a unique experience, try a lantern-making workshop to craft your own beautiful lantern. Hoi An offers an unforgettable opportunity to immerse yourself in the rich cultural heritage and traditions of Vietnam, making it a must-visit destination for foreign tourists.
10. Explore Phong Nha Stunning Landscapes Off The Beaten Path
Phong Nha in Vietnam is a hidden gem with stunning landscapes. It's known for its remarkable caves and lush greenery, offering foreign tourists a chance to get off the beaten path and immerse themselves in natural beauty. Phong Nha is home to the UNESCO World Heritage-listed Phong Nha National Park, which boasts a remarkable system of caves and underground rivers. From exploring the world's largest cave, Hang Son Doong, to trekking through dense forests and witnessing cascading waterfalls, Phong Nha provides a unique and unforgettable experience for adventure seekers and nature enthusiasts.
When visiting Phong Nha, don't miss a boat trip along the Son River to see the magnificent Phong Nha Caves. The Dark Cave offers thrilling activities like zip-lining, mud-filled cave swimming, and kayaking. The Paradise Cave is a mesmerizing underground wonderland filled with stalactites and stalagmites. Adventurous travelers can also enjoy jungle treks, biking tours, and camping in the national park, immersing themselves in Phong Nha's unspoiled beauty.
Escape the crowds and discover the natural wonders of Vietnam in Phong Nha. This hidden gem promises breathtaking landscapes and unforgettable experiences!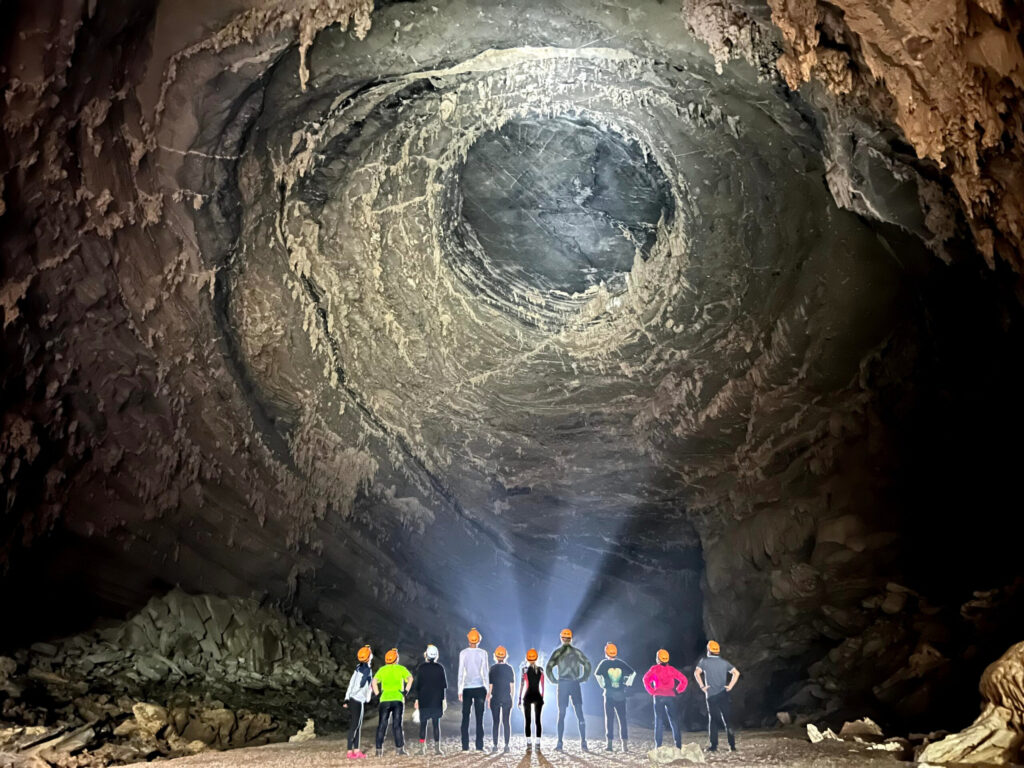 11. Relax On The Picturesque Beaches Of Da Nang
Da Nang, a coastal city located on Vietnam's central coast, is renowned for its picturesque beaches and stunning landscapes. It's an ideal destination for foreign tourists seeking relaxation and natural beauty.
In Da Nang, you can lounge on the golden sands of My Khe Beach or enjoy water sports like surfing and paddleboarding. For a serene experience, visit Non Nuoc Beach and take in the peaceful ambiance and gentle waves. Don't miss the breathtaking sunsets over the sea in Da Nang!
Beyond the beaches, Da Nang offers attractions like the Dragon Bridge, known for its light displays and fire-breathing performances. Explore the ancient Marble Mountains, stroll the Golden Bridge, or visit the scenic Ba Na Hills with its cable car ride and amusement park. Da Nang promises an unforgettable experience for foreign tourists with its stunning landscapes and warm hospitality.
12. Explore The Ancient Cham Temples Of My Son
My Son is an archaeological site in central Vietnam, showcasing the ancient Cham civilization. Dating back to the 4th to 13th centuries, the temples here represent the religious and cultural center of the Cham people. Despite damage over time, this UNESCO World Heritage site offers a glimpse into the grandeur of the Cham Empire, making it a must-visit for foreign tourists interested in Vietnam's history.
Immerse yourself in the captivating ancient Cham temples of My Son with guided tours that unveil their historical significance. Don't forget your camera to capture the intricate carvings and be transported by the lingering spiritual energy that permeates the air. Enhance your visit with traditional Cham dance performances, adding an authentic cultural touch. My Son seamlessly combines history, culture, and spirituality, providing foreign tourists with an enchanting experience to cherish.
13. Explore The Scenic Town Of Da Lat
Da Lat is a scenic town in the Central Highlands of Vietnam, known as the "City of Eternal Spring." With its pleasant climate and French colonial architecture, it offers a serene escape amidst rolling hills, pine forests, and enchanting lakes.
Explore the stunning landscapes of Da Lat, from the colorful gardens of the Valley of Love to the tranquility of Xuan Huong Lake. Engage in thrilling activities like canyoning and visit the unique Crazy House. Immerse yourself in the vibrant markets, try delicious street food, and visit the historic Da Lat Railway Station. End your day with a cup of aromatic Da Lat coffee, taking in the breathtaking views.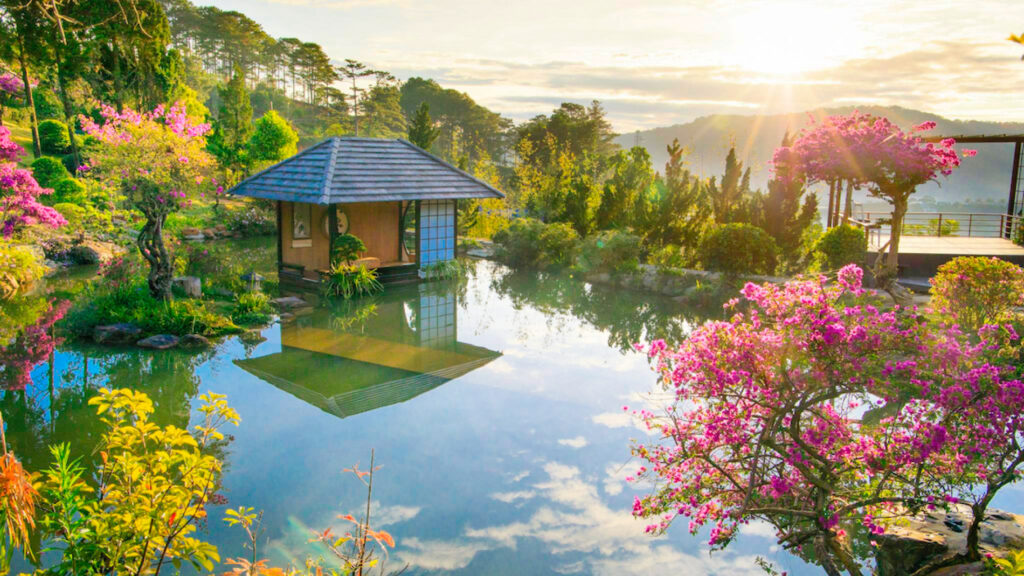 14. Discover The Captivating Ho Chi Minh City
Ho Chi Minh City, commonly known as Saigon, is a vibrant and captivating destination that attracts tourists from all around the world. As the largest city in Vietnam, it is a bustling metropolis that seamlessly blends tradition with modernity. With its rich history, diverse culture, and dynamic energy, Ho Chi Minh City offers an unforgettable experience for foreign tourists. From stunning colonial architecture to bustling markets and vibrant nightlife, this city has something to offer for everyone.
When visiting Ho Chi Minh City, there are several must-see attractions that should be on your itinerary. Start by exploring the iconic Ben Thanh Market, where you can immerse yourself in the bustling atmosphere and shop for local handicrafts, clothing, and delicious street food.
Take a trip back in time by visiting the historic Independence Palace and the War Remnants Museum, which provide deep insights into Vietnam's tumultuous past. For a taste of Vietnamese culture, visit the magnificent Notre Dame Cathedral and the nearby Saigon Central Post Office, both excellent examples of French colonial architecture.
To truly experience the essence of the city, make sure to explore the bustling streets of Ho Chi Minh City on foot or by motorbike. Wander through the narrow alleys of the vibrant Chinatown, known as Cho Lon, and marvel at the intricate pagodas and vibrant temples. Don't miss out on sampling the local cuisine, from mouthwatering street food such as banh mi and pho to delectable dishes at trendy rooftop restaurants.
Finally, end your day by immersing yourself in the city's thriving nightlife scene, with its rooftop bars, live music venues, and energetic clubs. Ho Chi Minh City is a city that never sleeps and offers an exciting experience for foreign tourists seeking adventure and cultural immersion.
15. Experience The Vibrant Nightlife Of Ho Chi Minh City
Ho Chi Minh City offers an electrifying nightlife experience that is sure to be one of the top things to do in Vietnam. The city is known for its vibrant and diverse entertainment scene, with a plethora of options to suit every taste and preference. From bustling night markets and stylish rooftop bars to energetic nightclubs and live music venues, HCMC has it all.
Begin your evening at the vibrant Ben Thanh Night Market, where the air is filled with the aroma of local street food and the stalls are packed with unique souvenirs. Indulge your taste buds, shop to your heart's content, and immerse yourself in the bustling atmosphere of this iconic market.
For a touch of sophistication, ascend to the heights of HCMC's renowned rooftop bars, such as the iconic Chill Skybar or the trendy Zion Sky Lounge & Dining. Sip on tantalizing cocktails while being mesmerized by breathtaking panoramic views of the city skyline.
And if you're in the mood for dancing, lose yourself in the rhythm of HCMC's vibrant nightclub scene, where underground electronic music clubs and mainstream dance floors await, ensuring an extraordinary experience for every nocturnal adventurer. Let the pulse of HCMC's nightlife guide you through a tapestry of unforgettable moments, leaving you craving for more.
16. Crawl Through Cu Chi Tunnels
Cu Chi tunnels, located near Ho Chi Minh City, Vietnam, were crucial during the Vietnam War. These 250-kilometer-long tunnels showcase the resilience and ingenuity of the Viet Cong fighters, providing foreign tourists with a deeper understanding of the country's history.
When exploring Cu Chi tunnels, foreign tourists can crawl through sections of the tunnels, experience the cramped conditions, and witness the booby traps used during the war. This hands-on experience offers a unique perspective on the challenges faced by soldiers and the guerrilla warfare tactics employed.
In addition to exploring Cu Chi tunnels, tourists can engage with the local community, try traditional cuisine, witness handicraft demonstrations, and interact with Vietnam war survivors. These interactions provide a well-rounded experience, combining history, culture, and personal connections for an enriching visit to the Cu Chi tunnels. It deserves to be one of the top things to do in Vietnam for every tourist!
17. Journey Through The Tranquility Of Mekong Delta
The Mekong Delta in South Vietnam is a picturesque region known for its scenic landscapes, vibrant culture, and fertile agricultural lands. It is formed by the mighty Mekong River and its intricate network of tributaries, creating a sprawling maze of canals, lush rice fields, and dense mangrove forests. As the "rice bowl" of Vietnam, Mekong Delta offers a unique glimpse into rural life and features charming floating markets where visitors can immerse themselves in the local trading scene.
Exploring the Mekong Delta offers a range of exciting activities. Boat tours along the canals provide stunning views and opportunities to interact with local fishermen and farmers. Don't miss the bustling Mekong Delta floating markets like Cai Rang and Phong Dien. Cycling through the countryside allows for a closer connection with rural communities, and local market experiences while sampling the region's delicious cuisine, including fresh seafood and tropical fruits, which is a treat for the taste buds.
18. Indulge In The Ultimate Sun-Soaked Escape At Phu Quoc Beach
Phu Quoc Island is a tropical paradise in southern Vietnam. As one of the stunning beaches, it offers foreign tourists a breathtaking beach destination. With its pristine white sand beaches, turquoise waters, and lush greenery, Phu Quoc Island provides the perfect setting for sunbathing. The island's warm climate and luxurious resorts make it an ideal place to relax and enjoy the sun.
Beyond sunbathing, visitors can also indulge in activities such as snorkeling, diving to explore vibrant coral reefs, and sampling delicious seafood dishes. Additionally, Phu Quoc is famous for its production of high-quality fish sauce, so take some time to visit local fish sauce factories and learn about the traditional production methods.
19. Escaping To Con Dao – Nature's Oasis In The South China Sea
Nestled in the South China Sea, Con Dao is a captivating archipelago off Vietnam's southeastern coast. Its pristine beaches, sparkling turquoise waters, and lush forests make it an ideal destination for foreign tourists seeking a serene retreat.
Explore the largest inhabited island, Con Son, and delve into its intriguing history at the transformed Con Dao Prison, now a poignant museum. The island also offers breathtaking hiking trails through untamed jungles, unveiling a diverse array of flora and fauna.
Con Dao beckons foreign tourists with a myriad of unforgettable experiences. Dive or snorkel in the vibrant marine world of coral reefs, exotic fish, and graceful sea turtles. Embark on boat excursions to discover hidden bays and idyllic islets, indulge in serene beach picnics, and soak up the warm sun. Adventure seekers can partake in thrilling activities like trekking, kayaking, or even nighttime squid fishing.
Con Dao's unspoiled natural beauty sets the stage for outdoor adventures, allowing travelers to reconnect with nature and create cherished memories.
20. Taste The Delights Of Vietnamese Cuisine
Vietnamese cuisine is a vibrant fusion of flavors influenced by neighboring countries like China and Cambodia. From the popular pho noodle soup to the savory banh mi sandwiches, each dish offers a symphony of tastes that will captivate your palate. The emphasis on balance and harmony creates dishes that are both comforting and refreshing, making Vietnamese cuisine a memorable gastronomic experience for foreign tourists.
To truly savor Vietnamese cuisine, don't miss the fresh spring rolls, banh xeo pancakes, and the iconic pho noodle soup. These dishes showcase the diverse flavors and textures that make Vietnamese cuisine so special. Additionally, explore regional specialties like the spicy Hue-style noodle soup and the savory Cao Lau from Hoi An to discover the rich culinary heritage of Vietnam. Whether you indulge in street food or dine in traditional restaurants, the diverse and tantalizing flavors of Vietnamese cuisine will leave you wanting more.
Let's see what's Joel Friend recommend you to know before coming to Vietnam!
Figured Out The Best Things To Do In Vietnam Yet?
In summary, there's an array of unforgettable things to do in Vietnam waiting to be discovered. From the breathtaking beauty of Ha Long Bay to the captivating charm of Hoi An, each destination has its own story to tell. Whether you're seeking adventure in Sapa's scenic landscapes or indulging in Hanoi's street food delights, Vietnam has something for everyone.
Don't miss out on this incredible journey—start planning your trip today! And remember, for a smooth and hassle-free experience, be sure to book the best Vietnam visa services.
Get ready to visit Vietnam and create lifelong memories in this enchanting country!