Hanoi, the bustling capital city of Vietnam, is a city steeped in history and culture, where ancient traditions blend harmoniously with modern urban life. Beyond its rich heritage and scenic landscapes, Hanoi has also emerged as a vibrant culinary destination, enticing locals and tourists with its delectable flavors and dishes. For the wandering food enthusiast, Hanoi restaurants offer an enticing tapestry of tastes, making it a haven for anyone eager to explore the wonders of Vietnamese cuisine.
In this article, we carefully selected the best restaurants in Hanoi based on food quality, ambiance, and popularity among locals and tourists. Our goal is to offer an unbiased glimpse into Hanoi's dining landscape.
Planning a trip to Vietnam? Check out the best hassle-free Vietnam visa service!
Delights Of Hanoi's Cuisine
When dining at top Hanoi restaurants, you'll be treated to a delectable array of famous dishes that encapsulate the essence of Vietnamese cuisine. Here are some must-try delights:
Pho – Savor the iconic noodle soup, featuring tender beef or chicken, fresh herbs, and rice noodles in a fragrant, savory broth.
Bun Cha – Indulge in grilled pork paired with vermicelli noodles, fresh herbs, and a delightful sweet dipping sauce.
Banh Mi – Experience the fusion of French and Vietnamese flavors in this mouthwatering sandwich filled with a variety of delicious options called Banh Mi.
Cha Ca – Delight in the unique combination of grilled fish seasoned with turmeric and dill, served alongside vermicelli, peanuts, and aromatic herbs.
Nom Bo Kho – Relish the flavors of the beef jerky salad, enhanced by shredded green papaya, carrots, herbs, and crushed peanuts.
Egg Coffee – Conclude your meal with a sweet indulgence – the creamy egg yolk custard paired with rich Vietnamese coffee. You can try this unique Vietnamese dish in Cafe Pho Co, Cafe Giang, or Cafe Dinh for an authentic experience!
While exploring top Hanoi restaurants, you'll encounter these iconic dishes and more, each skillfully prepared with the city's aromatic spices, such as star anise, cinnamon, lemongrass, green onion, fish sauce, chili sauce, and ginger. Prepare yourself for a remarkable culinary journey that celebrates the heart and soul of Vietnamese cuisine.
1. Hibana by Koki
Experience the epitome of Japanese culinary excellence at Hibana by Koki, a one-star Michelin restaurant in the heart of Hanoi. Among luxury restaurants in Old Quarter, this restaurant offers an intimate and exclusive dining experience with meticulously appointed private rooms and a captivating Chef's Table.
Here, culinarians skillfully showcase the raw and evocative elements of contemporary Japan, crafting dishes with heart and passion right in front of your eyes. Each delicacy is a fusion of tradition and innovation, carefully prepared to entice your taste buds and leave a lasting impression. For those seeking an extraordinary gastronomic journey, Hibana by Koki promises a symphony of flavors, elevating Japanese dining to unparalleled heights.
Learn more about Hanoi Old Quarter!
Address: Basement 1, Capella, 11 Le Phung Hieu, Hoan Kiem, Hanoi, Vietnam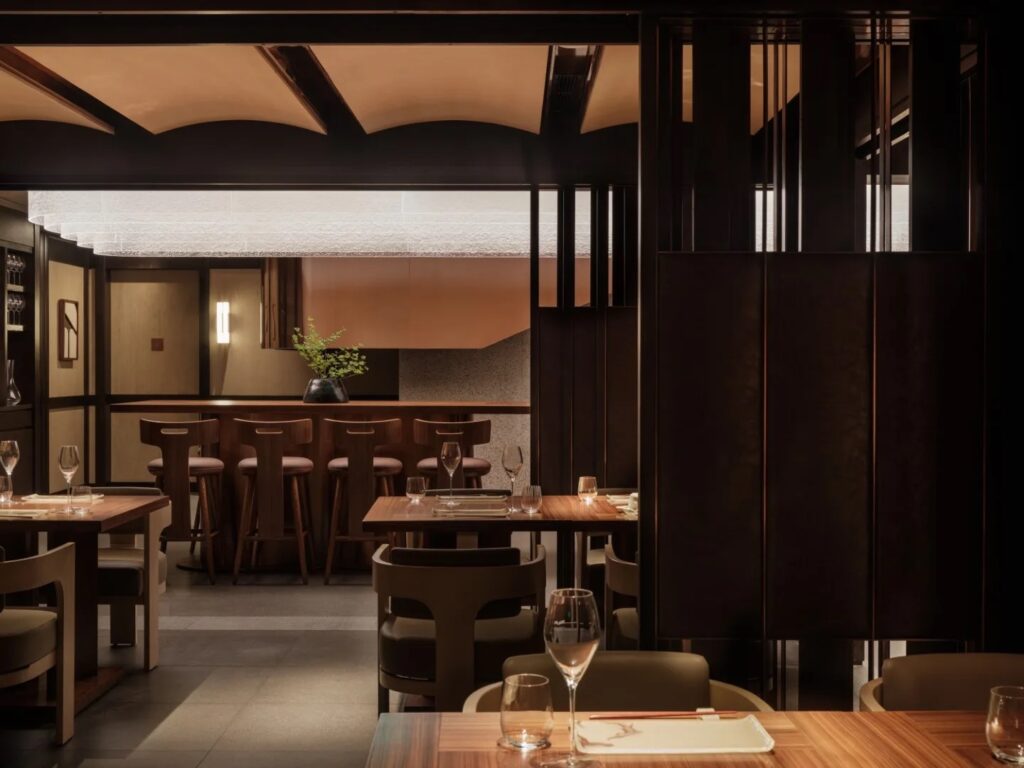 2. Backstage
At Backstage, immerse yourself in the lavish world of an opera-themed restaurant, where your dining experience takes center stage. With an open kitchen stealing the limelight, this opulent eatery blends the rich heritage of Northern Vietnamese cuisine with contemporary European techniques, crafting bold and delightful dishes that will leave your taste buds singing with joy.
Indulge in the finest steaks from their Josper grill or opt for the romantic allure of sharing dishes for two, all while surrounded by stunning costumes from the opera's greatest performances. It's no wonder Backstage has earned its place on the Michelin selected list, guaranteeing a dining experience worthy of applause.
Address: Capella, 11 Le Phung Hieu, Hoan Kiem, Hanoi, Vietnam
3. Sen 60 Ly Thai To
Nestled in the heart of Hanoi's French Quarter, Sen 60 Ly Thai To is a sophisticated restaurant that promises an exceptional buffet dinner experience, sure to impress even those who typically shy away from buffets. The elegant ivory-color scheme and neocolonial architecture perfectly complement the exquisite array of dishes, ranging from tantalizing seafood and oysters to fresh sashimi, crab, escargot, and authentic Vietnamese spring rolls.
What sets Sen 60 Ly Thai To apart is not only its delectable offerings but also its impeccable service, ensuring a seamless and memorable dining experience for all guests. Remarkably, the buffet comes at an excellent value, especially considering its convenient location near the Hanoi Opera House and several of the city's finest hotels. While Sen has three other branches in Hanoi, this particular one stands out as the crown jewel of the collection, making it a must-visit destination for food enthusiasts seeking an unforgettable culinary adventure.
Address: 60 Ly Thai To, Trang Tien, Hoan Kiem District, Hanoi
4. T.U.N.G Dining
Step into the world of T.U.N.G Dining, where Chef Hoang Tung's culinary artistry unfolds with every plate. The restaurant's twisted, unique, natural, and gastronomic philosophy is reflected in its 20-course tasting menu, designed to harmonize with the changing seasons and spotlight local produce. Each dish, adorned with just 3 or 4 ingredients, surprises diners with explosive complexities that dance on their palates.
The well-balanced flavors, clever contrasts of texture and temperature, and the judicious use of acidity make T.U.N.G Dining a true standout in Hanoi's culinary scene. It's no wonder this Michelin-selected gem has captivated both locals and tourists alike, leaving them with an unforgettable dining experience like no other.
5. Le Beaulieu – Sofitel Legend Metropole Hotel
Experience gastronomic excellence at Le Beaulieu, the "Grand Dame of 1901." This renowned restaurant seamlessly blends opulence, classical charm, and modern design, creating an ambiance of timeless elegance in white, gold, and heathery blue-grays. Delight in contemporary French haute cuisine that pays homage to traditional flavors, curated by innovative chefs focusing on seasonality and sophistication.
Le Beaulieu goes beyond exceptional dishes; it offers a wine connoisseur's paradise. With over 600 wine references and 100+ Grand Cru Classes, the selection is a testament to their dedication to wine knowledge and facilities. Impeccable service further elevates the experience, making each visit a cherished memory. Let Le Beaulieu enchant you with its culinary legacy and refined dining, a haven where flavors and wines harmonize to create an unforgettable journey.
6. HOME Hanoi: Where Tradition Meets Innovation
At HOME Hanoi, the essence of the Vietnamese spirit permeates every aspect of the dining experience. With a profound appreciation for the country's heritage and an unwavering commitment to excellence, this restaurant beautifully blends the past with the future. Step inside and embark on a culinary journey that goes beyond mere dinner; it's an exploration of Vietnam's culture and history through the senses of its people.
The heart of HOME Hanoi lies in its dedication to showcasing the very best of Hanoi food. Each dish is a masterpiece, meticulously crafted with ingredients sourced from local vendors, handpicked with utmost care. As you savor their delectable offerings, you'll find yourself becoming equally passionate about Vietnamese cuisine. You can find many featured dishes, from rice noodles to various street food.
At HOME Hanoi, it's not just a meal; it's an immersion into the soul of Vietnam, where the relentless pursuit of improvement and perfection is celebrated with every bite.
7. Quan An Ngon
Quan An Ngon, established in 2005, has become a cherished culinary destination for locals and tourists alike. The restaurant's enchanting antique architecture and warm ambiance transport guests to the vibrant, bustling streets below old Hanoi, creating a captivating dining experience.
With a mission to "Bring special tastes from 3 regions to enrich Vietnamese soul in the heart of Hanoi," Quan An Ngon offers an extensive selection of Vietnamese food representing the unique flavors of Northern, Central, and Southern Vietnam.
Its commitment to preserving Vietnam's culinary heritage ensures constant menu refinement and exceptional customer service, making it a must-visit spot for those seeking an authentic and delightful gastronomic journey. Whether you're a food enthusiast or a curious traveler, Quan An Ngon promises an unforgettable taste of Vietnam's rich cultural tapestry.
8. Cai Mam Bistro: Authentic Vietnamese Flavors
Located in the heart of Hanoi's Old Quarter, Cai Mam Bistro stands out as a must-visit Vietnamese eatery, delighting patrons with genuine regional tastes. This restaurant has earned its reputation by offering a diverse menu of authentic traditional Vietnamese cuisine, ranging from delectable street food to meticulously handcrafted meals prepared by skilled chefs.
What sets Cai Mam apart from other best restaurants in Hanoi is its commitment to preserving original recipes, resulting in dishes that perfectly blend regional flavors with artisanal Vietnamese culinary techniques. Over its 10 years of operation, Cai Mam has honed its understanding of customers' preferences, continually improving to meet their culinary desires.
In addition to serving classic favorites such as fresh rice noodles, pho bo (pho noodles or beef pho), bun bo nam bo and bun cha, the restaurant also caters to a wider audience by offering delightful vegan and vegetarian options, welcoming food enthusiasts of all preferences to savor their exceptional creations.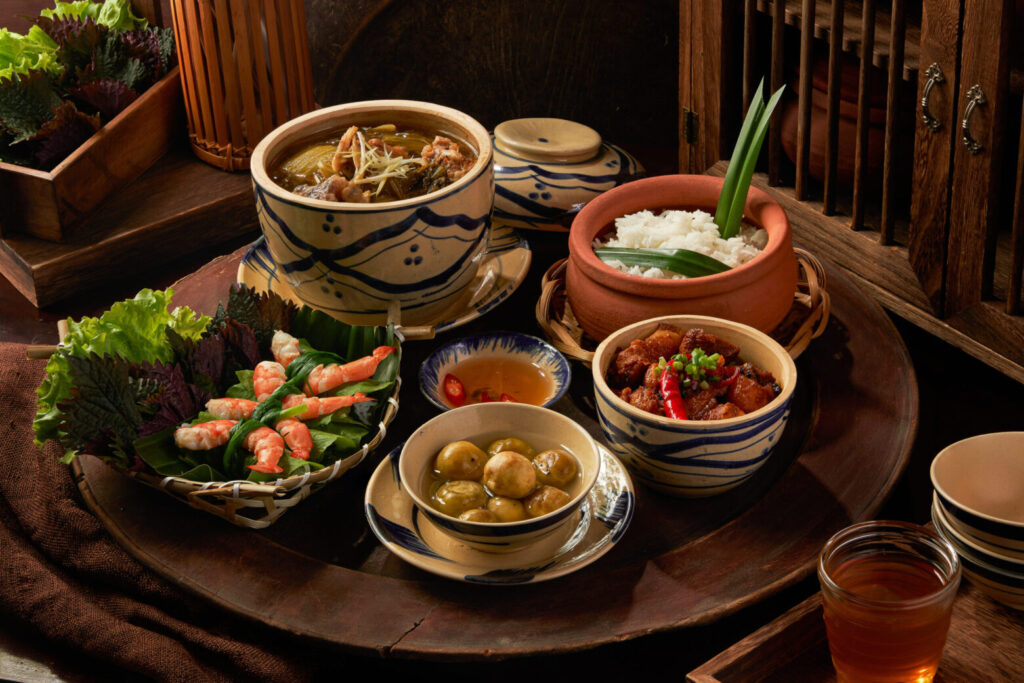 9. Bun Cha Dac Kim: A Culinary Icon in Hanoi
Bun Cha Dac Kim Restaurant Bun Cha Dac Kim is a standout among the many Bun Cha restaurants in Hanoi old quarter, thanks to its rich history and unwavering dedication to serving only the finest quality food. Boasting a remarkable history of more than 50 years, this restaurant has earned its reputation by unwaveringly delivering top-notch, mouthwatering dishes. The secret to their success lies in their time-honored recipe for Bun Cha Hanoi, carefully passed down through generations of skilled chefs. The pork is marinated in a closely-guarded secret blend of flavors, perfected over the years, while their signature dipping sauce is prepared fresh daily. For food enthusiasts, a visit to Bun Cha Dac Kim is a must, as it promises an unforgettable taste of Hanoi's finest.
With its rustic charm and delectable offerings, Bun Cha Dac Kim has become an iconic dining destination for locals and tourists alike. As you step into the restaurant, you'll be greeted by the captivating aroma of grilled pork, drawing you towards the source of this culinary delight. Whether you choose to dine inside amidst the cozy ambiance or prefer the outdoor seating for a more authentic experience, the flavors will not disappoint. The combination of succulent pork, fresh herbs, and rice vermicelli, along with the tantalizing dipping sauce, creates a harmonious symphony of tastes that dance on your palate. For those seeking an authentic taste of Hanoi's culinary heritage, Bun Cha Dac Kim undoubtedly deserves a prominent spot on your foodie bucket list.
10. Hanoi Social Club: Where Creativity Meets Culinary Delights
Nestled in the heart of Hanoi, the Hanoi Social Club stands as a cozy and one-of-a-kind haven for locals and expats alike. Founded in 2011 by a visionary Vietnamese-American artist and entrepreneur, this vibrant venue has become a magnet for the creative and artistic community in the city. A harmonious blend of restaurant, cafe, bar, and event space, the Hanoi Social Club offers an unforgettable experience for those seeking not only great food but also a cultural rendezvous.
The menu at Hanoi Social Club showcases a delightful fusion of Vietnamese and international cuisine, expertly crafted using fresh, high-quality ingredients. Beyond the delectable dishes, the venue boasts a diverse beverage selection, featuring homemade kombucha, specialty coffee, and craft cocktails that are sure to please any palate.
The bar also takes pride in supporting local and independent producers by offering a thoughtfully curated range of beers, wines, and spirits. Whether you're in for a sumptuous meal, a sip of artisanal concoctions, or simply to immerse yourself in the vibrant atmosphere, Hanoi Social Club promises an unforgettable experience where creativity and culinary delights intertwine.
11. Cloud 9
Elevate your dining experience to Cloud Nine Restaurant, where pure delight awaits. Perched on the 9th story, the restaurant offers invigorating 360-degree views of Hanoi's rooftops, Hoan Kiem Lake, and the Red River through its floor-to-ceiling windows.
The Indochina-inspired design, coupled with a serene color palette, sets the perfect ambiance for savoring a wide variety of beloved, authentic Vietnamese dishes from all corners of the country. Each carefully crafted dish not only pleases the palate but also takes diners on a gourmet journey, showcasing the artistic presentation and flawless execution that Cloud Nine is renowned for. To complement this culinary journey, Cloud Nine boasts a carefully curated wine bar.
Whether you're a local or a foreign visitor, a meal at Cloud Nine among other best restaurants in Hanoi will leave you feeling like you've tasted a piece of heaven amidst the clouds over Hanoi.
12. Namaste Hanoi
Nestled in the heart of Hanoi's city center, Namaste Restaurant invites diners on a culinary journey to India. Stepping inside, you are greeted by elegant decor, reflecting the richness of Indian culture and providing a cozy dining atmosphere. Namaste prides itself on offering the most diverse and authentic Indian cuisine, making it a must-visit for those seeking an exotic and flavorful experience.
The menu at Namaste Hanoi is a true celebration of India's culinary heritage. From the delectable curries of North India to the hot and spicy soups of the South, and the sweet delicacies of Gujarat to the rich Mughal cuisines of Hyderabad, every dish carries the essence of Indian flavors.
Notably, Namaste Hanoi Old Quarter restaurant takes pride in offering Halal meals, catering to diverse dietary preferences. To add authenticity, the restaurant uses a genuine Indian clay tandoor oven, ensuring that their Naan bread retains its traditional taste. Complemented by the perfect art of cuisine and a team of professional, friendly staff, Namaste Hanoi guarantees a memorable and delightful dining experience for all who step through its doors.
Conclusion: Savoring Hanoi's Finest
As we conclude our culinary odyssey through the best restaurants in Hanoi, we hope this guide has whetted your appetite for the city's diverse flavors. From the iconic Pho to the delightful Banh Mi, each dish we've explored showcases the rich tapestry of Vietnamese cuisine.
With each restaurant meticulously chosen for its exceptional quality and ambiance in this Hanoi food guide, we aimed to provide you, our cherished readers, with an unbiased resource to enhance your dining experiences in Hanoi. Embrace the local customs, immerse yourself in the aromatic spices, and let the symphony of tastes transport you to the heart of Vietnamese culture.
As you embark on your gastronomic adventures in Hanoi, remember to explore the bustling street food stalls and hidden gems, where more culinary delights await. Whether you're a seasoned traveler or a first-time visitor, Hanoi's best restaurants are sure to leave a lasting impression, creating cherished memories of this captivating city. Bon appétit and safe travels!
Don't miss out on this incredible journey—start planning your trip today! And remember, for a smooth and hassle-free experience, be sure to book the best Vietnam visa services.