When it comes to vibrant culinary scenes, few places can compare to Saigon, also known as Ho Chi Minh City. This bustling metropolis is not just a destination; it's an adventure for food enthusiasts. Saigon food culture is a captivating blend of traditional Vietnamese flavors and modern culinary influences, making it a paradise for those with an appetite for authentic cuisine.
In this comprehensive Saigon food guide, we'll delve into the iconic dishes that define Ho Chi Minh City gastronomic landscape, highlighting the unique characteristics and flavors that make them a must-try.
Planning a trip to Vietnam? Discover a premium, seamless Vietnam visa service for your journey to this captivating destination!
1. Banh Mi: The Quintessential Vietnamese Sandwich
Let's begin our culinary voyage with the most popular Saigon street food – Banh Mi, a culinary marvel that beautifully captures Saigon's cultural blend. This quintessential Vietnamese food is a masterpiece that artfully marries the French baguette with a medley of fillings.
The baguette, a remnant of French colonial influence, provides the perfect crunchy exterior, while the fillings—a harmonious blend of savory meats, vibrant herbs, zesty pickled vegetables, and velvety spreads—create a symphony of textures and flavors that sing in harmony. Banh Mi sandwiches embodies the city's ingenious fusion of flavors and textures, representing both its history and its evolving identity.
For an authentic Banh Mi experience that has garnered a loyal following, journey to the streets of Ho Chi Minh City, where revered vendors like "Banh Mi Huynh Hoa" or "Banh Mi Hoa Ma" craft these sandwiches with meticulous care, ensuring that every ingredient resonates in perfect harmony with the next.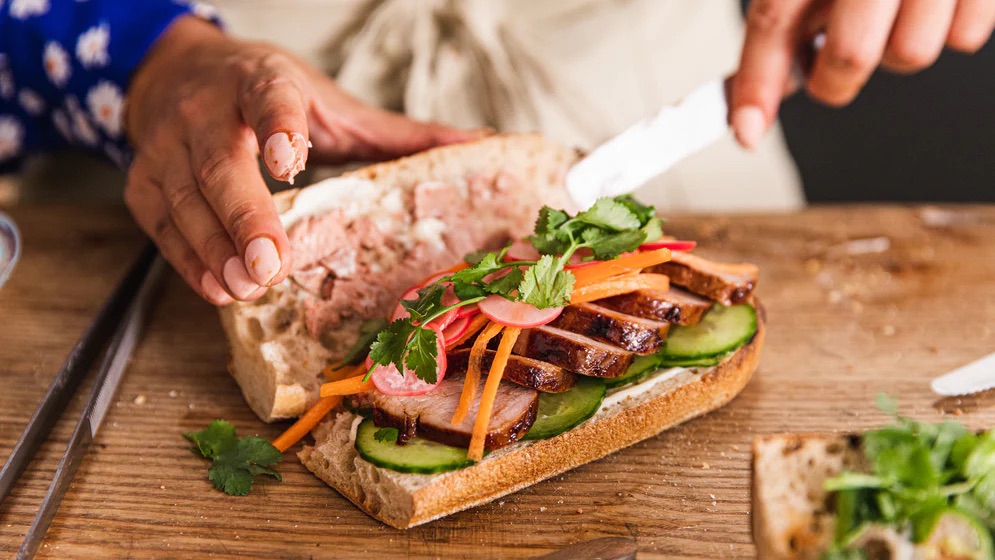 2. Com Tam: Broken Rice, Wholesome Flavor
Allow your palate to dance with delight as you savor the simplicity of Com Tam, a dish that transforms broken rice grains into a symphony of flavor. Traditionally a humble dish enjoyed by the working class, Com Tam has become a culinary icon, offering an exquisite blend of textures and tastes that evoke both comfort and nostalgia.
The foundation of the dish is the broken rice grains, a nod to resourcefulness, accompanied by an assortment of flavorful toppings. Grilled meats or grilled pork chop, often marinated with a delicate balance of spices, take center stage, while a sunny-side-up egg adds a touch of indulgence. The dish is elevated by a drizzle of fish sauce, whose salty-sweet umami elevates each ingredient to a new level of culinary delight. Com Tam captures the essence of Saigon's comforting and soulful cuisine, reminding us that the most profound flavors can often be found in the simplest of dishes.
To experience Com Tam at its finest, visit "Com Tam Ba Ghien," a renowned establishment where the tradition of preparing this dish has been elevated to an art form that resonates with both locals and tourists alike.
3. Banh Xeo: Vietnamese Savory Pancakes
As our culinary journey unfolds, the siren call of Banh Xeo beckons. Translated as "sizzling pancake," Banh Xeo is a testament to the art of combining contrasts. This Vietnamese savory pancake marries a delicate, lacy exterior with a hearty interior, creating a sensory experience that indulges both the eyes and the palate.
Made from a batter of rice flour, coconut milk and turmeric—a nod to its golden hue—the pancake sizzles enticingly as it hits the hot skillet, its surface crisping and crackling to perfection. The heart of Banh Xeo lies within the filling: a mosaic of ingredients that often includes succulent shrimp, tender slices of pork, and a generous handful of bean sprouts. Folded in half, the pancake becomes a pocket of goodness, meant to be wrapped in lettuce leaves and fresh herbs, creating a harmonious balance of textures and flavors that bursts with every bite.
For an authentic Banh Xeo experience that has earned its place in Ho Chi Minh City culinary hall of fame, venture to "Banh Xeo An La Ghien," where skilled hands craft these pancakes to achieve the perfect equilibrium between crispiness and tenderness.
4. Ca Phe Sua Da: Saigon's Iced Coffee Delight
As the sun reaches its zenith, and the city's streets start to sizzle with energy, there's no better way to seek respite than in the comforting arms of Ca Phe Sua Da, an iced coffee beverage that has become synonymous with Saigon's vibrant street culture.
Ca Phe Sua Da, which translates to "coffee with milk and ice," is not merely a beverage; it's a ritual, a sensory experience that invigorates both the body and the spirit. The preparation itself is a delicate dance—the strong Vietnamese Robusta coffee is brewed slowly through a drip filter, its fragrant aroma filling the air. The resulting brew is poured over a generous serving of sweetened condensed milk, whose creamy sweetness complements the coffee's robust bitterness. A handful of ice completes the transformation, turning the brew into a cool and revitalizing elixir that offers solace from the city's heat.
To truly embrace the tradition of Ca Phe Sua Da, you can immerse yourself in the ambiance of local cafes or easily find it on almost every street food stall.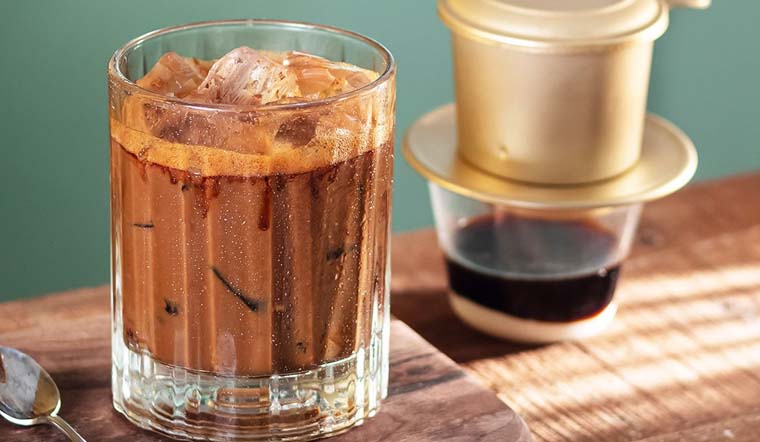 5. Bun Thit Nuong: Grilled Meat Vermicelli
The fragrant aroma of grilled meats beckons us to explore Bun Thit Nuong, a Saigon food that harmoniously combines the smokiness of grilled pork with the delicate textures of rice vermicelli noodles. The heart of Bun Thit Nuong lies in its simplicity: a bed of soft and springy vermicelli noodles serves as the canvas for a vibrant array of ingredients, including fried spring rolls.
Grilled pork, marinated to perfection and imbued with a tantalizing smoky flavor, takes center stage. Fresh herbs such as mint and cilantro add a burst of aroma and color, while pickled daikon and carrots provide a playful contrast of flavors. The dish is often crowned with a sprinkling of crushed peanuts, which contributes a subtle crunch and nutty undertones. With every bite, Bun Thit Nuong encapsulates Saigon's philosophy of balancing simplicity and complexity, resulting in a harmonious dish that delights both the palate and the senses.
For an exceptional rendition of Bun Thit Nuong, seek out renowned spots like "Bun Thit Nuong Chi Tuyen" or "Bun Thit Nuong Hai Dang", where culinary craftsmanship elevates this dish into a masterpiece of flavors that captures the very essence of Ho Chi Minh City culinary narrative.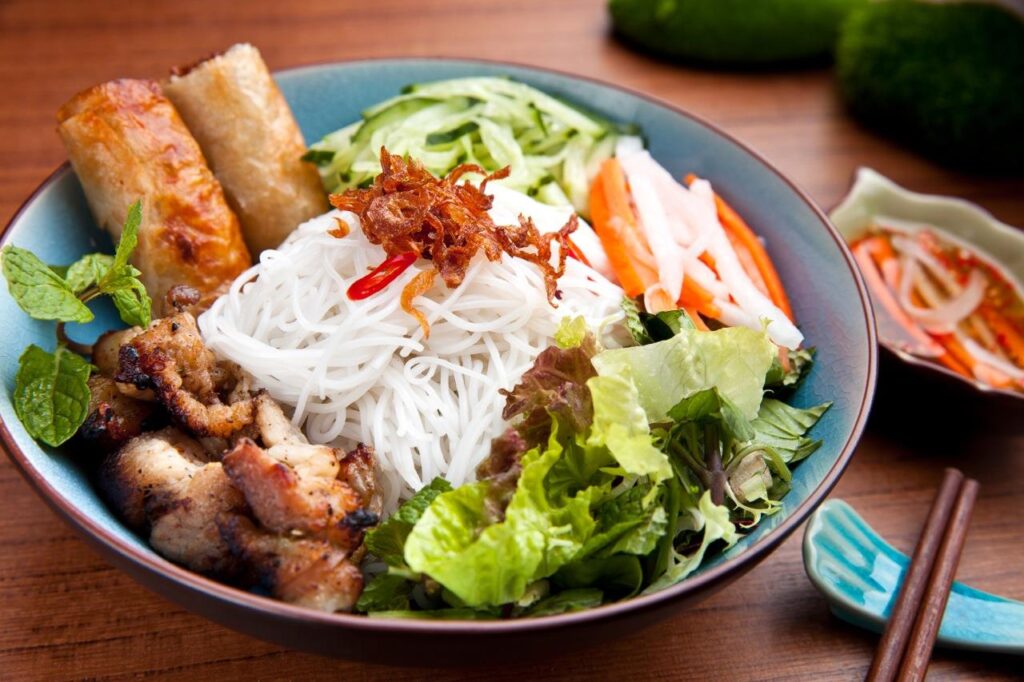 6. Banh Trang Nuong: Saigon's Unique Rice Paper Pizza
As our culinary journey unfolds, Saigon's creative spirit shines through in dishes like Banh Trang Nuong. Known as "rice paper pizza" or "Vietnamese pizza", this Saigon food is a testament to the city's ability to take inspiration from the traditional and transform it into something entirely novel.
At first glance, Banh Trang Nuong appears deceptively simple: a thin sheet of rice paper, usually spread with a layer of savory sauce and topped with an array of ingredients. Yet, as you take your first bite, a symphony of textures and flavors unfolds. The rice paper, when grilled to perfection, becomes a delicate and crispy base that provides a satisfying crunch. The toppings—ranging from minced pork and shrimp to a medley of herbs and quail eggs—create a vibrant mosaic of flavors, evoking a sense of adventure with every bite. Banh Trang Nuong is a culinary masterpiece that beautifully marries tradition with innovation, capturing the very essence of Saigon's dynamic street food culture.
As you wander through Ho Chi Minh City bustling streets, keep an eye out for the tantalizing offerings of "Banh Trang Nuong Da Lat" and many street food stalls, where the dish's creative flair captures the city's ever-evolving culinary spirit, inviting you to partake in a taste of Saigon's ingenuity.
7. Oc: Seafood Delicacies Of Saigon Food
For seafood enthusiasts, Ho Chi Minh City offers a sensory adventure through Oc, a diverse assortment of street-style seafood dishes that pay homage to the city's proximity to the sea. "Oc" translates to "snail," but the term encompasses a captivating array of shellfish and mollusks that grace the streets of Saigon with their briny flavors.
From the humble snail to the succulent clam, every morsel embodies a unique taste of the ocean. Whether stir-fried with fragrant lemongrass or simmered in a spicy broth, Oc showcases the city's passion for celebrating the bounties of the sea. Each bite is a testament to the culinary creativity that thrives in Saigon's vibrant food scene.
While exploring Saigon street food culture, indulge in the delightful array of seafood at venues like "Oc Dao," where the culinary offerings are a tribute to Ho Chi Minh City enduring love for embracing the bold flavors of the ocean.
8. Nem Nuong: Saigon's Grilled Pork Delight
As our gastronomic expedition continues, we encounter Nem Nuong, a dish that encapsulates Saigon's innovative approach to traditional fare. Nem Nuong is a sensory delight, consisting of grilled pork sausages that are often wrapped in delicate rice paper before being dipped in a tangy sauce.
The magic of Nem Nuong lies in the contrast between the succulent pork, grilled to perfection, and the crisp freshness of the rice paper. As you take that first bite, you're greeted with a burst of flavors: the smokiness of the pork, the crunch of fresh herbs, and the zing of the dipping sauce, all combining to create a harmonious melody that dances on your taste buds. Each roll is not just a bite; it's a snapshot of Saigon's culinary creativity and the city's unwavering commitment to pushing culinary boundaries.
For an authentic experience of this Saigon cuisine, immerse yourself in the various street food stalls and savor the savory delight at various eateries that proudly showcase Vietnamese food mastery, embodying Saigon's culinary prowess and dedication to elevating traditional flavors.
9. Hu Tieu: A Noodle Soup for Every Palate
Saigon's love affair with noodle-based dishes is embodied in Hu Tieu, a versatile noodle soup that caters to a myriad of palates. With its roots tracing back to Chinese culinary traditions, Hu Tieu has evolved into a beloved Saigonese classic.
The Saigon food defining characteristic lies in its melange of ingredients, where the noodles take center stage, surrounded by an array of proteins that range from tender slices of pork to succulent shrimp. The broth, carefully concocted from a medley of spices, creates a harmonious canvas for the various elements to shine. Depending on personal preference, A delicious bowl of Hu Tieu can be enjoyed in a clear, savory broth or a rich and hearty bone-based soup. This Vietnamese food embodies Saigon's art of blending ingredients to create a symphony of flavors that caters to every palate, making it a comfort food staple embraced by both locals and visitors.
Embark on a culinary adventure to discover the delightful variations of Hu Tieu, each offering a unique spin on this beloved dish. Explore local eateries where "Hu Tieu My Tho Thanh Xuan" and similar establishments allow you to experience the spectrum of flavors this dish has to offer, inviting you to partake in Saigon's culinary diversity.
10. Bun Rieu: Crab Noodle Soup with a Twist
As our gastronomic expedition nears its crescendo, Bun Rieu takes center stage—a noodle soup concocted with crab and a tantalizing tomato-based broth. The dish's origins lie in northern Vietnam, but Saigon has embraced it with open arms, infusing it with its own unique flair.
The broth, tangy and rich with the essence of tomatoes, forms the soul of Bun Rieu. Within this vibrant broth swims an ensemble of ingredients: delicate crab meat, tender slices of pork, and an assortment of herbs that elevate the dish's flavor profile. Topped with fried tofu and served with a side of shrimp paste, Bun Rieu is a true sensory delight, capturing Saigon's bold approach to flavors and its commitment to crafting dishes that are as captivating to the palate as they are to the eye.
Indulge in a delicious bowl of Bun Rieu at local establishments such as "Bun Rieu Gio Cha Co Nga," where the dish's unique profile resonates with Saigon's love for culinary creativity and showcases the city's dedication to maintaining tradition while embracing innovation.
11. Bun Bo Hue: The Royal Noodle Symphony
Nestled within Saigon's vibrant culinary scene is the regal offering of Bun Bo Hue—a nod to the flavors of central Vietnam. This noodle soup, originating from the historic city of Hue, brings a touch of traditional Vietnamese dishes to Saigon's diverse palate.
Bun Bo Hue's enchantment lies in its intricate broth, infused with fragrant lemongrass and an ensemble of spices. The symphony of flavors continues with tender beef slices, succulent pig's trotters, and vibrant shrimp, all embraced by delicate rice vermicelli. Fresh herbs add an aromatic crescendo, while a subtle chili kick elevates the experience. To relish the authentic essence of Bun Bo Hue, seek out esteemed locales like "Bun Bo Hue Dong Ba," where each spoonful carries you on a cultural and flavorful journey through Saigon's culinary landscape.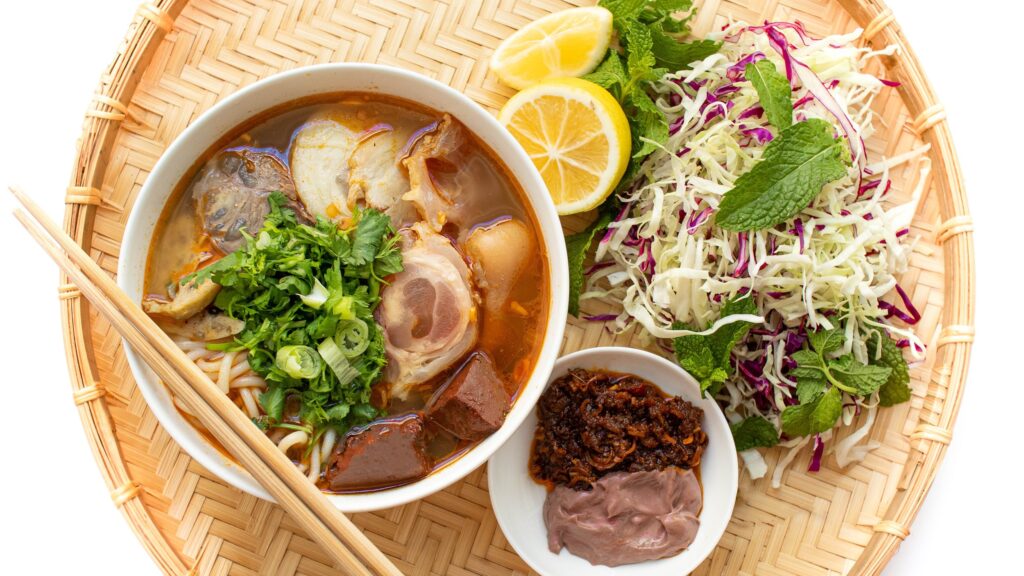 12. Goi Cuon: Fresh Spring Rolls
As our culinary journey continues, we encounter Goi Cuon, the epitome of freshness and flavor. These translucent rice paper rolls are often referred to as "fresh spring rolls" and are brimming with a vibrant array of ingredients.
The star of the show is the filling—a combination of cooked shrimp, succulent slices of pork, fresh herbs, rice vermicelli, and often a delicate touch of crushed peanuts. What makes Goi Cuon truly unique is the art of rolling—each roll is meticulously assembled, with the rice paper delicately enveloping the ingredients. The result is a harmonious blend of textures and flavors, where the crunch of fresh vegetables complements the tenderness of the protein. These rolls are often served with a side of hoisin-peanut dipping sauce, adding a sweet-savory kick that elevates the overall experience.
For an authentic experience this Vietnamese dish, seek out establishments like "Goi Cuon Le Van Sy" that specialize in perfecting this dish, allowing you to indulge in a symphony of flavors that encapsulates Saigon's commitment to culinary artistry.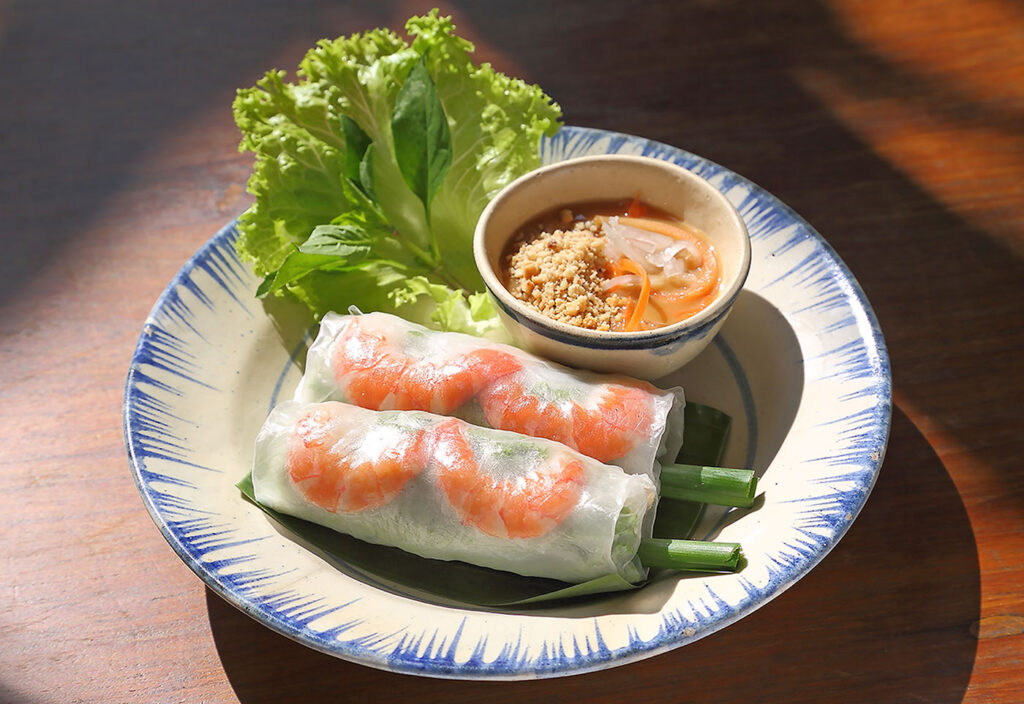 13. Bun Mam: Fermented Fish Noodle Soup
Diving deeper into Saigon's culinary repertoire, we discover Bun Mam—a noodle soup that boasts a bold and intense flavor profile. Fermented fish is the star ingredient in this dish, lending it a pungent aroma and a rich umami taste that's truly distinctive.
The broth, a result of skillful fermentation, takes time to develop its robust character. Within this aromatic broth swim an assortment of ingredients, including succulent pieces of pork, plump shrimp, and an abundance of fresh herbs. The interplay between the complex broth and the varied textures of the accompanying ingredients creates a culinary masterpiece that captures the essence of Saigon's adventurous palate.
To experience Bun Mam in all its authenticity, visit local eateries such as "Bun Mam 444" where the dish's intricate flavors shine through, offering a glimpse into Ho Chi Minh City culinary diversity.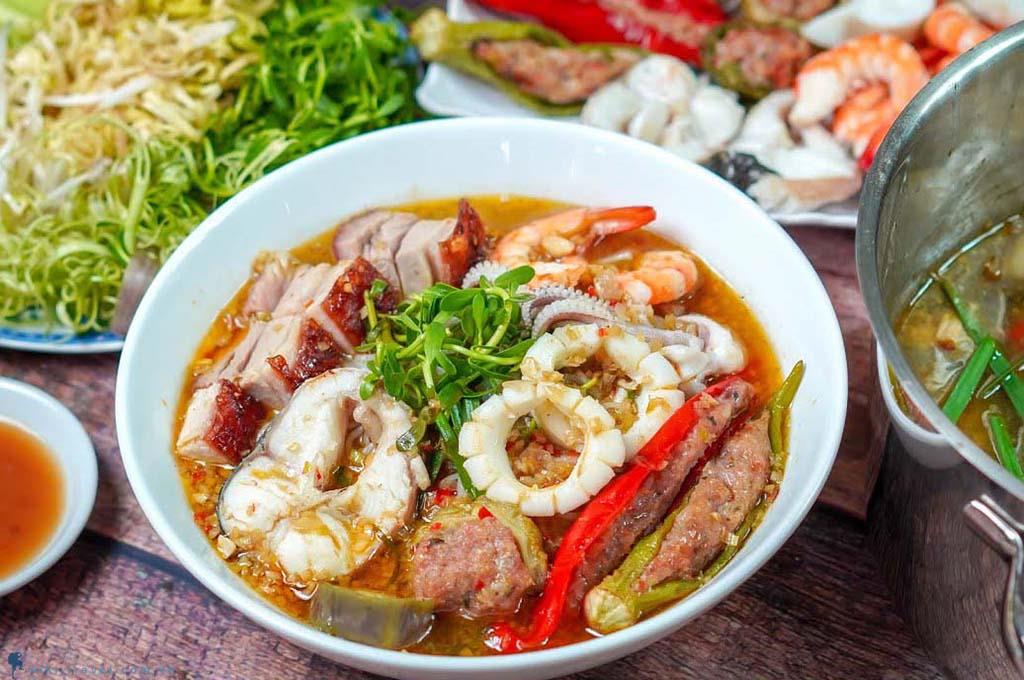 14. Hu Tieu Nam Vang: Cambodian-Style Noodle Soup
Hu Tieu Nam Vang—a noodle soup with roots in Cambodia—has become a beloved fixture in Saigon's culinary scene. This dish is a testament to the city's cultural amalgamation, where influences from neighboring countries have enriched its flavors. The star of Hu Tieu Nam Vang is the clear and fragrant broth, which forms the backdrop for a medley of ingredients. Tender slices of pork, delicate shrimp, and minced pork balls coexist harmoniously, while the noodles—often wider and flatter than traditional rice noodles—add a unique texture to the dish. A sprinkle of fragrant herbs and a dash of chili sauce complete the creation, resulting in a bowl that offers a captivating interplay of tastes and textures.
For an authentic taste of Hu Tieu Nam Vang, venture to establishments like "Hu Tieu Nam Vang Thanh Dat" where Saigon's innovative spirit brings a Cambodian-inspired masterpiece to life, reflecting the city's culinary adaptability.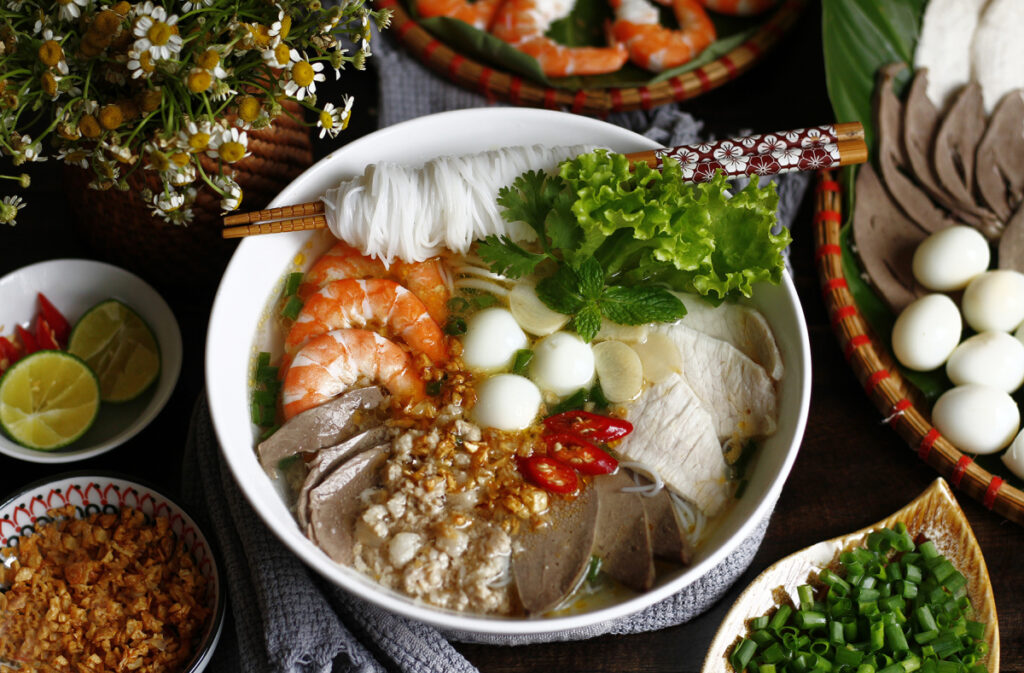 15. Lau Mam: Fermented Fish Hotpot
Prepare to be captivated by Lau Mam, a communal feast that revolves around a bubbling pot of fermented fish broth. This dish brings friends and family together, encouraging communal dining and shared experiences.
The centerpiece is the broth itself—fermented fish imparts a potent and distinctive flavor that forms the foundation of this hotpot. The assortment of ingredients that accompany the broth is staggering, ranging from an array of seafood such as shrimp and squid to an assortment of vegetables and greens. The interactive nature of the meal, where diners cook their own ingredients in the communal pot, adds an element of fun and engagement to the dining experience.
To immerse yourself fully in the world of Lau Mam, seek out establishments like "Tiem Lau Cu Lao" that specialize in this culinary extravaganza, allowing you to partake in a rich and flavorful journey that showcases Saigon's love for communal dining.
16. Banh Canh Cua: Thick Crab Noodle Soup
Banh Canh Cua is a dish that tantalizes both the palate and the senses with its hearty and robust flavors. This noodle soup features thick, chewy tapioca noodles that provide a satisfying textural contrast to the tender pieces of crab meat that are the dish's namesake.
The broth, often a rich seafood-based concoction, serves as the canvas for this flavor symphony, enveloping the noodles and crab meat with its tantalizing depth. Served with fresh herbs and a sprinkle of pepper, Banh Canh Cua offers a delightful blend of comfort and culinary finesse, embodying Saigon's ability to transform simple ingredients into a masterpiece.
For an authentic taste of Banh Canh Cua, visit local eateries like "Banh Canh Cua Ut Le" where the dish's flavors are crafted to perfection, inviting you to indulge in Saigon's love for robust and comforting fare.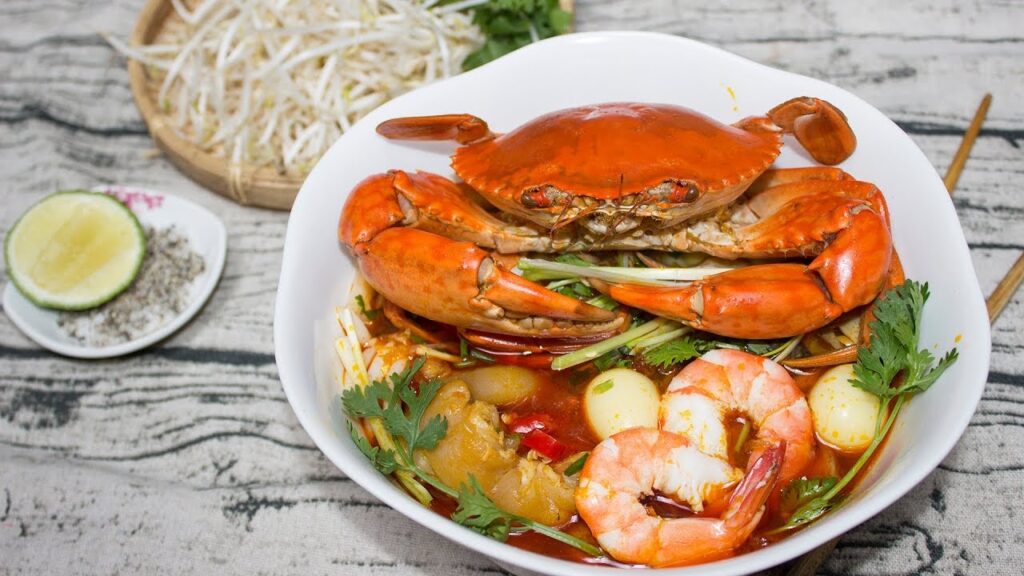 17. Bot Chien: Fried Rice Flour Cake
Saigon's culinary landscape extends to street snacks, and one that stands out is Bot Chien—a delectable treat that showcases the city's mastery of flavors even in its simplest offerings.
Bot Chien consists of fried cubes of rice flour cake that are crispy on the outside and delightfully chewy on the inside. The cubes are tossed with scrambled eggs, creating a medley of textures that's both satisfying and playful. What sets Bot Chien apart is the contrast between the savory cubes and the slightly sweet soy sauce that's drizzled over them. This balance of flavors transforms a humble snack into a culinary delight that embodies Saigon's dedication to creating memorable taste experiences.
To savor the crispy goodness of Bot Chien, visit local vendors in bustling street markets like "Ben Thanh Market," where this iconic snack offers a snapshot of Saigon's vibrant street food culture.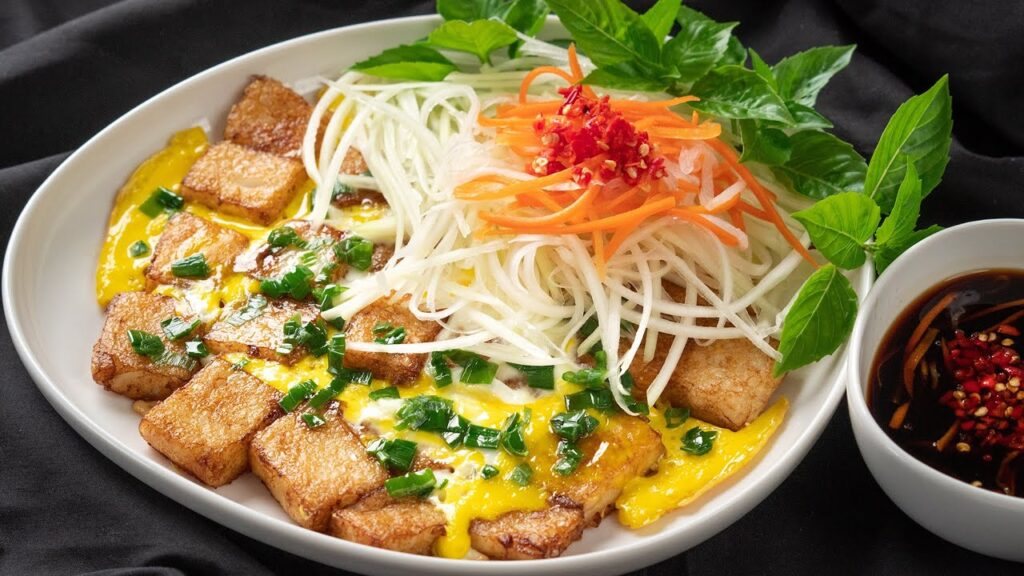 18. Che: Sweet Dessert Soup
In the world of Saigon's culinary offerings, dessert takes center stage with Che, a delightful sweet soup that caters to diverse palates. Che is a blanket term for a wide array of sweet soups, each boasting its own unique blend of flavors and ingredients. From mung beans and sticky rice to tapioca pearls and coconut cream, Che is a symphony of textures and tastes. The desserts can be served hot or cold, and their vibrant colors and playful presentations add to the allure of this delightful finale to a meal. Whether you're craving something light and refreshing or indulgently rich, Che has something for every sweet tooth.
For an indulgent taste of Che, explore dessert shops like "Che Cot Dien" where the options are endless, reflecting Saigon's dedication to crafting desserts that leave a lasting impression.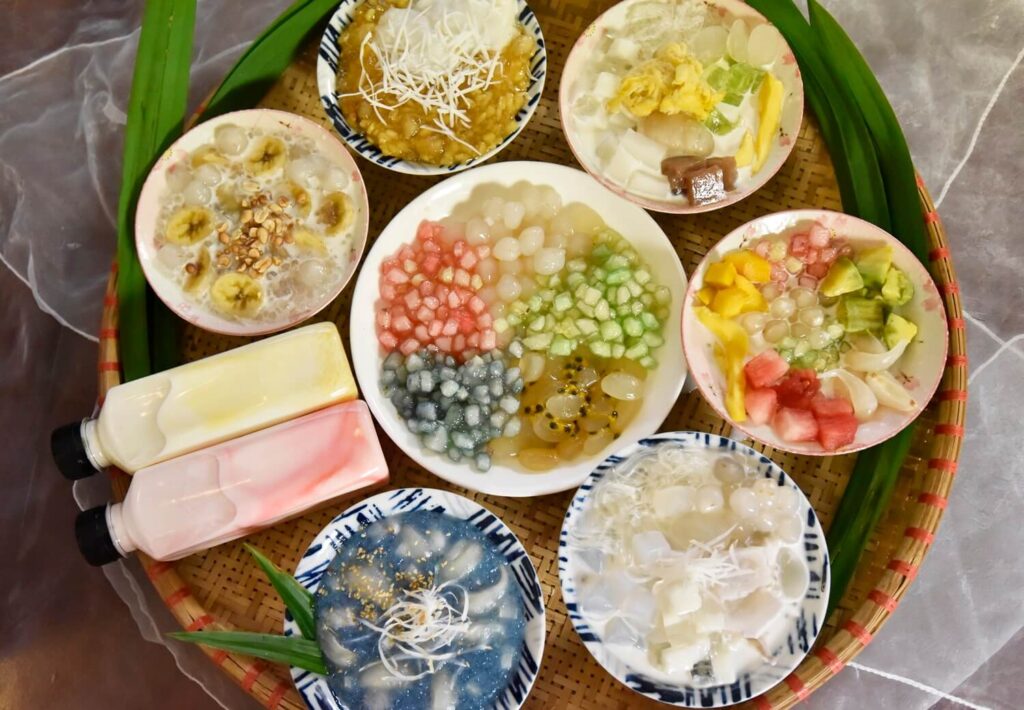 19. Ca Kho To: Caramelized Fish in Clay Pot
Saigon's culinary tapestry extends to the realm of comfort food, and Ca Kho To—a dish of caramelized fish—epitomizes this genre. This dish features tender pieces of fish, often catfish or snakehead fish, that are caramelized to perfection in a clay pot.
The secret lies in the marinade—a blend of fish sauce, sugar, and aromatic spices—that infuses the fish with a rich umami flavor and a subtle sweetness. As the dish simmers, the flavors meld together, resulting in a tantalizing blend of textures and tastes. The caramelized fish is typically served with steamed rice, creating a combination that's both hearty and comforting.
To experience the warmth of this traditional Vietnamese food, seek out eateries like "Com Nieu Sai Gon" where this dish serves as a testament to Saigon's ability to create dishes that evoke nostalgia and bring families together around the dining table.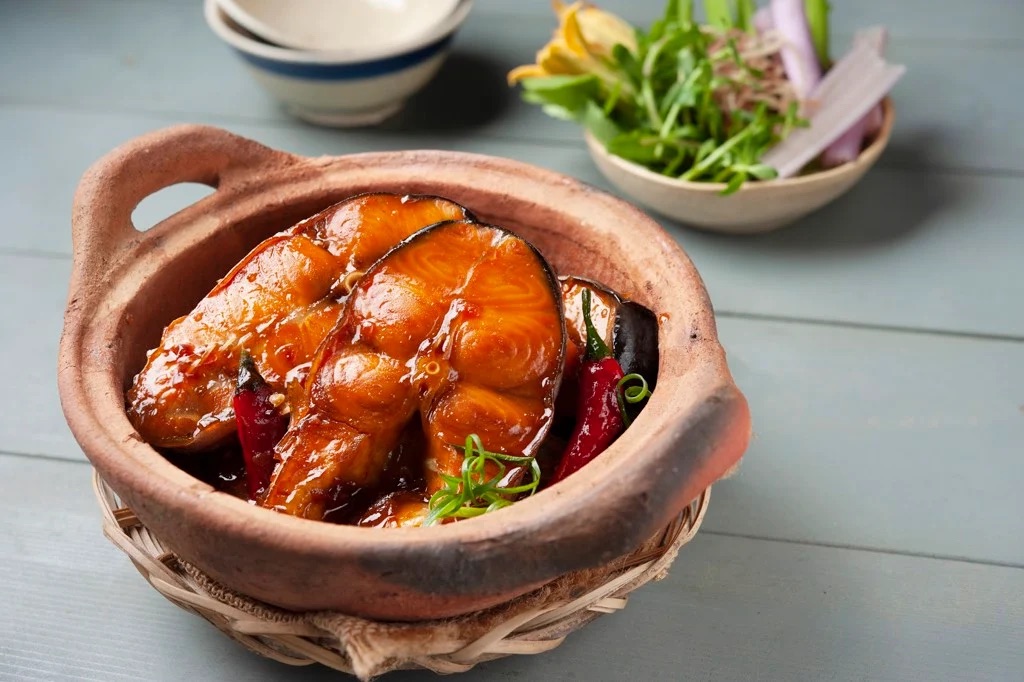 20. Com Chay: Broken Rice Crisps
Our gastronomic journey through Ho Chi Minh City concludes with Com Chay, a snack that highlights the city's ingenuity in repurposing ingredients to create culinary marvels.
Com Chay consists of broken rice grains that have been crisped to perfection, resulting in delicate and flavorful morsels that offer a satisfying crunch. These rice crisps are often seasoned with a blend of spices that infuse them with a burst of flavor. Com Chay's appeal lies in its simplicity—a snack that's easy to enjoy on the go, yet brimming with the essence of Saigon's culinary innovation.
To relish the crispy allure of Com Chay, explore local street food stalls and markets, where this snack captures the city's ability to transform humble ingredients into a treat that's both delightful and unforgettable.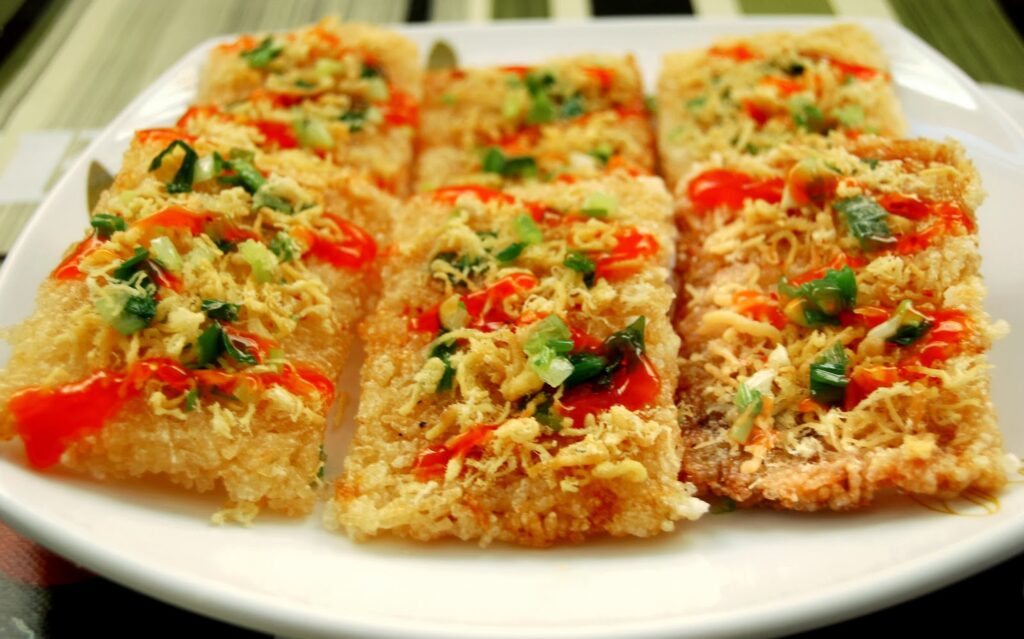 Ready For Your Favorite Saigon Food?
As we conclude our culinary odyssey through Saigon's diverse food scene, it becomes apparent that this city is more than just a travel destination; it's a sensory experience. Ho Chi Minh City iconic dishes, each more flavorful than the last, serve as a testament to its cultural richness and culinary ingenuity.
We recommend you embark on your own journey of culinary exploration and savor the magic that these dishes, along with countless others, bring to the table. Saigon awaits, ready to offer you a gastronomic adventure that you'll cherish for a lifetime.
Commence organizing your journey now and ensure to secure top-notch Vietnam visa services, ensuring a seamless and stress-free adventure awaits!
Plan your hassle-free trip to Vietnam with e-Visa!
Let our extensive 10+ years of experience in visa services be your guiding light as you book with us, guaranteeing a smooth and worry-free trip to Vietnam!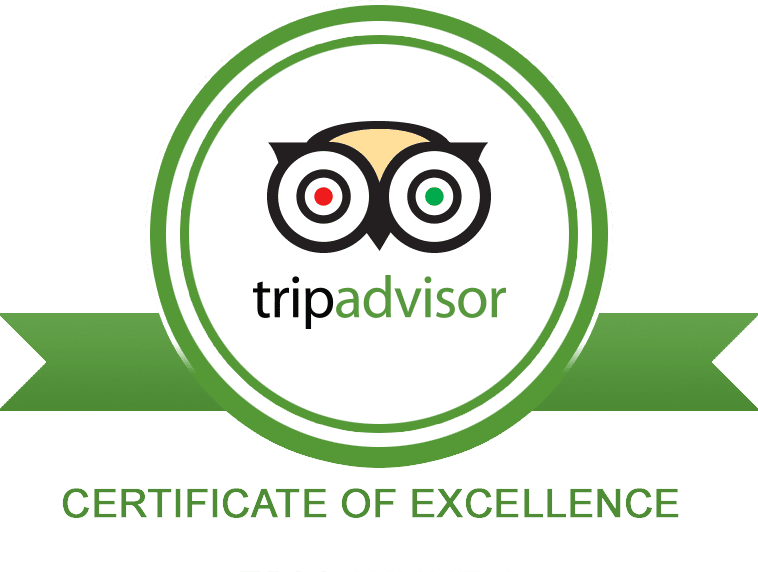 LEARN MORE!