Nestled along the banks of the Red River, Hanoi, the capital of Vietnam, is a city that seamlessly weaves the tapestry of tradition and modernity. With its rich history, vibrant culture, and a plethora of captivating attractions, Hanoi has earned its place as a must-visit destination for travelers from around the world.
In this article, we invite you to embark on a virtual journey through the heart of this capital city, where we'll unveil 30 incredible things to do in Hanoi that will make your visit truly unforgettable. Welcome to Hanoi, where each corner reveals a new chapter in the story of Vietnam.
1. Explore the Hanoi Old Quarter
Hanoi Old Quarter is an enchanting labyrinth of narrow streets, ancient architecture, and lively markets. It's often considered the heartbeat of the city's heritage. As you wander through its chaotic yet charming alleys, you'll encounter a blend of traditional and modern life. The Old Quarter's 36 bustling streets are each named after the products historically traded there. From silk and jewelry to bamboo and herbs, this district offers a glimpse into Hanoi's commercial past.
Recommended Way to Explore: We suggest exploring Hanoi Old Quarter on foot or by cyclo (rickshaw) to fully immerse yourself in the bustling atmosphere. Don't forget to bargain with local vendors when shopping for souvenirs or trying street food.
Discover Hanoi Old Quarter with our guide!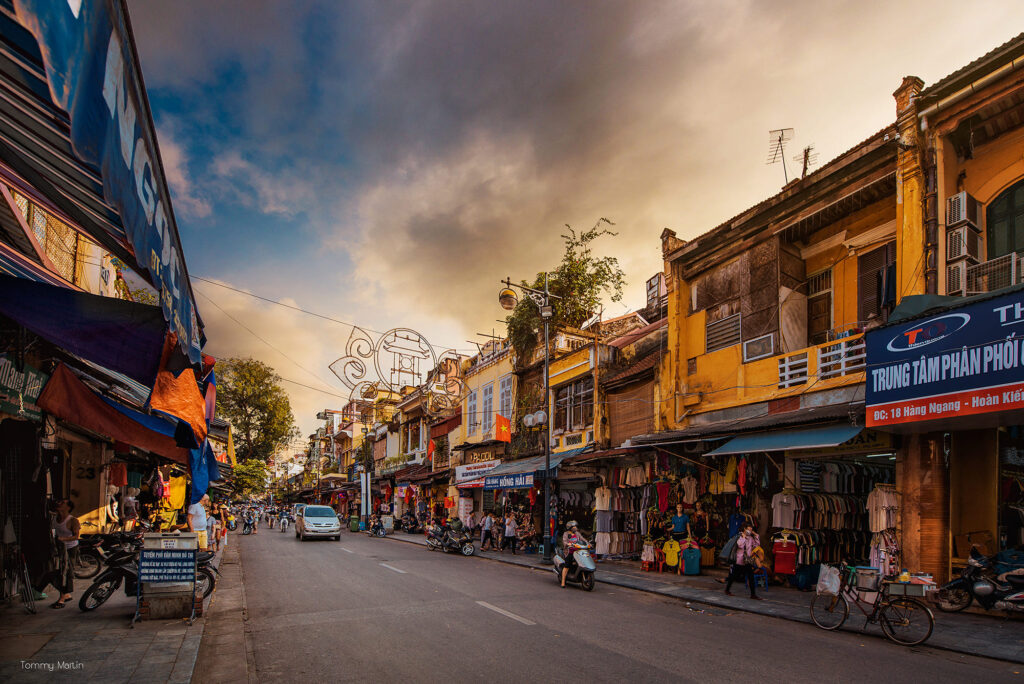 2. Visit Hoan Kiem Lake
Hoan Kiem Lake, also known as Lake of the Returned Sword, lies at the heart of Hanoi. Its scenic beauty is matched only by the intriguing legend of the Giant Golden Turtle. According to folklore, the lake is where Emperor Le Loi returned a magical sword to the Golden Turtle God, who helped him defeat Chinese invaders in the 15th century. Today, the lake is a popular spot for both tourists and locals.
Around the lake, you'll find picturesque spots like the iconic red Huc Bridge and Ngoc Son Temple, set on a small island in the lake. Ngoc Son Temple is dedicated to the scholar Van Xuong and the military leader Tran Hung Dao, both celebrated figures in Vietnamese history.
Recommended Activity: Take a leisurely stroll around Hoan Kiem lake, especially in the early morning or late evening when the area comes alive with exercise enthusiasts, street vendors, and couples enjoying the view.
3. Experience Ho Chi Minh Mausoleum
Among the best things to do in Hanoi, the Ho Chi Minh Mausoleum is one of Hanoi's most iconic landmarks and a must-visit for history enthusiasts. It houses the embalmed body of Ho Chi Minh, or Uncle Ho, the founding father of the Democratic Republic of Vietnam. Visiting the mausoleum offers a unique opportunity to learn about Vietnam's history and its struggle for independence.
Before entering, make sure to check the visiting hours and any dress code requirements. It's essential to show respect when visiting this solemn place.
Insider Tip: The queue to enter the mausoleum can be quite long, so arrive early to avoid crowds and have a smoother experience. You can combine visit Ho Chi Minh museum for better understanding this national hero of Vietnamese history!
4. Discover the Temple of Literature
The Temple of Literature, known as Van Mieu-Quoc Tu Giam in Vietnamese, is a beautifully preserved complex that served as Vietnam's first university. It's a tribute to Confucianism and education in Vietnam, dating back to 1070 during the Ly Dynasty. The serene gardens, traditional courtyards, and ancient architecture make this a tranquil escape from the city's hustle and bustle.
While exploring, you'll come across the Stelae of Doctors, stone tablets commemorating scholars who passed the royal exams, a testament to Vietnam's reverence for education. Its traditional Vietnamese architecture is stunning, the temple is spacious, and has lots of interesting things to see there!
Recommended Time: Plan to spend a couple of hours here, exploring the various sections of the temple complex.
5. Enjoy Incredible Street Food Delights
As a real foodie, taste your buds with street food is a top things to do in Hanoi! This city's reputation as a food lover's paradise is well-deserved. The city's culinary scene is a tapestry of flavors, with street food playing a central role. From savory pho to delectable bun cha and the rich, aromatic egg coffee, there's a world of taste awaiting you on the streets of Hanoi.
Must-Try Dishes: Don't miss the chance to savor some of Hanoi's iconic street foods. Try a steaming bowl of pho at a local street stall, indulge in bun cha (grilled pork with vermicelli), and end your meal with a cup of egg coffee, a creamy and unique Vietnamese specialty.
6. Attend a Water Puppet Show
Among best 30 things to do in Hanoi, a water puppet show is a unique and quintessentially Vietnamese art form. Originating in the Red River Delta, these puppet performances date back to the 11th century. Water puppetry showcases scenes from rural Vietnamese life, folklore, and legends. Puppeteers manipulate the puppets from behind a screen while standing in waist-deep water, creating a mesmerizing visual spectacle.
Recommended Venue: Thang Long Water Puppet Theatre in the heart of Hanoi is a reputable venue for a captivating water puppet show.
Tip: Arrive a bit early to secure good seats, as this popular attraction can get crowded.
7. Wander Through the French Quarter
Hanoi's French Quarter is a testament to its colonial past, with wide tree-lined avenues and elegant buildings influenced by French architecture. A stroll through this neighborhood reveals a different side of the city. Key landmarks include the Opera House and St. Joseph's Cathedral, a stunning neo-Gothic structure dating back to the late 19th century.
Insider Insight: Consider visiting St. Joseph's Cathedral in the evening when it's beautifully lit up.
8. Take an Excursion to Halong Bay – Extra Things to Do in Hanoi
A visit to Hanoi, Vietnam would be incomplete without taking an extra trip to Halong Bay, a marvellous UNESCO World Heritage Site. Located about 170 kilometers from Hanoi, Halong Bay is renowned for its emerald waters and thousands of towering limestone karsts. A Halong Bay cruise offers a chance to explore caves, swim in the bay, and enjoy the breathtaking scenery. It's a must-see natural wonder that's easily accessible from Hanoi.
Recommended Duration: Consider a 2-3 day cruise to fully appreciate the beauty of Halong Bay and its surrounding islands.
9. Take a Trip to the Hoa Lo Prison Museum
The Hoa Lo Prison Museum, also known as the "Hanoi Hilton," is a historical site that provides insights into Vietnam's tumultuous past, particularly during the Vietnam War, especially French colonial period. The museum showcases the harsh conditions that American prisoners of war endured during their captivity.
Visitor Note: While the prison is a symbol of a painful period in history, it's a valuable place to learn about Vietnam's perspective on the war. You should check Hoa Lo Prison museum's hours and consider hiring a guide for a more informative visit.
10. Escape to Tran Quoc Pagoda
Escape the urban hustle and bustle by visiting Tran Quoc Pagoda, one of Hanoi's oldest Buddhist temples. Located on a small island in West Lake, this pagoda exudes a serene ambiance. The temple complex is adorned with bonsai trees and ancient statues, creating a peaceful retreat in the heart of the city.
Recommended Time: Plan a visit during the early morning or late afternoon to enjoy the tranquility of the temple grounds.
11. Explore the Imperial Citadel of Thang Long
The Imperial Citadel of Thang Long is a historical treasure trove that has earned its place as a UNESCO World Heritage Site. It served as the political center of Vietnam for 13 centuries and provides invaluable insights into the country's history. The complex features ancient relics, including the impressive Doan Mon Gate and archaeological excavations. Explore the Imperial Citadel is truly best things to do in Hanoi.
Visitor Tip: Consider hiring a local guide to learn about the rich history and significance of this site.
12. Visit the Vietnam Museum of Ethnology
The Vietnam Museum of Ethnology is a captivating institution that showcases the rich tapestry of Vietnam's ethnic diversity. Its comprehensive exhibits explore the customs, traditions, and daily life of the country's various ethnic groups. You'll find fascinating artifacts, clothing, and detailed explanations that offer a deeper understanding of Vietnam's cultural mosaic.
Visitor Tip: Don't miss the outdoor display of traditional houses, which provides a glimpse into the architecture of different ethnic communities.
13. Stroll Through the Long Bien Bridge
The Long Bien Bridge is an iconic structure that tells a story of Hanoi's history. Constructed during the French colonial era, it served as a vital transportation link. During the Vietnam War, it was a target for bombing, yet it miraculously survived and continues to function today. Strolling across this bridge provides a unique perspective on the city and its resilience.
Best Time: Visit the bridge in the early morning or late afternoon to capture the best photos and enjoy the view.
14. Discover the Quan Thanh Temple
Quan Thanh Temple is a Taoist temple located near West Lake. It's a place of serenity and spiritual reflection in the midst of Hanoi's bustling streets. The temple is known for its imposing black bronze statue of Tran Vu, the God of the North, and its beautiful lakeside setting. This is a lesser-known things to do in Hanoi that really worth your time!
Cultural Insight: Quan Thanh Temple is a living testament to Vietnam's enduring religious traditions.
15. Explore the Hanoi Opera House
The Hanoi Opera House is an architectural gem that reflects Hanoi's cosmopolitan side. Modeled after the Paris Opera House, it hosts a variety of cultural performances, including classical concerts, ballets, and opera productions. Even if you don't attend a performance, admiring the building's exterior is a treat in itself.
Performance Schedule: Check the opera house's schedule for upcoming shows if you're interested in experiencing a cultural performance in Hanoi.
16. Visit the Hanoi Train Street – Iconic Things To Do In Hanoi
Hanoi Train Street is a fascinating urban phenomenon where a train track runs through a narrow residential street. It's an incredible sight to witness as residents move their belongings and temporarily clear the way when the train approaches. This experience offers a glimpse into the daily lives of locals in close proximity to the railway.
Safety First: While visiting, remember to maintain a safe distance from the tracks and follow local guidelines.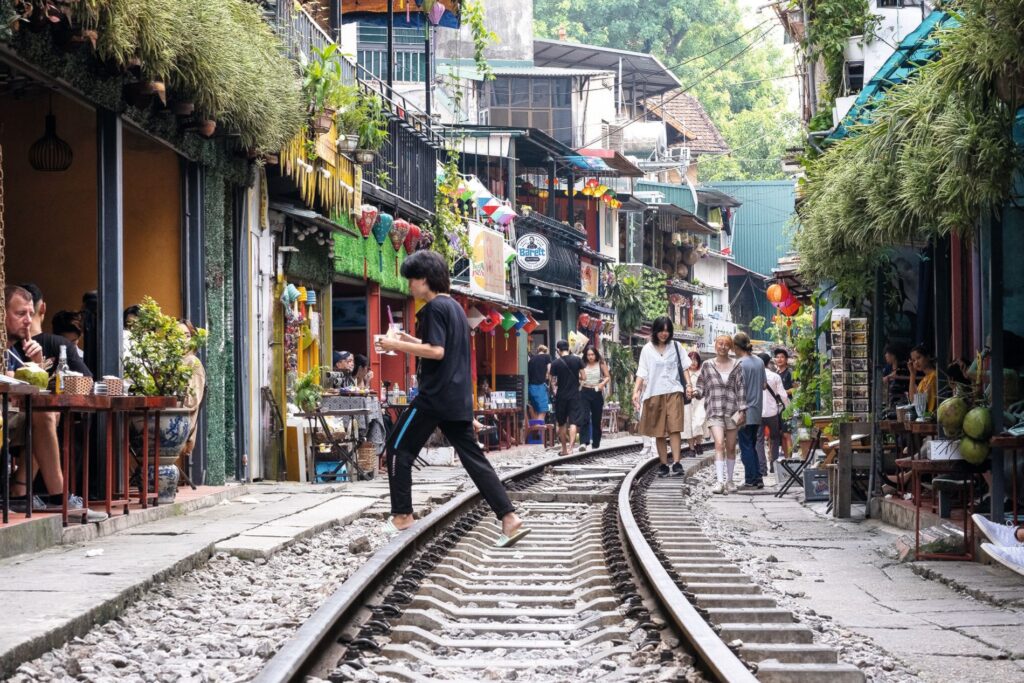 17. Hike at Ba Vi National Park
For a break from the city's hustle and bustle, venture to Ba Vi National Park, just a short drive from Hanoi. This lush park offers hiking trails, pristine landscapes, and a refreshing change of scenery. At the summit of Ba Vi Mountain, you'll find a temple that offers panoramic views of the surrounding countryside.
Recommended Activity: Hike to the summit for breathtaking vistas or explore the park's diverse flora and fauna on one of its many trails.
18. Discover the Hanoi Ceramic Mosaic Mural
Among best things to do in Hanoi, the Hanoi Ceramic Mosaic Mural is a testament to the city's artistic spirit. Stretching for over 4 kilometers along the Red River, it is recognized as the world's longest ceramic mural. The mosaic showcases vibrant depictions of Vietnamese culture, history, and daily life. A leisurely walk along this colorful masterpiece allows you to appreciate the city's creative spirit.
Visitor Tip: Don't forget your camera to capture the intricate details of this impressive public art installation.
19. Visit the Vietnamese Women's Museum
The Vietnam Women's Museum is a unique institution dedicated to the history and contributions of Vietnamese women. Its exhibits showcase the vital roles women have played throughout Vietnam's history, from the national liberation struggle to contemporary society. The museum offers valuable insights into the lives and achievements of Vietnamese women.
Exhibition Highlights: Explore displays on traditional clothing, marriage customs, and the stories of heroic women during wartime.
20. Experience Hanoi's Nightlife
Hanoi's nightlife is a dynamic mix of experiences, from sipping cocktails at rooftop bars to exploring bustling night markets. As the sun sets, the city transforms, offering a different kind of charm. Stroll along the vibrant streets, listen to live music, or engage with the local night scene are also top things to do in Hanoi.
Nightlife Highlights: Explore the bustling Hanoi Night Market, enjoy the vibrant atmosphere of Ta Hien Street (Beer Street), or unwind at one of Hanoi's stylish rooftop bars for breathtaking views like Hanoi Social Club.
21. Attend a Vietnamese Cooking Class
Vietnamese cuisine is celebrated worldwide, and taking a cooking class in Hanoi is an excellent way to learn the secrets behind its flavors. Join a local chef to explore a bustling market, select fresh ingredients, and then prepare local food and traditional dishes like spring rolls, pho, and banh mi.
Culinary Note: Cooking classes often conclude with a feast, allowing you to savor the fruits of your labor.
22. Pay Respects at the One Pillar Pagoda
The One Pillar Pagoda, or Chua Mot Cot, is one of Hanoi's most iconic religious sites. This petite but elegant wooden pagoda stands on a single stone pillar in the midst of a lotus pond. It's considered a symbol of purity and grace in Vietnamese Buddhism. Visiting the One Pillar Pagoda provides an opportunity for reflection and tranquility.
Visitor Tip: Combine your visit with nearby attractions like the Ho Chi Minh Mausoleum, Ho Chi Minh Museum and Ho Chi Minh's Stilt House.
23. Witness the Flag Lowering Ceremony at Ho Chi Minh Mausoleum
Every evening, just before sunset, a flag lowering ceremony takes place at the Ho Chi Minh Mausoleum a historical military installation. This ritual is a patriotic symbol of Vietnamese nationalism and marks the official end of the day. Watching the ceremony is a unique way to connect with the local culture and history.
Timings: The ceremony typically starts around 9:00 PM, but it's a good idea to arrive a bit earlier to secure a good viewing spot.
24. Take a Day Trip to Perfume Pagoda
Located about 60 kilometers from Hanoi, the Perfume Pagoda is a vast complex of Buddhist temples and shrines nestled in a stunning karst landscape. A day trip to this sacred site is not only a spiritual experience but also a chance to enjoy a boat ride along the picturesque Huong Tich River.
Best Time to Visit: Plan your trip during the Perfume Pagoda Festival (February to April) for a vibrant cultural experience.
25. Take a Bicycle Tour of Hanoi's Countryside
Just beyond Hanoi's bustling streets lies a tranquil countryside with picturesque landscapes. Join a guided bicycle tour that takes you through charming villages, lush rice paddies, and serene lakes. You'll have the opportunity to interact with locals, learn about their way of life, and enjoy the fresh air.
Scenic Routes: Popular routes include the countryside around Hoan Kiem Lake and the outskirts of Hanoi.
26. Discover the Hidden Cafes of Hanoi
Hanoi boasts a thriving coffee culture, with cafes tucked away in narrow alleyways and hidden corners. Explore the city's cafe scene by visiting some of these charming and unconventional spots. From rooftop cafes with panoramic views to tiny hole-in-the-wall establishments, each cafe has its own unique ambiance.
Must-Try Coffee: Don't miss trying the famous Vietnamese egg coffee or the traditional iced coffee with condensed milk.
27. Go on a Motorbike Adventure
If you're feeling adventurous, consider hopping on the back of a motorbike and embarking on a tour led by a local guide. This thrilling ride will take you through Hanoi's chaotic streets, bustling markets, and hidden gems that may be off the beaten path.
Safety First: Ensure that you're wearing a helmet and that your driver is experienced and follows traffic rules.
28. Try Hanoi's Craft Beer Scene
In recent years, Hanoi has seen a surge in craft breweries offering a diverse range of locally brewed beers. Explore this craft beer scene by visiting breweries and bars that serve up unique and innovative brews. It's a great way to unwind and savor a different side of Hanoi's nightlife.
Craft Beer Hubs: Check out the breweries around the West Lake area for a taste of Hanoi's craft beer revolution.
29. Experience a Vietnamese Traditional Market
Among top things to do in Hanoi, venture beyond the tourist areas to experience the vibrancy of a local Vietnamese traditional market. These markets are a sensory delight, filled with exotic produce, street food vendors with delicious local cuisine, and stalls selling everything from clothing to household items. It's a fantastic opportunity to immerse yourself in the daily life of locals.
Recommended Markets: Explore the Cho Hom Market, Dong Xuan Market, or Long Bien Market for an authentic market experience.
30. Explore Hanoi's Art Galleries
Hanoi is home to a thriving art scene, with numerous galleries showcasing the work of both established and emerging Vietnamese artists. Explore these galleries to gain insights into contemporary Vietnamese art, including paintings, sculptures, and mixed media installations.
Recommended Galleries: Some notable galleries include the Vietnam Fine Arts Museum and Manzi Art Space.
Embrace the Charms of Best Things To Do In Hanoi!
In the dynamic tapestry of Hanoi's top 30 things to do in Hanoi, this vibrant capital of Vietnam unfolds its cultural treasures and unforgettable adventures. Whether you wander the historic alleys of the Old Quarter, savor the street food delights, or immerse yourself in centuries-old traditions, Hanoi offers a rich mosaic of experiences to delight every traveler.
From hidden cafes to water puppet shows, bustling markets to tranquil temples, Hanoi's essence lies in its ability to captivate your senses and stir your soul. As you explore this enchanting city, may you uncover its many layers, forge connections with its warm-hearted people, and leave with cherished memories that linger long after you bid farewell to the capital of Vietnam. Hanoi invites you to embrace its charm, and in return, it promises an enriching and unforgettable journey.
So, as you prepare to explore this captivating city, we hope this comprehensive guide has provided you with the inspiration and insights you need to make the most of your visit!