Nestled in the Gulf of Tonkin along the northeastern coast of Vietnam, Halong Bay stands as a testament to the wondrous beauty of our planet. Halong Bay is a destination where the serene harmony of emerald waters and towering limestone karsts invites travelers from around the world to embark on an unforgettable journey.
In this article, we will highlight the 10 best Halong Bay cruises. With a neutral perspective and a focus on providing you with essential information, we aim to help you make informed decisions and savor the awe-inspiring vistas and cultural richness that Halong Bay has to offer.
Explore the top things to do in Vietnam 2023 with our comprehensive guide!
Plan your hassle-free trip to Vietnam with e-Visa!
Let our extensive 10+ years of experience in visa services be your guiding light as you book with us, guaranteeing a smooth and worry-free trip to Vietnam!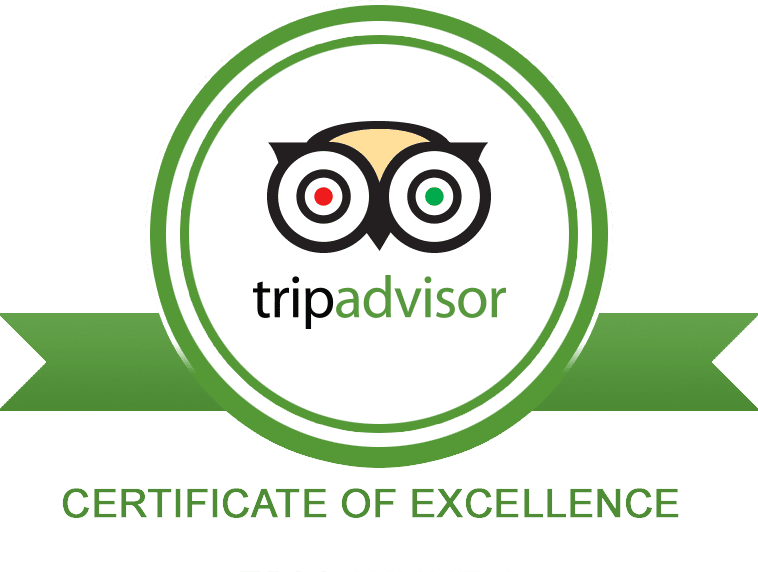 LEARN MORE!
Why You Should Visit Halong Bay?
Halong Bay, located in the northeastern region of Vietnam, is a natural wonder that has captured the hearts of travelers from around the world. It's easy to see why. With its dramatic seascape of thousands of limestone karsts and islets rising majestically from the emerald waters of the Gulf of Tonkin, Halong Bay offers a sight that's nothing short of breathtaking.
Recognized as a UNESCO World Heritage site, this bay boasts a unique blend of natural beauty and cultural significance. Its geological formations, believed to be over 500 million years old, have given rise to countless legends and stories within Vietnamese folklore, making it a place where nature and myth coexist in harmony.
Steeped in history, Halong Bay's name itself translates to "Descending Dragon Bay," and this name hints at the legend surrounding its creation. According to local mythology, the bay was formed when dragons came down from the heavens and spat jewels and jade into the sea, creating a natural fortress to protect the land from invaders.
Beyond its legends, Halong Bay is also home to various indigenous communities, primarily living in floating fishing villages. Understanding Halong Bay is about appreciating not only the geological marvel that it is but also the cultural heritage and rich history that continues to make it a captivating destination for travelers seeking a blend of natural beauty and authentic experiences.
Planning to visit Vietnam? Discover the 9 best cities in Vietnam worth your visit!
How To Choose Your Best Fit Halong Bay Cruise?
Finding the best Halong Bay cruise that suits your needs can be an exciting yet crucial decision. To make the right choice, consider a few factors. First, think about the duration of your cruise. If you're tight on time, a day cruise can be a great option, offering a taste of the bay's beauty. However, if you have a bit more flexibility, an overnight cruise allows for a more immersive experience, with more time to explore the bay's wonders.
Second, take your budget into account. Halong Bay offers a wide range of cruise options, from luxury vessels with all the trimmings to more budget-friendly alternatives. It's essential to align your expectations with your budget and decide which amenities and services matter most to you.
While a luxury cruise can offer top-notch comfort and gourmet dining, a budget cruise may prioritize the essentials, allowing you to enjoy the beauty of the bay without breaking the bank. By considering the duration and budget that best suits your needs, you'll be well on your way to finding the perfect Halong Bay cruise for your journey.
11 Best Halong Bay Cruises Worth Your Stay!
When it comes to exploring the captivating beauty of Halong Bay, selecting the right cruise can be a pivotal decision in ensuring a memorable experience. In this section, we'll delve into these exceptional cruises, shedding light on what makes them stand out and helping you navigate the sea of choices to find the one that perfectly aligns with your preferences and expectations!
1. Stellar Of The Seas Cruise
Among the best Halong Bay cruises, Stellar of the Seas Cruise offers a serene and luxurious experience for those looking to explore Halong Bay. With 22 spacious cabins featuring private balconies or sun terraces and bathtubs, the cruise prioritizes your comfort and enjoyment. Its 3rd deck hosts a romantic restaurant with indoor and outdoor seating for up to 60 guests, promising a 5-star culinary journey.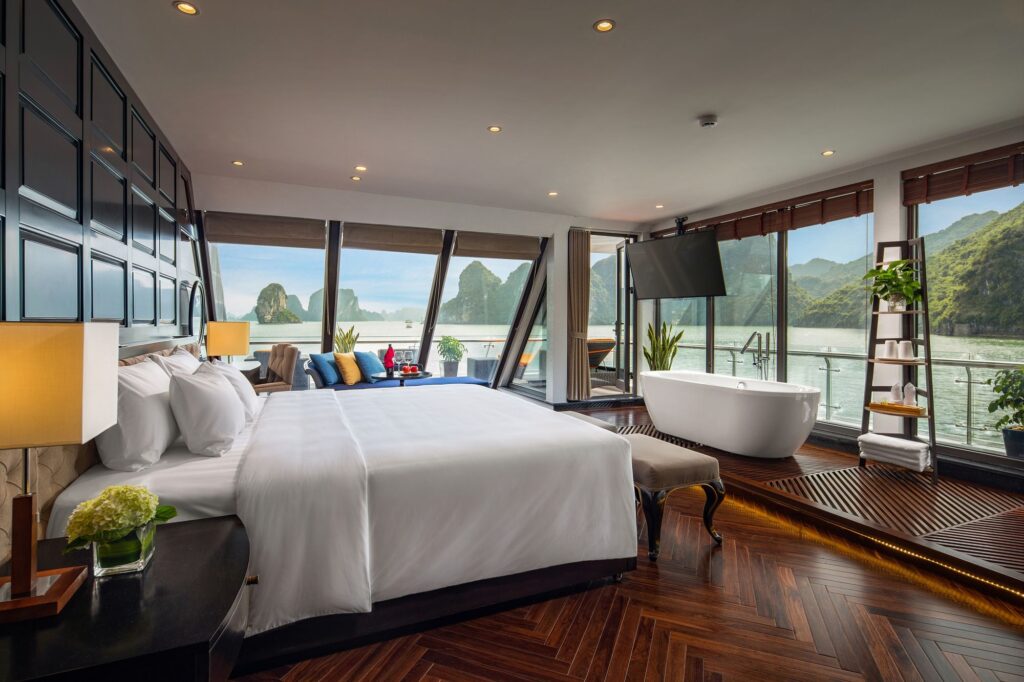 This Halong Bay cruise also features a panoramic bar with fine wines and non-alcoholic beverages, creating a perfect atmosphere for intimate conversations while overlooking the seasonal swimming pool and the stunning emerald sea. Beyond its remarkable amenities, Stellar of the Seas excels in service with a professional crew dedicated to making your stay memorable and unique.
Highlight of this Halong Bay Cruise:
Deluxe cruise with exceptional luxury
Swift transfer from Hanoi to Halong International Cruise Port (merely a 2.5-hour journey)
Onboard miniature golf course at your disposal
Triple and family cabins are an option for accommodation
2. Paradise Elegance Cruise
Among luxury cruises in Halong Bay, Paradise Elegance Cruise, operated by the renowned Paradise Group, is a jewel within the Paradise Cruises Collection, setting the gold standard for exceptional service and professionalism in Halong Bay's fleet. It's the quintessential choice for travelers who crave the epitome of luxury during their Halong Bay adventure, adding an extraordinary touch to their exploration of this UNESCO World Heritage Site.
Launched in February 2017, Paradise Elegance is the latest and most promising gem in the crown of Paradise Cruises Lines, boasting 31 cabins that can accommodate up to 62 passengers. The ship's exquisite exterior and interior designs are truly a feast for the eyes, offering an opulent and immersive experience for its guests.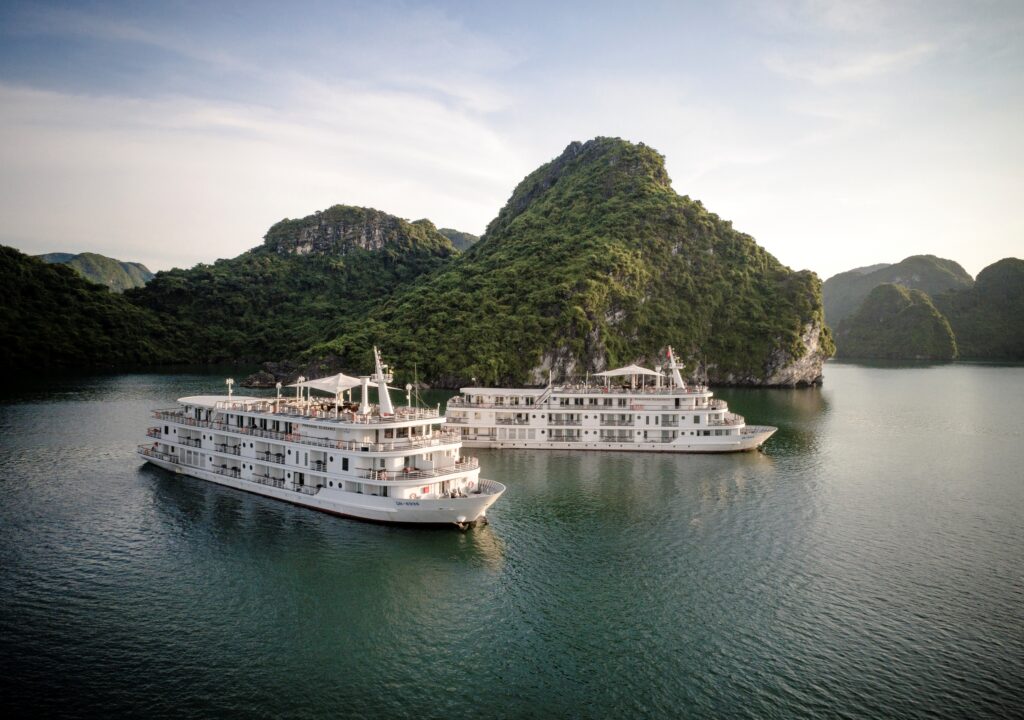 This sleek, modern vessel seamlessly merges contemporary styling with traditional Vietnamese design elements, redefining the concept of luxury cruising in Halong Bay. With amenities such as a piano bar, day spa, wellness center, and dedicated butler service, this luxury cruise in Halong Bay provides an exquisite journey for travelers. It's a floating work of art that promises a flawless voyage through the stunning natural landscapes of Vietnam, making the Halong Bay Cruise Luxury experience truly unforgettable.
Highlight of this Halong Bay Cruise:
A vast sun deck for relaxation
Wellness and spa facilities for your well-being
A piano lounge featuring live musical performances
Every cabin includes a private balcony
Complimentary shuttle bus service and just a 2.5-hour drive from Hanoi
3. Scarlet Pearl Cruise
Scarlet Pearl Cruise is a beacon of luxury in Lan Ha Bay, offering an unrivaled experience away from the bustling crowds of Halong Bay. With 23 spacious cabins, including the grand 150-square-meter Scarlet Pearl suite, each with its private balcony, the vessel exudes understated elegance through its cream and dark wood brown color palette.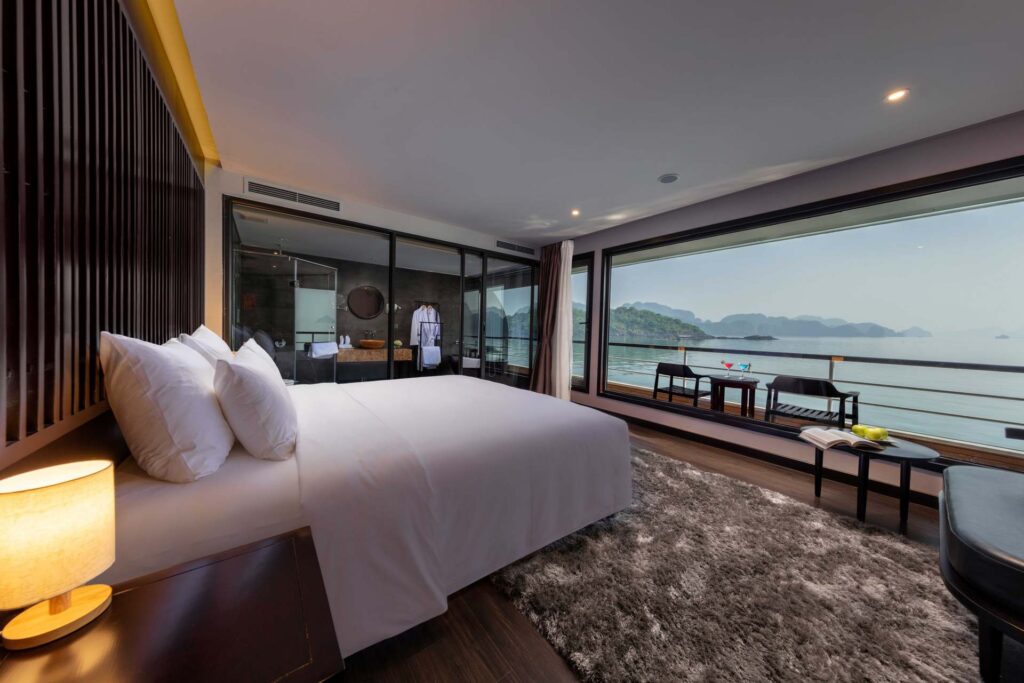 Upon boarding, you'll discover an array of top-notch amenities, including Tahiti restaurant for seaside dining, a chic Bar Bistro for cocktails, a sundeck with a Jacuzzi pool, and a private fitness center. The true standout is the onboard Pearl Museum, where you can explore the art of local pearl farming and admire exquisite pearl creations—a signature gift of the bay. With its authentic experiences and impeccable service, the Scarlet Pearl Cruise promises an unforgettable journey aboard this luxurious catamaran sailboat.
Highlight of this Halong Bay Cruise:
Cruise designed in a catamaran-style
Open-air Jacuzzi
Every room features its own private balcony
4. Ambassador Cruise
Step aboard the Ambassador Cruise, formerly known as the President Cruise, and get ready for an unforgettable journey through the stunning landscapes of Halong Bay. This floating gem is one of the largest cruise ships in the region and promises an experience that will stay with you for a lifetime. With a capacity for up to 120 passengers, it offers 46 stylish cabins and suites, each of which is equipped with air conditioning, en-suite bathrooms, inviting bathtubs, and your very own private balcony. These cozy retreats will make you feel right at home while you soak in the mesmerizing beauty of the bay.
But the Ambassador Cruise isn't just about comfortable cabins; it's a floating paradise. Onboard, you'll discover a world of modern amenities, including a lavish spa to pamper yourself, a refreshing sun-soaked swimming pool, a charming piano lounge, and a restaurant that will leave your taste buds delighted. You could indulge in scrumptious international buffet lunches and a la carte dinners while basking in world-class hospitality and exclusive services.
As you embark on the cruise's well-planned itinerary, expertly designed to reveal the best of Halong Bay, you'll be captivated by sights like Sung Sot Cave, Tung Sau Pearl Farm, and Luon Cave. And as day turns into night, treat yourself to a relaxing spa treatment, enjoy Happy Hour, participate in fun cooking demonstrations, and engage in other delightful evening activities on board. The Ambassador Cruise is more than just a vessel; it's your gateway to an elegant and comfortable adventure in the heart of Halong Bay.
Highlight of this Halong Bay luxury cruise:
The sole cruise with a Michelin Star Chef on board
Enjoy an outdoor Jacuzzi during your cruise
A road journey from Hanoi via expressway takes just 2.5 hours
Access to an elevator for your convenience
5. Mon Cheri Cruise
Among luxury cruises in Halong Bay, Mon Cheri Cruise isn't just any Halong Bay cruise; it's a breath of fresh air in this stunning landscape. As one of the newest arrivals, it stands out with its innovative approach and being the fastest non-wooden vessel in Lan Ha Bay, promising a smooth and enjoyable journey through these mesmerizing waters. What sets Mon Cheri Cruise apart is its incredible ability to blend adventure and luxury seamlessly, giving you the best of both worlds.
You'll be treated to 18 stylish and incredibly comfortable cabins, each with a minimum size of 35 square meters. The cabins are thoughtfully designed, combining classic European elegance with the rustic charm of Vietnamese styling. It's a space where you can truly relax and soak in the awe-inspiring views that surround you.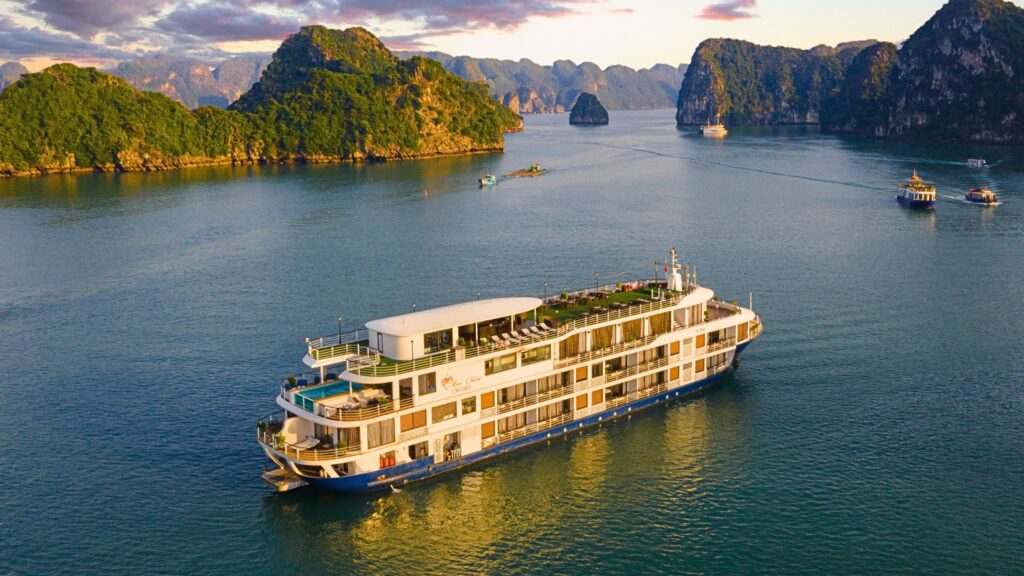 But what makes Mon Cheri Cruise truly special is its dining experience. Here, you can savor authentic Halal food, certified and prepared to perfection. And after you've delighted your taste buds in the elegant restaurant and bar, you can head over to the 24/7 fitness center and spa to indulge in the ultimate relaxation, ensuring that your cruise is nothing short of an unforgettable journey.
Highlight of this Halong Bay luxury cruise:
The cruise features expansive cabins that offer ample space.
A quick transfer, taking only 2.5 hours from Hanoi.
Every cabin includes a private balcony, and there is a family cabin option.
6. Orchid Premium – The Lastest Orchid Cruise!
Orchid Premium, the latest gem from Orchid company, offers a fresh, memorable experience in Halong and Lan Ha Bay, perfect for friends, families, and groups. This sleek iron-hull vessel boasts modern design, top-notch service, and uncharted adventures for travelers of all backgrounds.
With only 5 luxurious cabins, each generously-sized at 45-96 square meters, Orchid Premium offers a sense of spaciousness, complete with private balconies and comfy beds. The Family Premium Terrace Suite is the roomiest, ideal for larger groups.
The ship's Indochine-inspired design combines vintage charm with modern comforts, featuring exotic wood and marble accents. Massive windows bring breathtaking bay views, and the interior blooms with flowers, soft pillows, and cozy beds, creating an inviting, city loft feel. Orchid Premium is renowned for its elegance in Halong Bay.
The cruise includes popular routes to explore Vietnam's beauty, along with thrilling activities like squid fishing, kayaking, and leisurely swims in emerald waters. The sundeck with a large jacuzzi is perfect for unwinding, while the stylish restaurant serves mouthwatering Asia-Europe fusion cuisine. It even has a special area for events and performances, making it a well-rounded and luxurious option.
Highlight of this Halong Bay luxury cruise:
Exceptional cabins with breathtaking views
A refreshing pool and relaxing jacuzzi
Top-tier spa with ocean views
Hospitable and efficient team
Perfect for group charters of 8-12 guests
7. Elite Of The Seas Cruise – Most Luxury Cruise In Halong Bay!
Prepare for an unforgettable adventure with Elite of the Seas Cruise, launching its maiden voyage in October 2022. Among Halong Bay luxury cruises, this extraordinary cruise is a sibling to the highly sought-after Stellar of the Seas, ensuring a voyage like no other.
With 35 deluxe cabins spread across four decks, accommodating travelers in six different categories, there's a comfortable retreat for everyone. The cabins range from 23 to 60 square meters and come with modern amenities, making sure you feel right at home.
This Halong Bay luxury cruise boasts an infinity four-season swimming pool, perfect for taking in the stunning views. You'll savor sumptuous cuisine from local and Western cuisines, while enjoying the company of fellow travelers at the bar. If you fancy a quieter moment, explore the wine and cigar cellar, unwind in the sauna spa, or keep up with your fitness routine.
For family travelers, there's even a children's playroom. The itineraries offer you a range of options, from 2 days and 1 night to 5 days and 4 nights, ensuring you experience the best of Halong Bay and Lan Ha Bay with various activities. The cruise is all about personalized service, courtesy of a dedicated and well-trained team, making your journey truly exceptional.
Highlight of this Halong Bay luxury cruise:
The most opulent cruise experience within Halong Bay
Access to a mini golf course and fitness facilities
Featuring the largest onboard swimming pool
Each cabin includes a panoramic balcony and a bathtub
8. Peony Cruise
Peony Cruises represent the pinnacle of luxury when it comes to exploring the natural splendors of Ha Long Bay and Lan Ha Bay in Vietnam. These two yachts are not merely vessels; they symbolize the very essence of the natural beauty that this country is renowned for. What sets Peony Cruises apart is their perfect fusion of sophistication, seamlessly blending classic European design with the rustic charm of Vietnamese styling. As soon as you step on board, you'll notice the subtle yet distinctive features that make Peony Cruises truly exceptional.
From the elegant design to the meticulously crafted menu, Peony Cruise is dedicated to delivering a premium experience. With 40 spacious cabins, each featuring a private balcony that opens up to the breathtaking views of Ha Long Bay and Lan Ha Bay; the marvelous Cat Ba Island, and the shimmering emerald ocean, these cruises offer a sense of serenity and awe that is unparalleled.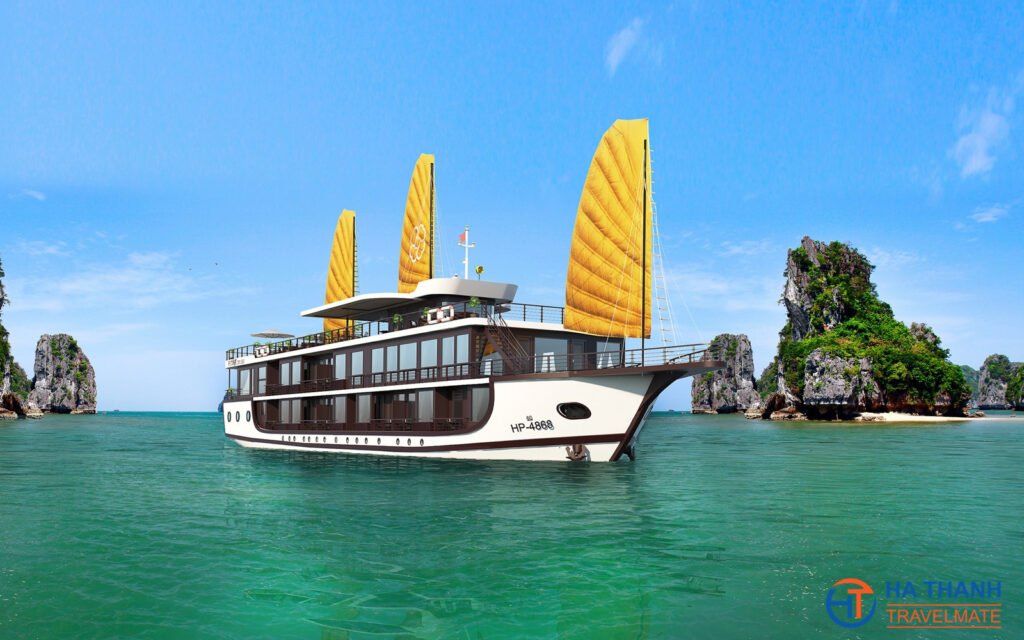 As you dine in the luxurious restaurant, serenaded by traditional music, or sip a cocktail on the sundeck while the evening bathes the bay in soft hues, you'll find the true essence of peace and reward yourself with an exquisite journey that is nothing short of flawless. Among the best Halong Bay cruises, Peony Cruises redefine the concept of luxury travel in this natural paradise, allowing you to indulge in the beauty of Vietnam in the most opulent way possible.
Highlight of this Halong Bay luxury cruise:
Top-notch mid-tier cruise in Lan Ha Bay
Efficient limousine bus transfer with a brief travel time
Spacious cabins featuring private balconies
9. Athena Cruise
Since its inception in mid-April 2017, Athena Cruise has been committed to providing an exceptional journey to the pristine natural wonders of Halong Bay and Bai Tu Long. With its elegant design and thoughtful accommodations, this cruise offers four distinct types of cabins spread across three decks, including Executive suites, Elegant Suites, Terrace Suites, and Family Suites, ensuring a comfortable stay for every type of traveler. Whether you seek a romantic getaway or a family adventure, Athena Cruise caters to diverse preferences.
One of the standout features of Athena Cruise is its well-appointed restaurants and spacious sundecks, which are designed to enhance your overall cruise experience. The sundeck offers a 360-degree panoramic view of the breathtaking surroundings, making it an ideal spot to unwind, read a book, or witness the enchanting Halong Bay sunsets.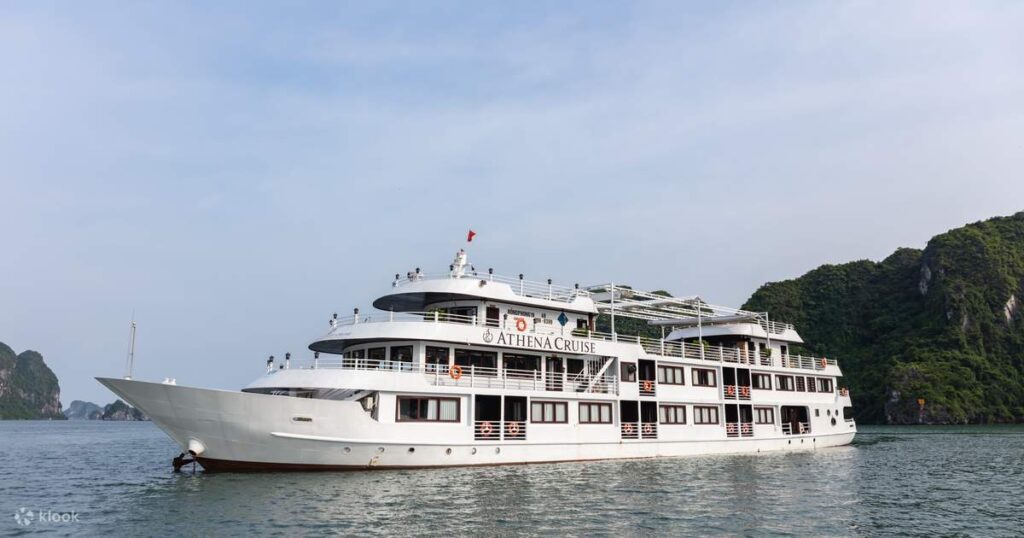 For those desiring extra pampering, this Halong Bay luxury cruise also provides luxurious spa services to elevate your relaxation. The well-trained and attentive staff are dedicated to ensuring that your time on board is nothing short of extraordinary, going the extra mile to keep all in-house guests content and content throughout the journey. Your voyage with Athena Cruise promises not just a visit to a natural wonder but an unforgettable and indulgent experience from start to finish.
Highlight of this Halong Bay luxury cruise:
The ultra-luxury cruise features a semi neo-classic design.
Triple and family rooms are offered as accommodation options.
The cabins are both spacious and opulent.
Each cabin includes a private balcony furnished with seating chairs.
10. Essence Grand (La Siesta Superyacht)
Among the best Halong Bay cruises, La Siesta Superyacht is one of the newest additions to the cruise options in Halong Bay. As part of the renowned Elegance Hospitality Group, this superyacht offers a range of accommodations across its five decks, making it one of the latest overnight cruise options in Halong Bay. With over 50 cabins, including options such as Deluxe Window and The Owner's Suite, you'll find spacious rooms (up to 200 sqm) designed for your comfort, featuring top-notch amenities and contemporary touches to cater to all types of travelers.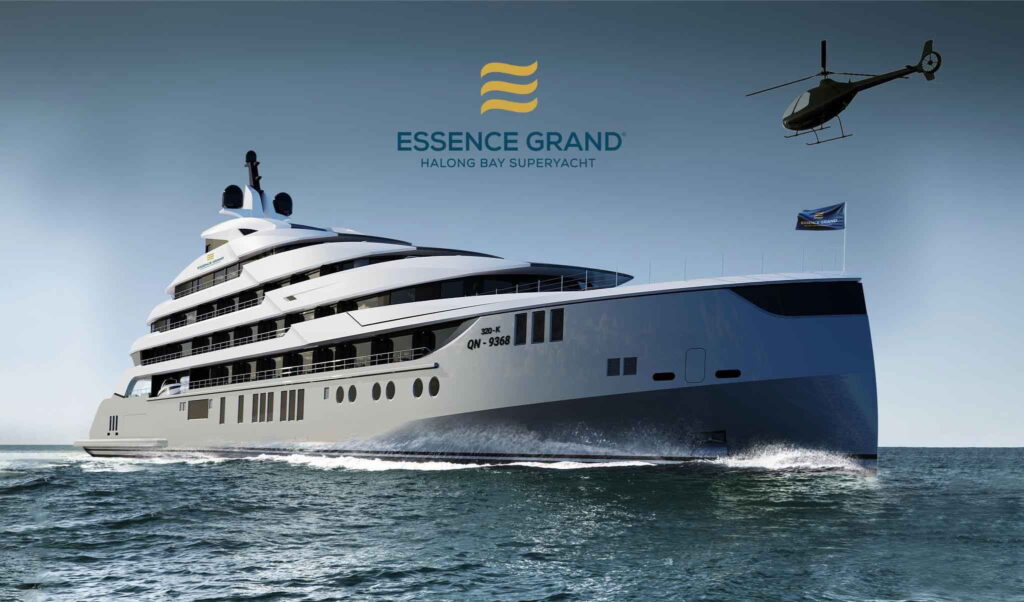 But it's not just about the accommodations; La Siesta Superyacht offers an array of onboard experiences. You can enjoy the ocean-view pool, unwind at the Light House Sky Bar, savor delectable dishes at the Cloud Nine Restaurant, and rejuvenate at La Spa. Additionally, you can partake in various activities to explore both the iconic Halong Bay and the pristine Bai Tu Long Bay on cruises ranging from one to three nights.
Highlight of this Halong Bay luxury cruise:
Lavish cabins offering top-tier amenities
An extensive and distinctive Halong & Bai Tu Long Bay itinerary
Expert spa treatments
Access to both a swimming pool and a jacuzzi pool
11. Heritage Line Ginger Cruise
Meet the Heritage Line Ginger Cruise, a charming fusion of 1920s Indochinese elegance on the outside and modern comfort on the inside, set against the backdrop of Ha Long Bay's UNESCO Heritage Site and the unspoiled Lan Ha Bay. Among the best cruises in Halong Bay, this newly-launched vessel is thoughtfully themed around Indochinese-Vietnamese influences, ensuring that you receive exceptional service and an unforgettable voyage. They offer both a 3 days 2 nights itinerary and a 1-night cruise.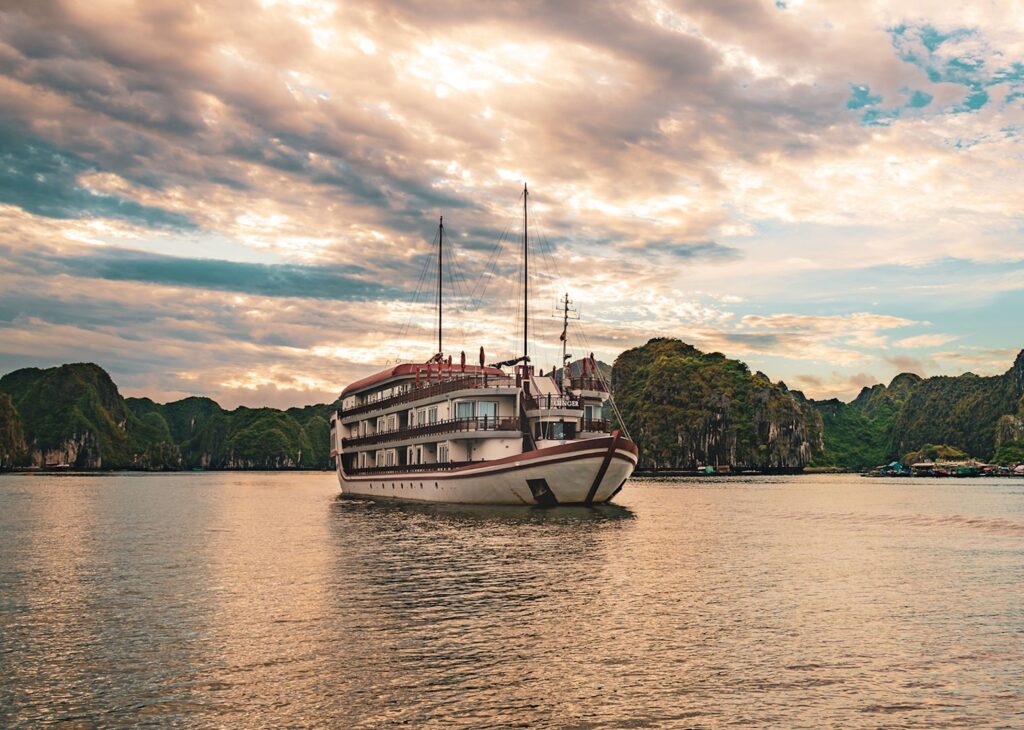 With three decks and 12 well-appointed suites, including junior, signature, and regent options, you'll find all the comforts you need, from air-conditioning and a mini bar to a private balcony with sun chairs and a cozy lounge. But the adventure doesn't end in your room. This luxury cruise offers unique experiences, like visiting Viet Hai village for a bike ride through charming streets and mingling with friendly locals, as well as a tranquil kayak or bamboo boat journey in the Tra Bau area. The Heritage Line Ginger Cruise promises to turn your journey into cherished memories that last a lifetime.
Highlight of this Halong Bay luxury cruise:
A cruise of moderate size featuring 12 cabins
Administered and overseen by the renowned Heritage Line
Boasts an aesthetic design inspired by the 1920s Indochina era
Ready For Your Best Halong Bay Cruises?
In our exploration of the top 11 Halong Bay cruises, we've been your fellow travelers, searching for experiences that are down-to-earth yet exceptional. We've roamed from luxurious getaways to more budget-friendly options, all with one goal in mind – to help you make a choice that feels just right.
As you ponder your own Halong Bay escapade, remember this: Each cruise we've encountered shares one spectacular backdrop – the awe-inspiring beauty of Halong Bay. It's the emerald waters, the towering karsts, and the serene bay that steal the show, while the cruises are your trusty companions to this magical journey. Whether you're sailing in luxury or keeping it simple, the heart of the experience is Halong Bay itself. So, pick your cruise and embark on your adventure with the confidence that nature's grandeur is the star of the show, and you're in for a front-row seat.
Plan your hassle-free trip to Vietnam with e-Visa!
Let our extensive 10+ years of experience in visa services be your guiding light as you book with us, guaranteeing a smooth and worry-free trip to Vietnam!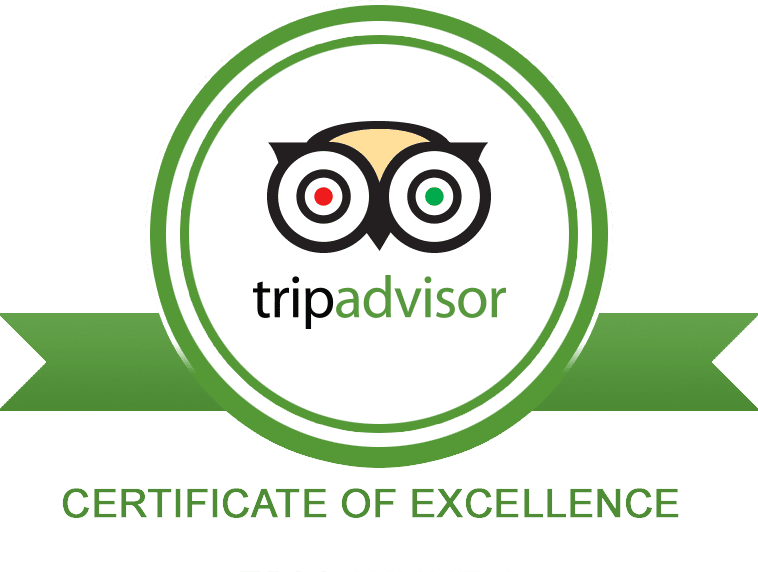 LEARN MORE!